Alexander Abolore Adegbola Akande, popularly known as 9ice, is a Nigerian singer, songwriter, and dancer. He is renowned for his music's bold Yoruba language use, proverbial lyrics, and distinctive delivery. He has won several hip-hop awards. He was appointed as the Special Adviser to the former Governor of Oyo State, Abiola Ajimobi, in 2015.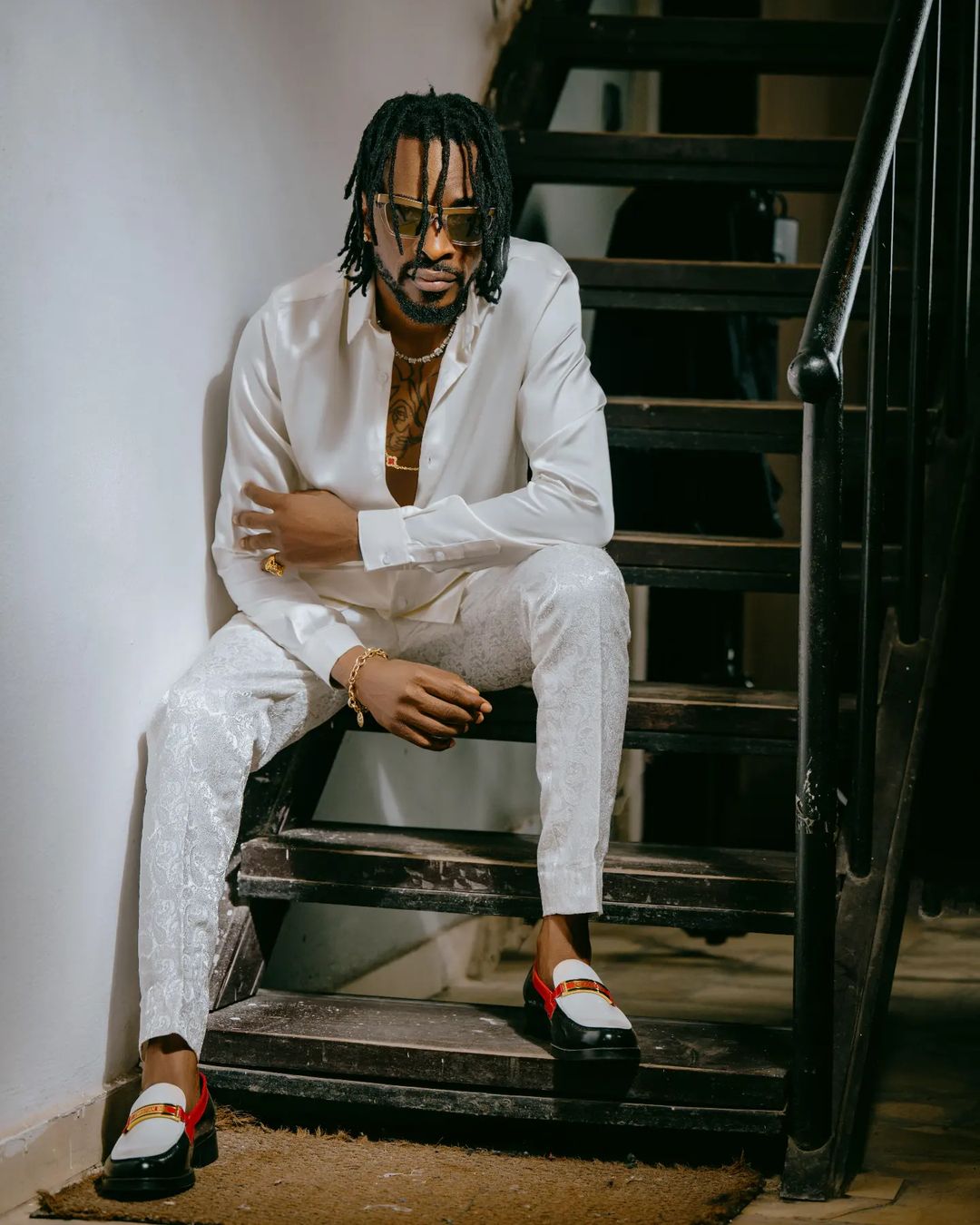 9ice Biography
Full Name

Alexander Abolore Adegbola Akande

Stage Name

9ice

Also known as

Adigun, Bashorun Gaa, Bashorun Gaa, Baale

Date of Birth

17 January 1980

State of Origin

Ogbomosho, Oyo State, Nigeria

Place of Birth

Ogbomosho, Oyo State, Nigeria

Genres

Hip hop, Afrobeats, Fuji music

Occupations

Singer, Songwriter

Active Years

2000–present

Record Label

Alapomeji Ancestral Records

Net Worth

$2 million

Social Media Handles

Instagram: 9iceofficial
Twitter: @9iceofficial
Early Life and Education
9ice was born on January 17th, 1980 in Ogbomosho, Oyo State, Nigeria, into a polygamous family with five wives and nine children. He was raised in the Lagos suburbs of Shomolu Bariga.
He acquired his primary education at Abule Okuta Primary School and his secondary education at CMS Grammar School Bariga. He remained at home for more than four years after his secondary school education because he was unable to secure admission. At that time, he looked into various low-paying professions and engaged in several activities, including writing, football, and boxing. Later, 9ice was admitted to Lagos State University to study law, but he later dropped out to focus on his music career.
He had aspirations of being a musician right from his formative years, and his parents agreed to let him pursue a career in music after realising his gift for singing.
Career
At the tender age of fourteen, 9ice began songwriting and performing. He was a huge fan of Alhaji Alabi Pasuma, known as Pasuma Wonder, who inspired him to explore the Fuji music subgenre. His surroundings, as well as people like Ebenezer Obey, King Sunny Adé, Tatalo Alamu, the late Alhaji Ayinla Omowura, and the late Alhaji Haruna Ishola, serve as sources of inspiration for him.
9ice started his music career in the 1990s. He recorded his first demo, Risi de Alagbaja, in 1996. It wasn't until 2000 that he released his first solo single, "Little Money." The single Gongo Aso was released by 9ice in 2008. Following the success of the song, 9ice was invited to play at the Nelson Mandela 90th Birthday Tribute Performance in London, the United Kingdom, in June 2008. He later won the Best Hip Hop Artist of the Year award at the MTV Africa Music Awards.
In the Soundcity/MTN Campus Blast tours, 9ice has become a famous figure on Nigerian college campuses. In 2008, he appeared on the "Let's Go There Tour With Ariya Entertainment" in New York, Los Angeles, Chicago, Houston, and Maryland. The Star Mega Jam was from 2007 to 2010 at the London Troxy in 2008 and 2010.
In October 2010, to commemorate Nigeria's 50th anniversary of independence, he also performed at sold-out concerts in the Netherlands and Malaysia. Additionally, in 2010, 9ice began a European tour that included stops in Italy, Spain, Switzerland, and Cyprus, where many Nigerians were in attendance.
At the 2009 Hip Hop World Awards, which were held at the International Conference Centre in Abuja, Gongo Aso helped win four additional prizes in the categories of Album of the Year, Artist of the Year, Song of the Year, and Best Rap Album.
To surpass his other albums, 9ice launched a new one in 2020 titled "Tip of The Iceberg: Episode 1″. He founded and serves as CEO of Alapomeji Ancestral Record, his own music publishing company. He has collaborated with various artists like Sound Sultan, Olamide, Lord of Ajasa, ID Cabassa, Tuface Idibia, and Wizkid.
Political Career
9ice made plans to run for office in 2015 as a member of the House of Representatives representing the Ogbomoso North Constituency, Oyo State, in the National Assembly in January 2014. He ran for the position under the APC's banner but lost in the primary elections. The "Gongo Aso" singer was chosen in April 2015 to serve as Abiola Ajimobi's special adviser.
Personal Life
9ice has been married three times, and he has children with different women. After being introduced to Toni Payne through a friend, Ruggedman, 9ice and Toni Payne got married in July 2008. After two years of marriage, the musician announced their divorce after the birth of their first kid, Zion. According to rumours, the marriage ended as a result of adultery. 9ice's song "Once Bitten" was allegedly written in response to his former wife's alleged relationship with Ruggedman.
However, 9ice apologised to Ruggedman and Payne after six years. Ruggedman claimed that even though they appeared to have resolved their disagreements, their relationship would never be the same again. After the split, 9ice married Adetola Anifalaje, an American software engineer, in 2018. However, the marriage failed once more after the couple welcomed their daughter, Milani-Francoise Imisioluwa Akande.
When he was 39 years old, he married Ola Sunkanmi Ajala, a Lagos-based event director. When a video showing 9ice cheating on Sunkanmi appeared online a year later, their marriage was put in jeopardy. The musician then issued a public apology and pleaded with his followers on Instagram to convince his wife. Michelle Abolanle Akande, who was born prior to 9ice and Sunkanmi's marriage, is their current child. Additionally, 9ice and another lady named Vickie Godis are the parents of twin children, Maya and Miya Akande.
Discography
Albums
Certificate (2007)
Gongo Aso (2008)
Tradition (2009)
Certificate and Tradition reloaded (2010)
Versus/Bashorun Gaa (2011)
GRA/CNN (2014)
Id Cabasa (2016)
G.O.A.T (2018)
Fear of God(2020)
Tip of the Iceberg: Episode 1 (2020)
Selected Singles
Aranbada (2021)
Sobo (2020)
Glory (2020)
Seku Seye (2020)
Agbatan (2020)
Zaddy (2020)
Pabanbari (2018)
Living Things (2016)
Lords Prayer (2016)
Aunty (2016)
Ogara (2016)
Life Drama (2014)
Shakashiki (2011)
Life is Beautiful (2011)
Everyday (2011)
No Be Mistake (2009)
Respect is Reciprocal (2009)
Gbamu Gbamu (2009)
Alapomei Anthem (2009)
Anytime (2009)
Bo Kini Yen (2009)
Pete-Pete (2009)
Gongo Aso (2008)
Street Credibility ft. 2Face (2008)
Party Rider (2008)
Kinda Life (2008)
Photocopy (2008)
Ade Ori (2008)
Pamurogo (2008)
Kasa Final (2008),
Wedding Day (2008)
Little Money (2007)
Awards and Nominations
MOBO Best African Act 2008
Nigerian Music Awards: Best Act 2008.
Nigerian Entertainment Awards: Most Indigenous Act 2007
Nigerian Entertainment Awards Best Act 2008
Future Awards
MTV Base Best Hip Hop Act 2008
LTv/Eko FM Awards
Hip-hop World Awards Best Vocal Performance, Male 2008
Hip-hop World Awards Revelation of the Year 2008
Hip-hop World Awards Best Album 2009
Hip-hop World Awards Best Act 2009
Hip-hop World Awards Artiste of the Year, 2009
Hip-hop World Awards Best Song 2009
Dynamix Awards Most Promising Act 2007
Dynamix Awards: Best Song of the Year 2008
Gbedu Awards, 2008
City People's Award 2009
Net Worth
He is reported to be worth $2 million.
Social Media Handles
Instagram: 9iceofficial
Twitter: @9iceofficial