Ababu Namwamba (23 December 1975) is a Kenyan politician and international lawyer. He is the former Chief Administrative Secretary of the Ministry of Foreign Affairs of the Republic of Kenya. Namwamba is also a leader of the Labour Party of Kenya.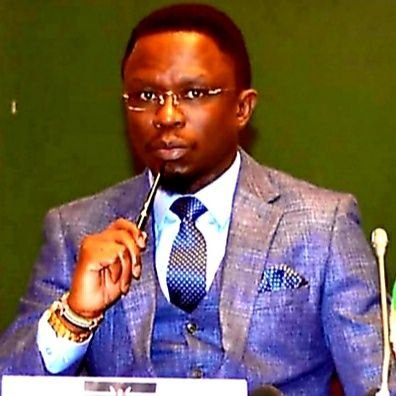 Ababu Namwamba Biography
| | |
| --- | --- |
| Full Name | Ababu Namwamba |
| Date of Birth | 23 December 1975 |
| Place of Birth | Kenya |
| Nationality | Kenyan |
| Occupation | Lawyer | Politician |
| Political Party | Labour Party of Kenya |
| Net Worth | $3.5 million |
| Social Media Handle | Twitter @ababunamwamba |
Early Life
Ababu Namwamba was born on December 23rd, 1975 in Jinja, Uganda to Kenyan parents. His father's name is Peter Namwamba Lwecheche, while his mother's name is Agatha Maina Namwamba. He spent his early life in both Kenya and Uganda.
Namwamba is the last child of a family of eight children, six boys, and two girls. His family relocated to Kenya because of Idi Amin's reign of terror.
Education
Namwamba went to Milimani Nursery, Eldoret, Port Victoria Primary School, Western before proceeding to Kolanya Boys High School, Teso North. He went to the University of Nairobi where he obtained a Bachelor of Laws degree and then proceeded to American University Washington College of Law where he graduated with a Master of Law degree.
Career
Ababu Namwamba was elected as a student leader in 1996. He was also the Kenya Law Students Society leader, which gave him an opportunity to meet former United Nations Secretary-General, Kofi Annan.
He served at the Public Law Institute (PLI), Kenya's first-ever civil society organization for the public interest, until 2002. Namwamba proceeded to found a public interest trust in 2002 called The Chambers of Justice, where he also served as Chief Counsel until 2007 and founded his own law firm, Ababu Namwamba Attorneys-at-Law.
He fight for the right of children living with HIV/AIDS to attend public schools in 2003. He filed the case after two schools in Ngong and Karen stopped children from Nyumbani from attending school due to their HIV status. He won the 2004 Global Justice Award for the case, which he received in Amsterdam, the Netherlands.
In 2004, he won a terrorism case where his client, a Kenyan-born Pakistani, was wrongfully accused of terrorism.
As counsel for Swiss national Marianne Brynner, Ababu Namwamba played a vital role in 2004/2005 in an investigation into the mysterious death of former Kenyan Foreign Affairs Minister, the late Dr. Robert Ouko.
Namwamba was active on the international lobbying circuit, strongly advocating for international human rights, fair trade practices, and debt relief for Africa through platforms like the World Social Forum in such far-flung locations as Mumbai, India, and Porto Alegre, Brazil.
Political Career
Ababu Namwamba won the 2007 Kenyan parliamentary election as an honorable representative of Budalang'i Constituency in the National Assembly of Kenya as a member of the Orange Democratic Movement. He also served as Parliamentary Secretary for the ODM from 2008 to 2013.
He was also appointed by President William Ruto as Minister for Sports and Youth Affairs from 2012 until the ODM lost office in the 2013 election.
In 2016, he left ODM because the party leader, Raila Odinga, who has lost the presidential election twice, was no longer capable of convincing people to vote for him. He joined the Labour Party of Kenya and has been the party leader since September 2016. The party announced its support in March 2017, for presidential candidate Uhuru Kenyatta, in the election of August 2017. He lost his Budalang'i seat in that election.
Namwamba was appointed to the position of Chief Administrative Secretary in the Ministry of Foreign Affairs in January 2018 and was sworn into office in March 2018.
Personal Life
Ababu Namwamba got married to Prisca Mwaro, and they were blessed with four children, whose names are Nkosi, Lulu, Tanya-Helena, and Ababu Junior.
Later, some article surfaced online that the two has separated.
Ababu Namwamba Net Worth
He announced his net worth recently which he worth $3.5 million.
Social Media Handle