Ace Magashule is a South African famous politician, and former anti-apartheid activist, who was the secretary General of the African National Congress until his dismissal on 3 May 2021.
Born on the 3rd of November 1959, Ace served as the Premier of the Free state and is famously known to be influential the in the jurisdiction he serves.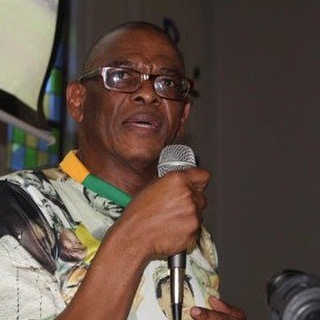 Ace Magashule Biography
Full Name :

Elias Sekgobelo Mageshule

Nick name :

Ace

Date of Birth :

3rd of November 1959

Nationality :

South Africa

State of Origin :

Free State

Place of Birth :

Parys

Occupation :

Politician

Spouse :

Seipati Magashule.

Children :

Thoko Magashule.

Thato Magashule.

Tshepiso Magashule.

Net Worth :

$10 million and $16 million.

Social Media Handles :

Instagram: magashule_ace

Twitter: @Magashule_Ace
Early Life and Education
Ace Magashule was born Elias Sekgobelo Mageshule in the Parys area of Orange Free State, South Africa. He started his education in Tumahole Primary School and attended Phehellange Secondary School for his high school education.
While in school, he gained the nickname "Ace" on the school soccer field. After his basic education, Ace further enrolled in Fort Hare University where he obtained a Bachelor of Arts degree.
Career
In his early years, Ace was a member of the Tuimahole Youth Congress and the Congress of South African Students. At Fort Hare in 1982, he was arrested for engaging in a protest against a visit by the Ciskei Prime Minister Lennox Sebe and convicted of spurring public violence.
Also, in the 80s, he played a significant role in the Democratic Front (UDF) in the Northern Free State and was involved in organizing a rent boycott in Tumahole. In 1985, he was arrested and detained for his UDF activities and sent into exile in 1889.
Ace returned from exile In 1991 after the ban was lifted on ANC and other anti-apartheid groups. Later that year, he was elected as the Chairperson of the ANC's Northern Free State region and also became the Deputy Chairperson of the newly created Free state provincial branch in 1994. 1n 1998, he attained the province's Chairperson and became the longest-serving provincial chairperson.
During his tenure, the province elective conferences were challenged in Court and he was accused of rigging votes. He was also part of the "Premier League", an unofficial ANC lobbying group that was active under Jacob Zuma's presidency and was composed of himself, Supra Mahumapelo of the North West, and DD Mabuza of Mpumalanga.
In 2005, Ace was directly elected to the ANC Party Executive Committee after he had served as an ex officio member of the committee for more than a decade. In December 2017, Ace was elected as the Secretary General of the party during the 54th ANC National Conference.
Position Held
Elected Chairperson of ANC's Northern Free State Region in 1991.
Elected Deputy-Chairperson of ANC in the Free State in 1994.
Served as MEC of Economic Affairs between 1994 and 1996
Served as MEC of Transport.
Deployed to National Assembly, August 1997.
Provincial Chairperson of the African National Congress (ANC) in the Free State, 1998.
Re-elected as Chairperson of ANC PEC in Free State in 2002.
Served as MEC of Agriculture between 2004 and 2005
Re-elected as Chairperson of ANC PEC in Free State in 2005.
Elected to ANC National Executive Committee during the 52nd ANC National Conference in 2007 at Polokwane.
Re-elected as Chairperson of ANC PEC in Free State in 2008
Served as MEC of Sports, Arts and Recreation between 2007 and 2008.
Served as MEC of Safety and Security in 2008.
Appointed as Premier of the Free State 2009
Elected as Secretary General of the African National Congress in 2017.
Ace Magashul
Personal Life
Ace Magashuke is happily married to the love of his life Seipati Magashule. According to reports, Ace and Seipati dated for a while before they tied the knots. However, the couple is blessed with three beautiful children which include; Thoko, Thato and Tshepiso.
Their first son, Tshepiso dominated South African news pages after it was alleged that his father had online shady business with the notorious Gupta family.
Ace Magashule Net Worth
The exact amount of Ace's net worth is not available to the general public. However. His net worth is estimated to be between $10 million and $16 million.
Social Media Handles
Instagram: magashule_ace
Twitter: @Magashule_Ace