Aisha Halilu Buhari is Nigeria's First Lady and the wife of President Muhammadu Buhari, who came into office on May 29, 2015, after winning former President Goodluck Jonathan. She is a beauty therapist and cosmetologist. She is a strong supporter of women's and children's rights. She is a member of the International Health and Beauty Council and Vocational Training and Charitable Trust in the United Kingdom.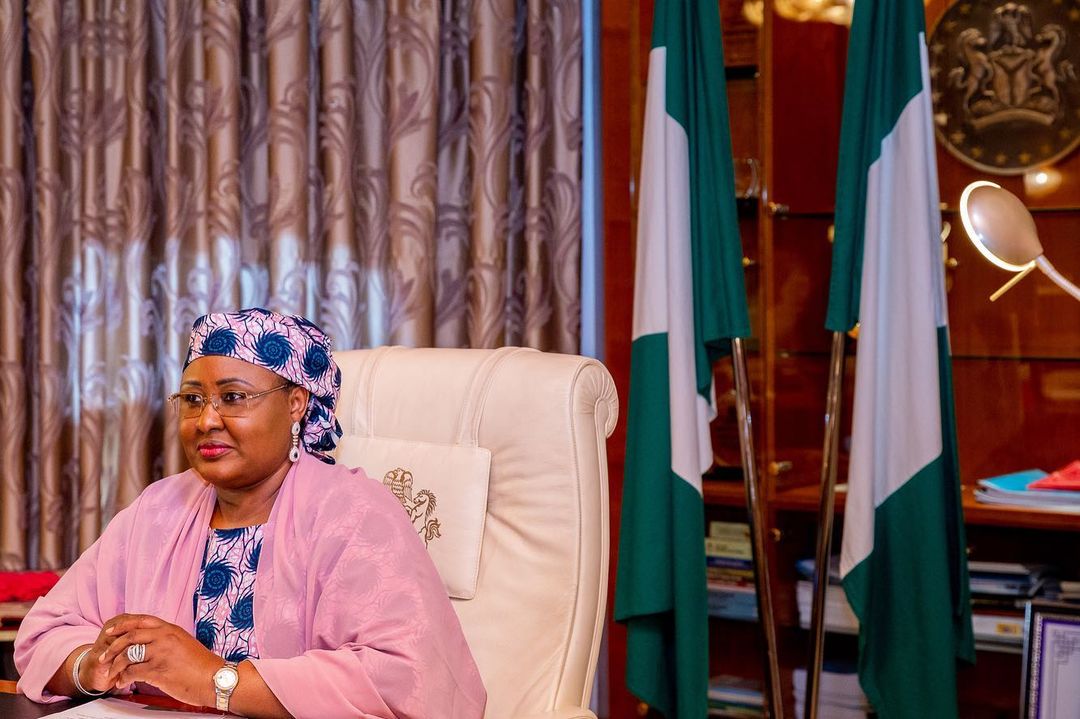 Aisha Buhari Biography
Full Name :
Aisha Halilu Buhari
Date of Birth :
17th February, 1971
Place of Birth :
Adamawa State, Nigeria
Higher Qualification :
B.Sc
Occupation :
Nigerian First Lady
Parent :
Alhaji Muhammadu Ribadu (Grandfather)
Social Handle :
Instagram: aishambuhari
Early Life & Education
Aisha Buhari was born on February 17, 1971, in Adamawa State, Northeast Nigeria. Her grandfather, Alhaji Muhammadu Ribadu, was Nigeria's first minister of defense. Aisha's father worked as a civil engineer, and her mother is a descendent of the illustrious Ankali farming dynasty. She attended her primary and secondary schools in Adamawa State. President Muhammadu Buhari married Aisha on December 2, 1989. They both have five children and one grandchild together.
Aisha Buhari graduated from Ambrose Alli University (AAU) with a bachelor's degree in public administration. She earned a master's degree in international affairs and strategic studies from the Nigerian Defence Academy in Kaduna. She also earned a beauty therapy diploma from the Carlton Institute of Beauty Therapy in Windsor, England. She graduated from Academy Esthetique Beauty Institute in France with a post-graduate diploma in cosmetology and beauty.
Career
Business
Aisha Buhari has been the founder/managing director of Hanzy Spa and the owner of Hanzy Beauty Institute, a beauty salon in Kaduna and Abuja, for many years. She is a beauty therapist and cosmetology resource person for the National Basic Technical Education (NBTE), as well as a participant in the development of NBTE's small-medium enterprise curriculum. Following the election of her husband as President of Nigeria, Aisha Buhari shuttered her beauty salon. Essentials of Beauty Therapy: A Complete Guide for Beauty Specialists, a book written by Aisha, has been recommended as a text for the NBTE curriculum.
Politics
Aisha Buhari is a strong supporter of women's and children's rights, and this was a major theme in her husband's presidential campaign in 2015. She stated in October 2016 that she would not support her husband in the next election unless he regained control of his ministry. "I don't know which party my wife belongs to, but she belongs to my kitchen, my living room, and the other room," the president responded.
Impact & Influence
In May 2015, on the sidelines of the Global Women Conference held in Buenos Aires, Argentina, she stressed the need for Nigerian laws that will protect the women from forced early marriages, sex trafficking, and other issues Nigerian girls and women contend with. Aisha raised concerns about child sexual abuse in Nigeria, sex trafficking, and the need for legislation against early marriage.
Aisha Buhari met with some parents of the abducted Chibok Girls on June 12, 2015, and gave earnings from her book to the Chibok girls' parents, the Buni Yadi boys murdered in 2014, and starving children on April 14, 2016.
The Aisha Buhari Cup is an invitational football competition for the Nigerian women's national team, organized by the Nigerian football federation under the influence of Aisha Buhari.
Aisha Buhari works with those who have been internally displaced as a result of the Boko Haram insurgency. Following a visit to an IDP camp in Borno, she formed a committee to provide humanitarian items.
Foundation
Future Assured
Aisha Buhari launched Future Assured to continue her advocacy work for women's and children's health and well-being through community mobilization and health promotion. Aisha was inspired by the need to improve the Nigerian population's present dismal health results for women, children, and other vulnerable populations. On the fringes of the United Nations General Assembly in New York on September 29, 2015, she reaffirmed her commitment to this work at stakeholders gathering at the presidential villa and a public launch of Future Assured programs.
Controversies
Fatima Daura, the daughter of Mamman Daura, the newspaper editor, accused Aisha of verbally harassing her and attacking her family in October 2019. Fatima videotaped Aisha raving inside the presidential mansion in Abuja and released it to the press. Fatima Daura claimed she taped the video because she would not have been believed if she had made those charges without proof. Aisha Buhari said she was in the video and claimed Fatima Daura mocked her while she was being recorded. Aisha then issued an apology through her publicist. She expressed her rage because Mamman Daura and his family refused to allow her access to certain areas of the presidential mansion after President Buhari instructed Mamman Daura and his family to move out of the villa.
Net Worth
Aisha Buhari has a net worth of $10 million. She is a well-known Nigerian woman who, through her business, amassed a great deal of reputation and riches before her husband became president.
Social Handle
Aisha Buhari has a huge fanbase on social media with over 500,000 followers on Instagram. Her Instagram handle is written below.
Instagram: aishambuhari