Alaba Oluwaseun Lawson was born on January 18, 1951. She was a Nigerian business magnate, entrepreneur, and academician who served as the first female president of the National Association of Chambers of Commerce, Industry, Mines and Agriculture (NACCIMA) and the chairman of the board of the Governing Council, Moshood Abiola Polytechnic, Ogun State. She was also a prominent traditional ruler and a philanthropist who championed the cause of women's empowerment and development. She also became the Iyalode of Yoruba land.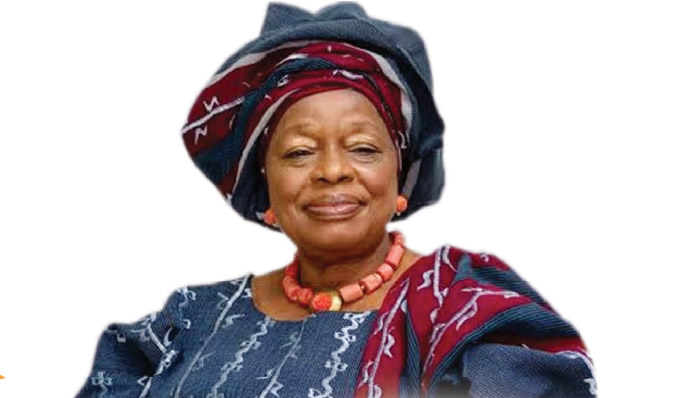 Alaba Lawson Biography
| | |
| --- | --- |
| Full Name | Alaba Oluwaseun Lawson |
| Date of Birth | January 18, 1951 |
| Place of Birth | Ogun State, Nigeria |
| Occupatiion | Business Magnate | Author | Academician |
| Spouse | Chief Adekunle Lawson |
| Children | Oluseun, Olufemi, Olubukola, and Olumide |
| Died | October 28, 2023 (aged 72) |
Early Life and Education
Alaba Lawson was born on January 18, 1951, in Abeokuta, Ogun State, Nigeria, to the Jiboku-Taiwo family. She completed her primary and secondary school education at St. James' African Primary School, Idi-Ape, Abeokuta between 1957 and 1962 and at Abeokuta Girls Grammar School, Abeokuta, leaving in 19681. She then proceeded to St. Nicholas Montessori Teachers' Training College at Prince's Gate, England in 1973 where she obtained a first-class diploma in education.
Career
Lawson started her teaching career in 1969 at Children House School, Ibara, and while in England, she taught at Queen's Gate Montessori Nursery School and Mill Hill Nursery and Junior School before she returned to Nigeria in 1977 to establish her own school called Lawson's Childcare Nursery and Primary School. She started with just three students and later expanded to Lawson Group of Schools.
Alaba Lawson also ventured into trading and distribution business and established Capricorn Stores Ltd in 1968. She had distributing outlets with Nigerian Breweries Ltd, Nigerian Bottling Company Ltd, Guinness Nigeria Ltd, West African Portland Cement Ltd, etc. She later established Abestone Microfinance Bank in 2009 to boost small and medium enterprises (SMEs).
Lawson was also actively involved in the chamber of commerce movement and rose through the ranks to become the president of the Abeokuta Chambers of Commerce in 1995 and the president of the Ogun Council of Chambers of Commerce in 2000. On May 25, 2017, she made history by becoming the first woman to be elected president of NACCIMA, the umbrella body of all chambers of commerce in Nigeria. She also served as the chairman of the board of the Governing Council, Moshood Abiola Polytechnic, Ogun State.
Personal Life
Lawson was married to Chief Adekunle Lawson, a businessman and politician who died in 2011. They had four children: Oluseun, Olufemi, Olubukola, and Olumide. She was a devout Christian and a member of St. Peter's Cathedral Church, Ake, Abeokuta.
Chieftaincy Titles
Lawson held several chieftaincy titles in recognition of her contributions to society. Some of them are:
The Otun of Oko
The Asiwaju Iyalode of Egbaland
The Otun Iyalode of the Egba Christians
The Iyalode of Egbaland (later deposed)
The Iyalode of Yorubaland
She was also the president pro-tempore of the Forum of Female Traditional Rulers in Nigeria.
Death
Lawson died on October 28, 2023, at her home in Abeokuta. She was 72 years old. The cause of death was not immediately disclosed but it was later revealed that she suffered a heart attack. Her death was confirmed by NACCIMA in a statement posted on its website. The statement expressed condolences to Lawson's family, friends, and associates and praised her for her legacy and achievements.