Alan Sidney Patrick Rickman was born on February 21, 1946. He was an English actor known for his remarkable talent and distinctive voice. With a career spanning several decades, he left an indelible mark on both the stage and screen. Rickman's versatile performances, including his iconic role as Severus Snape in the Harry Potter film series, earned him a dedicated fan base and critical acclaim.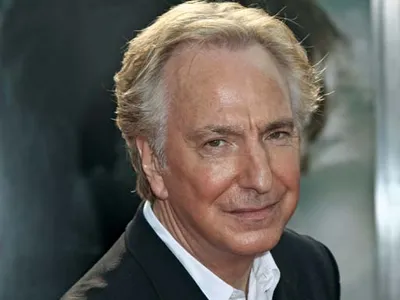 Alan Rickman Biography
| | |
| --- | --- |
| Full Name | Alan Sidney Patrick Rickman |
| Date of Birth | February 21, 1946 |
| Place of Birth | London, England |
| Occupation | Actor |
| Spouse | Rima Horton |
| Dead | 14 January 2016 (aged 69) |
Early Life and Education
Alan Rickman was born on February 21, 1946, in Hammersmith, London, England, into the family of Bernard Rickman, a factory worker, and Margaret Doreen Rose Bartlett, a homemaker. He was the second child of his parent four children. Alan, who was born and raised in Acton, West London, showed an early interest in theater, especially drama.
He went to Derwentwater Primary School and afterward to Latymer Upper School, where his love of acting grew even more. Rickman's journey into the world of theater began at the Royal Academy of Dramatic Art (RADA), where he honed his acting skills and developed the distinctive voice that would later become one of his trademarks.
Career
The early years of Rickman's career in theater were characterized by his commitment to developing his art. He first attracted attention for his stage performances around this period, many of which were praised for their complexity and creativity. His affiliation with the famed Royal Shakespeare Company gave him the opportunity to demonstrate his versatility and stage presence. But what really pushed him into the public eye was his performance as Vicomte de Valmont in "Les Liaisons Dangereuses" in 1985. Widespread critical acclaim for his portrayal of the cunning and ethically ambiguous character helped to establish him as a powerful force in British theater. His career took off after this performance, paving the way for much bigger successes to follow.
While theater continued to play an important role in Rickman's artistic development, he also made a successful foray into the world of film. His 1988 cinematic debut in "Die Hard" was a landmark moment that displayed his extraordinary talent for bringing complicated and enduring opponents to life. He gave a menacing and captivating performance as Hans Gruber, bringing the movie to a classic rank in the action genre.
Alan Rickman was absolutely unique because of his versatility. He moved between roles in many cinema genres with ease. He demonstrated his talent for succeeding in period dramas with delicacy and grace in "Sense and Sensibility" (1995), where he played the gracious and sympathetic Colonel Brandon. Alan showed off his comedic skills in "Galaxy Quest" (1999), bringing the laughs with his depiction of the haughty Dr. Lazarus. The versatility of Rickman's acting style was demonstrated by his ability to fit in with many characters and genres.
But what made him a worldwide celebrity was his portrayal of Severus Snape in the Harry Potter movie series. Audiences of all ages were incredibly moved by Rickman's portrayal of the complex and ambiguous Snape. Fans adored him for being able to capture the intricacy of the character, which was frequently veiled in mystery, and for making Snape one of the most recognizable figures in the series. Alan Rickman's impact on the Harry Potter series' success was immense, and his portrayal of Snape is still one of his most well-known roles.
Personal Life
Alan Rickman was a reserved person who hardly ever spoke to the media about his private life. He was renowned for his commitment to upholding the moral character of the characters he played and his devotion to his trade. His professionalism and generosity were valued by his friends and coworkers.
Rickman wed Rima Horton, his lifelong partner and high school sweetheart, in 2012. Before his death, their relationship lasted for more than 50 years.
Illness and Death
A tragic case of pancreatic cancer claimed the life of actor Alan Rickman. He fought this severe disease in secret and with great fortitude. Alan Rickman died on January 14, 2016, at the age of 69. His death was received by admirers and other performers with deep sorrow as they lamented the loss of great talent. Through his outstanding performances, Rickman's reputation continues to shine brilliantly, and he is still a well-liked personality in the theatrical and cinema industries. His demise provided a moving reminder of the significance of initiatives for pancreatic cancer awareness and research.