Bukola Elemide, professionally known as Aṣa is a Nigerian-French singer, songwriter, and recording artist with a smoky voice. Asa incorporates elements of soul, pop, folk, and reggae, among other international influences, into her warm neo-soul songs.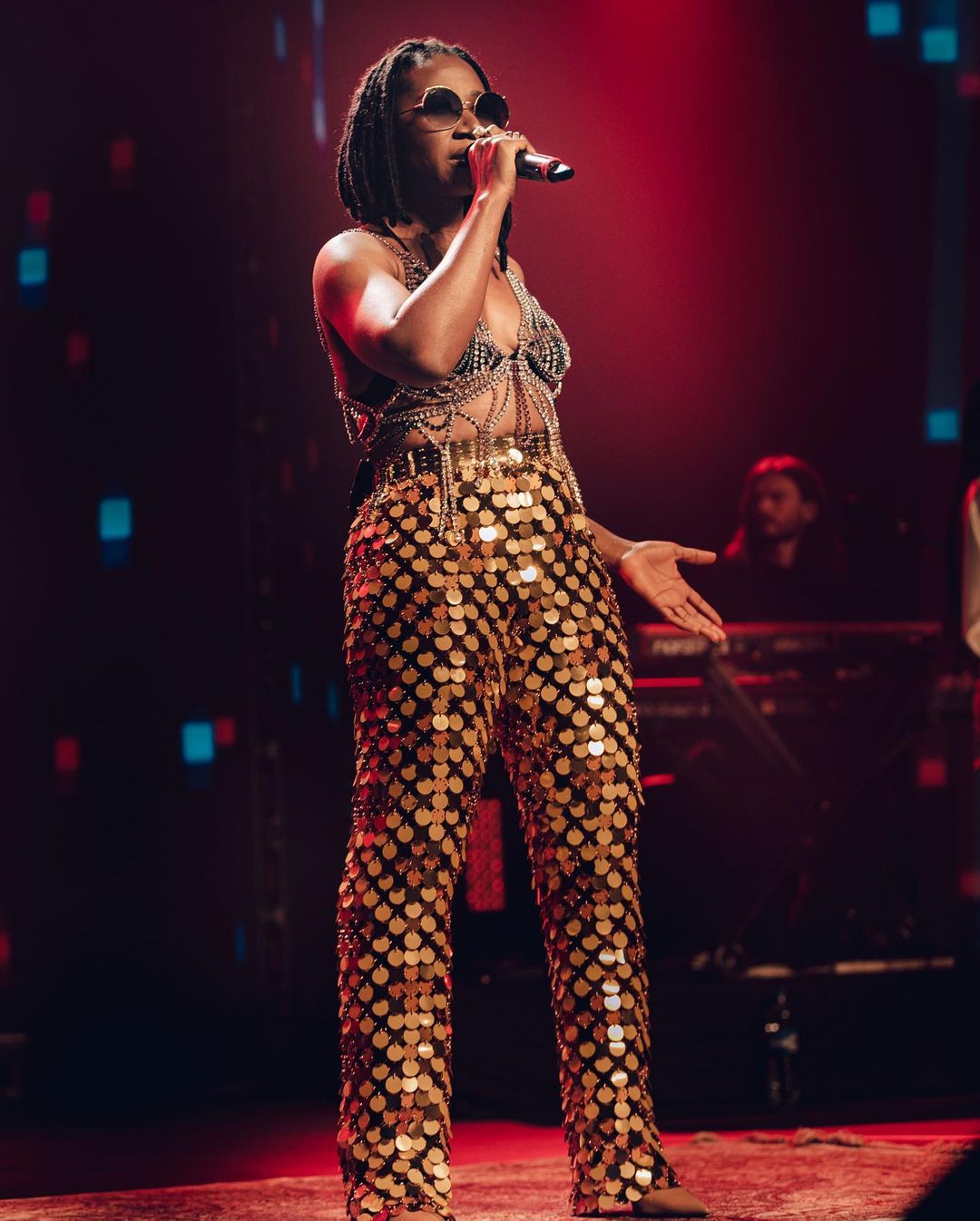 Asa Biography
Full Name :
Bukola Elemide
Date Of Birth :
17 September 1982
Place Of Birth :
Paris, France
State Of Origin :
Abeokuta, Ogun State.
Highest Qualification :
Diploma
Social Media :
Instagram: asaofficial
Twitter: @asa_official
Early Life and Education
Asa was born on the 17th of September 1982 in Sign Virgo, Paris. At the time of her birth, her parents were studying cinematography in France. Elemide is the only female child in the family, alongside three brothers. She was two years old when her family relocated to Nigeria, so she grew up in Festac Town, although the family is from Itoko Town, Abeokuta in Ogun State.
Asa first attended the popular Corona High School in Lagos. She later went to the Federal Government College, Jos, Plateau State, where she had her WAEC. At the completion of her secondary education, Asa returned to Lagos for her university education. Asa was temporarily a student of Theatre Arts and Music at the Lagos State University (LASU). She dropped out as a Diploma student, spending a little over six months as the curriculum clashed with her Saxophone lessons class at Peter King's Musical School in Badagry, Lagos, where she majored in Guitar for a year. At age 20, after completing her primary, secondary, and university education, she returned to France to study at the IMFP School of Jazz.
Career
Asa's musical influences and inspiration grew over the years from the collection of great music her father had built up for his work as a cinematographer. These records featured American, Nigerian, and African soul classics, including musical greats such as Marvin Gaye, Fela Kuti, Bob Marley, Aretha Franklin, King Sunny Adé, Diana Ross, Nina Simone, and Miriam Makeba.
Her musical career started after she left Nigeria for France. In 2004, Asa met her manager and friend, Janet Nwose, who introduced her to Cobhams Emmanuel Asuquo, who in turn became the producer of her first studio album, Asa (Asha).
Aṣa returned to France at the age of 20 to study at the IMFP school of jazz music, where she was told by teachers that she should go ahead and become a recording artist because she was ready and needed no schooling. Back home in Nigeria, her first single, "Eyé Adaba," was beginning to get airplay. Aṣa soon signed to Naïve Records. She partnered with Cobhams Asuquo, and with the new involvement of Christopher Dupouy and Benjamin Constant, she produced her first platinum-selling self-titled album, Aṣa. The release of the album saw Aṣa charting radios across Europe, Asia, and Africa and went on to win the prestigious French Constantin Award in 2008 when she was voted the best new talent of 10 singers or groups by a jury of 19 music-industry specialists in Paris.
Her second album, Beautiful Imperfection, in collaboration with French composer Nicolas Mollard, was released on October 25, 2010, and went platinum in 2011. The lead single from Beautiful Imperfection titled "Be My Man," was released in late September 2010. It was reported that by 2014 Aṣa sold 400,000 albums worldwide. Asa's third studio album, Bed of Stone, was released in August 2014. The singles are "Dead Again", "Eyo", "Satan Be Gone", "The One That Never Comes" and "Moving On". She went on a world tour from 2015 to 2017.
On May 14, 2019, she released a new single titled "The Beginning" and on June 25, 2019, she released the single "Good Thing". On September 11, 2019, she announced on her Twitter page that her new album, Lucid, would be released on October 11, 2019. True to her words, the album was then released on October 11, 2019. She released yet another album on the 25th of February 2022 titled "V" featuring the likes of Wizkid, Nigerian highlife duo-The Cavemen and Ghanaian artist Amaarae.
Personal Life
Her parents were working and studying cinematography in France when Asa was born. Her father, Akin Elemide, was a telecommunication engineer. He also shot video reports for wedding ceremonies and other events. Her mother, Arsah Elemide, was a shopkeeper who supported her father. When she came back to Nigeria after her studies abroad, she noticed that her parents were divorced. She drew closer to her mother after their divorce, getting more involved with music.
Her father's elaborate musical collection had a heavy influence on her life and career choice, and his cinematography also influenced her acting prowess. Yet, Asa is one of the few celebrities who have managed to keep their personal lives away from the prying eyes of the media. As a result, little is known about her brothers or other family relations.
Asa has always appeared to be single, or at least that is what she has convinced people to believe. However, there is little information regarding whom she has dated, is dating, or will date. She noted that her fans think she is uptight, but that is not the case; she stated that she is a product of good parenting and society.
Asa was a shy person and a tomboy while growing up, perhaps because she was the only female amongst three boys. In 2013, Asa was reported to be a lesbian and her manager, Janet Nwosu, was her alleged lover. She denied the allegation and went as far as suing the media house that published the news for libel. In 2014, she revealed that she had finally found the love of her life. However, it is not known if the lover is male or female.
In 2015, she stated in an interview that she lost her virginity at age 28. Also in 2015, in an interview, she said she found love and was dating a handsome Englishman whose real identity remains unknown. We only know he is an entrepreneur and was the inspiration behind her track "How Did Love Find Me." A picture of them backing the camera and facing the beach surfaced on Instagram.
Nobody knows exactly what happened, but due to some irreconcilable differences, the relationship crashed. She is currently not in a relationship, and she is more interested in focusing on her career than having a relationship.
Albums
Aṣa (Asha) (2007)
Live in Paris (2009)
Beautiful Imperfection (2010)
Bed of Stone (2014)
Live in Lagos (2017)
Lucid (2019)
V (2022)
Singles
Fire on the Mountain 2009
Jailer, 2009
Be My Man, 2010
Why Can't We, 2011
The Way I Feel, 2012
Ba Mi Dele, 2012
Dead Again, 2014
Eyo, 2015
The Beginning, 2019
Awards and Nominations
Best R & B/Pop album
The Best Alternative Song
The Year's Best Recording
Best Recording of the Year
Best Vocal Performance (Female) at the Hip-Hop Headies Awards
Prix Constantin, 2008
2011: French Music Awards Victoires de la Musique nomination for "Female Artist of the Year".
Net Worth
Asa is currently making waves in the Nigerian music industry. She is rated as one of the richest and most influential due to her style of music. She has an estimated net worth of about $30 million.
Social Media Handles
Instagram: asaofficial
Twitter: @asa_official
Asa has shown over the years that you can gain relevance in the music industry with an alternate sound. We hope her latest album will be a blast.