Bhimji Depar Shah (Born 1931) is a Kenyan businessman, industrialist, and entrepreneur. He is the founder and current chairman of BIDCO Group of Companies. According to Forbes, he is the richest man in Kenya and 37th in Africa and was ranked 31st richest man in Africa in 2015.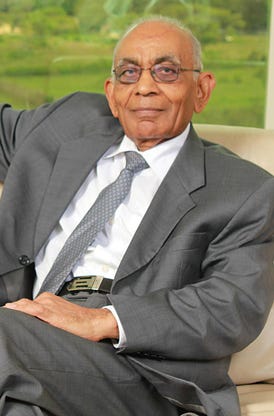 Bhimji Depar Shah Biography
Full Name :
Bhimji Depar Shah
Place of Birth :
Cairo, Egypt
Occupation (s) :
Businessman, Industrialist, and Entrepreneur.
Company :
Bidco Industries Limited
Social Media Handle :
Twitter @bidcogroup
Early Life and Education
Bhimji Depar Shah was born in Cairo, Egypt, in 1931, He later relocated to Nyeri, a town situated in the Central Highlands of Kenya. His education was unknown to the public, but he started business at age 15.
Career
Bhimji Depar Shah is based in Nyeri, where he opened up a petrol station in the town, In 1985, he founded Bidco Industries Limited, where they produced garments but they later began soaps production.
The company expanded in 1991 and ventured into edible oil manufacturing plant in Thika. The international headquarters was moved to the town, which is located northeast of Nairobi, Kenya's capital. The industrial conglomerate is the major producer of soaps, detergents, and baking powder, with annual gross revenue in excess of US$500 million. Bidco's products are marketed in 13 African countries.
According to African Business Magazine 2019, Bidco was ranked among the top 5 most admired brands in Kenya
Bidco FC
He is also the founder and chairman of Bidco United. The club is based in Thika, an industrial town and a major commerce hub in Kiambu County, Kenya, and has grown from just a local team playing in the National Super League (NSL) to participating in the Kenyan Premier League (KPL).
Personal Life
Bhimji Depar Shah is the father of Vimal Shah, who is the current Chief Executive Officer of Bidco Africa. Tarun Shah also works as the group's executive director of business.
Bhimji Depar Shah's Net Worth
He was ranked the richest in Kenya and #31 in Africa with a net worth of $700 million.
Social Media Handle
Twitter @bidcogroup