William Bradley "Brad" Pitt is an American actor and film producer, born on December 18, 1963, in Shawnee, Oklahoma. He rose to fame in the 1990s and has since become one of the most recognized and accomplished actors in the world. Pitt is known for his versatility and range as an actor, having starred in a wide variety of films spanning multiple genres.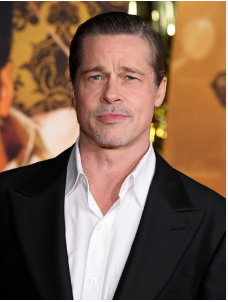 Brad Pitt Biography
Full Name :
William Bradley Pitt
Date of Birth :
December 18, 1963
Place of Birth :
Oklahoma
Occupation :
Actor | Film Producer
Early Life & Education
Brad Pitt was born on December 18, 1963, in Shawnee, Oklahoma, to William Alvin Pitt and Jane Etta Pitt. His family later moved to Springfield, Missouri, where he was raised. Pitt attended Kickapoo High School, where he was involved in sports, student government, and theater.
After graduating from high school, Pitt attended the University of Missouri, where he majored in journalism and advertising. However, he dropped out of college just two weeks before graduation and moved to Los Angeles to pursue a career in acting.
In Los Angeles, Pitt began taking acting lessons and working odd jobs to support himself. He made his television debut in 1987 with a guest appearance on the show "Another World" and landed his first film role in the horror movie "Cutting Class" (1989). While his early work was relatively minor, it helped him establish himself in the industry and led to more significant roles in the future.
Career
Brad Pitt's career began to take off in the early 1990s with his breakout role in the film "Thelma & Louise" (1991). He quickly became known for his good looks and charm, and was dubbed a "sex symbol" by the media. He continued to build his career with roles in films such as "A River Runs Through It" (1992), "Legends of the Fall" (1994), and "Seven" (1995).
In 1997, Pitt starred in "The Devil's Own" with Harrison Ford, and later that year he appeared in "Seven Years in Tibet." In 1999, he starred in the cult classic "Fight Club," directed by David Fincher, which has since become a pop culture phenomenon. Throughout the early 2000s, Pitt continued to work on major film projects, including "Ocean's Eleven" (2001) and its sequels, "Troy" (2004), and "Mr. and Mrs. Smith" (2005), which is where he famously met his future wife, Angelina Jolie.
In recent years, Pitt has continued to work on high-profile films, including "Moneyball" (2011), for which he was nominated for an Academy Award for Best Actor, "12 Years a Slave" (2013), "The Big Short" (2015), and "Once Upon a Time in Hollywood" (2019), for which he won an Academy Award for Best Supporting Actor.
In addition to his acting career, Pitt is also a successful film producer. He founded his production company, Plan B Entertainment, in 2001, and has produced several critically acclaimed films, including "The Departed" (2006), "12 Years a Slave" (2013), and "Moonlight" (2016), all of which won the Academy Award for Best Picture.
Personal Life
Brad Pitt has had a high-profile personal life, which has been the subject of much media attention over the years. He has been married twice, first to actress Jennifer Aniston from 2000 to 2005, and then to actress Angelina Jolie from 2014 to 2019. Pitt and Jolie have six children together, three of whom were adopted.
In 2016, Jolie filed for divorce from Pitt, citing irreconcilable differences. The divorce was finalized in 2019, and Pitt was granted joint custody of their children.
Filmography
Cutting Class (1989)
Thelma & Louise (1991)
A River Runs Through It (1992)
Kalifornia (1993)
True Romance (1993)
Legends of the Fall (1994)
Seven (1995)
Twelve Monkeys (1995)
Sleepers (1996)
The Devil's Own (1997)
Seven Years in Tibet (1997)
Meet Joe Black (1998)
Fight Club (1999)
Snatch (2000)
Ocean's Eleven (2001)
Troy (2004)
Mr. and Mrs. Smith (2005)
Babel (2006)
The Assassination of Jesse James by the Coward Robert Ford (2007)
Burn After Reading (2008)
Inglourious Basterds (2009)
The Tree of Life (2011)
Moneyball (2011)
12 Years a Slave (2013)
Fury (2014)
The Big Short (2015)
Allied (2016)
War Machine (2017)
Once Upon a Time in Hollywood (2019)
Ad Astra (2019)
Philanthropy
Brad Pitt has been active in various philanthropic and humanitarian causes outside his personal life. He has been a vocal advocate for environmentalism and sustainability and has worked with organizations such as Global Green USA and the Make It Right Foundation to promote sustainable housing.
Pitt has also been involved in humanitarian work, particularly in the aftermath of Hurricane Katrina and the 2010 Haiti earthquake. He founded the Make It Right Foundation in 2007 to help rebuild homes in New Orleans' Lower Ninth Ward after Hurricane Katrina and has also worked with organizations such as Not On Our Watch and the Jolie-Pitt Foundation to provide aid to people affected by natural disasters and humanitarian crises around the world.
Networth
As of my knowledge cutoff in 2021, Brad Pitt's estimated net worth is around $300 million USD. However, please note that celebrity net worth can fluctuate over time depending on various factors such as career success, investments, and personal spending habits. It is also important to keep in mind that net worth estimates are often based on publicly available information and may not be completely accurate.
Social Media Handles
Brad Pitt is not active on social media and does not have official accounts on platforms such as Instagram, Twitter, or Facebook. Any accounts claiming to be him are likely fan accounts or fake accounts.