Brian Molefe is one of South Africa's most enterprising entrepreneurs and the most established personalities. He is best known for his tremendous effort as the CEO of TransNet (2010-2015) and Eskom (2015-2016) during the period of state capture involving former president Jacob Zuma and the Gupta family. 
Molefe is a garnered business mogul who has had several successful careers in the public eye. He also served in the nation's military and has over the years won awards for his significant works.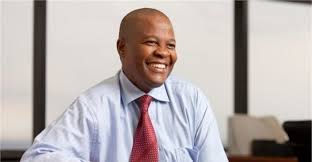 Brian Molefe Biography
Place of Birth :
Pretoria, South Africa
Higher Qualification :
Masters in Business Leadership, University of South Africa
Occupation :
Business owner, Political activist
Parents :
Mr and Mrs SP Molefe
Early life
Brian Molefe was born in the year 1966 in Pretoria, South Africa into the family of SP Molefe. He is currently 56 years of age, however, his exact birth date is unknown to the ‌public.
In 1993, he got married to Portia Derby but later divorced several years later and went their separate ways. Brian has two children; Itumeleng Molefe and Ipeleng Molefe.
After several years of living as a divorcee, in December 2016, he remarried and got wedded to the beautiful Arethur Moagi, who birth him a son.
Education
University of South Africa (South Africa)–Bachelor of Commerce
University of South Africa (South Africa)- Masters–Business Leadership
University of London (United Kingdom)–Postgraduate Diploma–Economics
Harvard Business School (Boston, United States of America–completed 2006) – Advanced Management Program.
Career
Brian started his political activism between 1985 and 1994 when he joined the First National Bank. This was the same year he joined the Development Bank of Southern Africa. Within the year between 1997 and 2003, he assumed several senior positions with the South Africa National Treasury, including work on asset management and intergovernmental relations.
During his tenure as the Chief Executive Officer of the Public Investment Corporation from 2003 to 2008, he supervised a growth in assets under the management of the company from R300bn to R900bn. He was the one who introduced shareholder activism at the PIC and campaigned for the transformation and revamps of the South African Corporate sector to be more inclusive and representative of indigenous South Africans, who were victims of apartheid.
Brian also held the position of Deputy Director General in the National Treasury, responsible for Assets and Liabilities Management. In this position, he was also in charge of the management of sovereign debt and supervised a fundamental restructuring of South Africa's domestic and foreign debt portfolio between 2000 and 2003.
In 2020, Molefe was appointed as the CEO of Transnet. He supervised the implementation of the market demand strategy which resulted in improved rail and port operations. This eventually led to profitability for the company during the 2013/2014 financial year.
In the subsequent year, 2015, Brian was appointed CEO of Eskom mainly to address load-shedding. He ended load-shedding temporarily which did not recur until 2018. In November 2016, he resigned from the post of CEO of Eskom effective January 2017. Brian then became a member of parliament for the African National Congress following the release of the Public Protector's report tagged "state of capture" investigating allegations of corruption related to the Gupta family of South Africa. In May 2017, Brian resigned from Parliament.
Awards
Financial services achievers of the year (2003)–by the Association of Black Securities and Investment Professionals.
Investment specialist of the year (2004)–by Black Business Quarterly.
Empowerment Leadership Award (2007)–by Wits Business School/Barloworld Empowerment Awards.
Institutional Investor for the year (2008)–by Africa Investor Investments Awards
Net Worth
Presently, Brian Molefe is worth an estimated amount of $3 million.
Controversies
On the 3rd of August 2020, Eskom and the SIU jointly issued a summons to Brian Molefe ‌to reclaim R3.8 billion. Although Brian raised about 30 expectations to Eskom's plea yet the matter is still to be heard by North Gauteng High Court.
Also, on the 4th of January 2022, part 1 of the Zondo Commission Report was published and suggested that Brain should be investigated thoroughly. This was after Thuli Madonsela, the previous public protector and a parliamentary had made similar suggestions.
Brian was also reported to have facilitated the conclusion of irregular contracts at inflated prices through deviations, and improper confinements among others, in other to facilitate the entry of companies involved in the money laundering scheme, to the benefit of Gupta companies.
On the 29th of April, 2022, Zondo Commission released the fourth part of their report and recommended that Brian be criminally prosecuted for his alleged involvement in corruption. Eventually, on the 29th of August, one of the South African Security Agency arrested Brian Molefe.
Social Media Handles
Twitter: @BrianMbm1