Busisiwe Mkhwebane is a South African advocate, Prosecutor and Ombudsman. She is a woman who loves the law and because of her work; she has rubbed shoulders with the law and important people in society. Busisiwe served as a public prosecutor of South Africa from 2016 to 2020.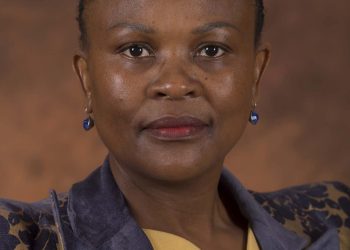 Busisiwe Mkhwebane Biography
| | |
| --- | --- |
| Full Name | Busisiwe Joyce Mkhwebane |
| Date of Birth | 2nd February 1970 |
| Nationality | South Africa |
| State of Origin | Mpumalanga |
| Place\ of Birth | Bethal |
| Occupation | Prosecutor, Advocate |
| Net Worth | $1 million to $5 million |
| Social Media Handle | Twitter: @AdvBMkhwebane |
Early Life and Education
Busisiwe Joyce Mkhwebane, professionally called Busisiwe Mkhwebane on the 2nd of February 1970 in Bethal, Mpumalanga, South Africa. In 1988, Busisiwe matriculated from Mkhephula Secondary School and enrolled in the University of the North, where she obtained a BProc and an LLB.
Subsequently, she bagged a diploma in corporate law and a higher diploma in tax from the University of Johannesburg, formerly known as the Rand Afrikaans University. Later in 2010, she went for her master's in the University of South Africa where she obtained a Master's in Business Leadership.
Career
Busisiwe started her career as a prosecutor in 1994 when she joined the Department of Justice as a Public Prosecutor. In 1996, she became a legal administrator in the International Affairs Directorate. Thereafter, in 1998, she joined the South Africa Human Rights Commission as a senior researcher.
In the subsequent year, Busisiwe joined the Public Protector's office as a senior investigator and acting provincial representative. In 2005, she left to join the Department of Home Affairs as the Director for refugee affairs and later in 2009; she became the chief director of asylum seekers management.
Busisiwe also worked as a Counselor at Immigration and Civil Service in South Africa's embassy in China from 2010 to 2014. During this time, a report by the Organised Crime and Corruption Reporting Project stated that Busisiwe had received a US$5000 payment from the Gupta family in connection with a controversial railway contract with China South Rail. However, Busisiwe rejected the allegations placed on her.
In 2014, she returned to South Africa and served as a director of the country's Information and Cooperation Management at the Department of Home Affairs. From July 2016 to October 2016, she worked as an analyst for the State Security Agency before she was appointed as Public Prosecutor in October 2016.
During her appointment, it was revealed that she has a close relationship with President Jacob Zuma. Bussiwe served as a board member for the Refugee Fund as well as the Director of Business Development at Iyanilla Bricks.
Post Held
Legal Administration Office, International Affairs Directorate: From December 1994 to August 1998
Senior Researcher, South African Human Rights Commission: From September 1998 to April 1999
Senior Investigator and Acting Provincial Representative (Director): From May 1999 to May 2005
Director of Refugee Affairs: From June 2005 to September 2009
Acting Chief Director, Asylum Seekers Management: From October 2009 to March 2010
Counsellor, Immigration and Civil Service: From April 2010 to July 2014
Director of Country Information and Cooperation Management: From July 2014 to September 2016
Public Protector: From October 2016 to Present
Personal Life
Busisiwe Mkhwebane doesn't disclose more about her personal life. However, it was reported that she had lost her husband. But there are no details about her husband or children in the public space.
Busisiwe Mkhwebane Net Worth
Busisiwe is one of the top personalities in South Africa and she has a net worth estimated to range from $1 million to $5 million.
Social Media Handles