Cassper Nyovest is a South African rapper, songwriter, sound manager and businessman. He is regarded as one of the most popular figures in the South African music Industry. He is famous for his unique hairstyle as he carries long braids at the back of his head. 
Cassper also doubles as one of the biggest hip-hop artists in his country and is known for his hit singles, 'Doc Shebelze' and 'Gusheshe'. He is the founder of "Family Tree Records", a record label that empowers talented individuals in South Africa. Cassper is one of South Africa's biggest stars and owns the SA Hip Hop industry with hits and won many awards.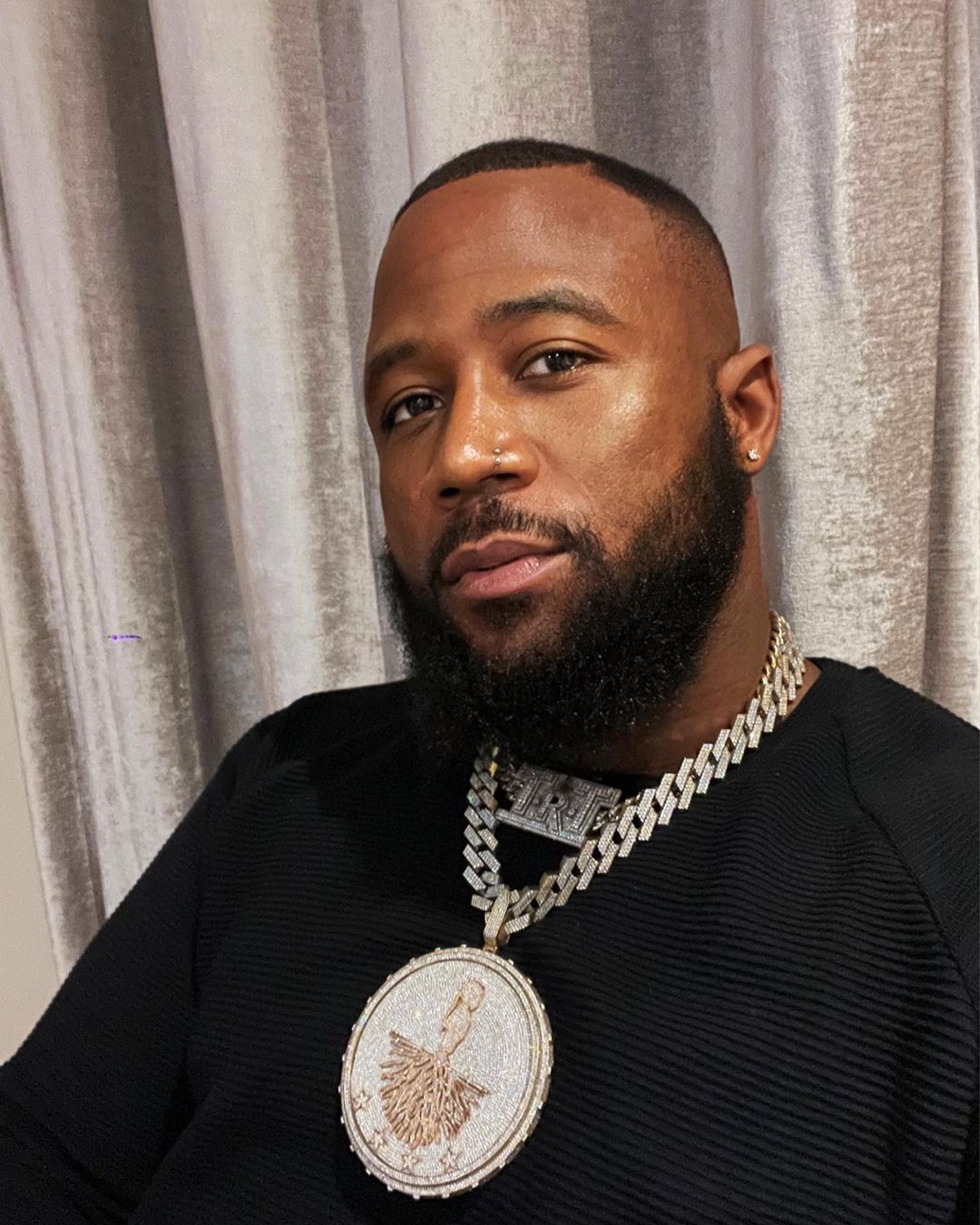 Cassper Nyovest Biography
Full Name :
Refiloe Maele Phoolo
Stage Name :
Cassper Nyovest
Date of Birth :
16th Dec 1990
Place of Birth :
Mafikeng
Nationality :
South Africa
Parents :
Muzuki and Letsebela Phoolo,
Relative :
Tsholofelo Phoolo (Sister) , late Khotso Phoolo (brother)
Social Media Handle :
Instagram: casspernyovest
Twitter: @casspernyovest
Early Life and Education
Refiloe Maele Phoolo popularly known as Cassper Nyovest was born on the 16th of December 1990 to Muzuki and Letsebela Phoolo, in Mafikeng, a borough of North West. He has a sister, Tsholofelo Phoolo and his late Khotso Phoolo who passed in 2013.
Cassper started his educational career at the Sol Plaatjie Secondary School where he was an athlete and engaged in various sports in the school. He started rapping at the age of 12. In 2006, he failed his Grade 10 exams, after which he moved in with his grandma in Potchefstroom. In 2007, he decided to drop out of school at the age of 16.
In 2008, Cassper relocated to Johannesburg to further his music career as a rapper and producer. Choosing music was not an easy decision for Cassper but he battled it out with his parents that he would rather chase his dream than play it safe and regret it.
Career
Cassper started his musical career in 2004 when he formed a hip hop group 'Childhood Gangsta' with his friends when he was 13. He eventually left the group, joining 'Slow motion', an eight-member group that includes the famous record producer, Aashish Gangaram of Ganja Beatz.
After he dropped out of school, Cassper signed with motswako record label Impact Sounds, the record label that also signed artists like Tuks Senganga and Morafe in 2006. However, the relationship between Cassper and Impact Sounds became sour because of creative differences. In 2008, both parties separated, making Cassper an independent rap artist at the time.
Cassper moved back home and started his record label. Before he started his record label, he was discovered by the late rapper Hip Hop Pantsula, who featured Cassper on his song, "Wamo Tseba Mtho".
In 2013, He released his debut single "Gusheshe", featuring Okmalumkoolkat. In 2014, Cassper officially established his record label, Family Tree Records. That same year, released his second single, "Doc Shebeleza", named after kwaito artist, Doc Shebeleza. The song was a hit as it received positive reviews from the public and was also praised by notable celebrities including singer Yvonne Chaka Chaka.
Cassper Nyovest Albums
Tsholofelo (2014-2015)
On the 18th of July 2014, Cassper released his debut album titled Tsholofelo. He named the album after his sister and in two months, the album became a grand success and ranked number 1 on the iTunes SA album charts. The album also ranked no 1 on the MTV Base show, No.2 on MTV SA's Hottest MCs and the Hottest MC in Africa that same year. With the success of the album, Cassper released the platinum edition, adding new songs and the collaborations he did with Casey Veggies, Wizkid, Anatil and DJ Drama.
Refiloe (2015-2016)
In the third quarter of 2015, he released his second studio project on the 30th of November at his Dome concert. The album, which he named after himself, 'Refiloe', featured international artists including DJ Drama, Stonbwoy and the game. The album also had notable songs like "Mangwane" and "Malome".
Thuto and Sweet and Short (2017-2019)
On the 4th of March 2017, Cassper released the lead single titled "Tito Mboweni" from his third album Thuto. The album was named after South Africa's Minister of Finance and former SARB governor Tito Mboweni. The song commercially trended for its lyric quote, "Shaa Shaa" which is an expression for a money note sound.
Thuto was released on the 5th of May 2017. It was certified gold by RISA on the day it was released. The following week, it also received platinum certification. Cassper's fans gave the song an excellent review as the album housed songs like: "I wasn't ready" and "Superman".
In 2018, Cassper released his fourth album, "Sweet and Sour'. The album received platinum certification on the same day it was released. This album featured hit songs such as 'Remote Control' and 'Move For Me.
Any Minute Now (2020- Present)
On the 11tt of September, Cassper released his fifth studio album 'Any Minute Now. The album features Zola 7, Tellaman, YoungstaCPT, Busiswa, Samthing Soweto and Langa Mavuso. Nadia Nakai, Khuli Chana, Tuks, Mo' Molemi, Towdee Mac and DJ Lemonka, were also part of the album.
For his remarkable performance in the entertainment industry, Cassper won three awards which include; "Best Male", "Song of the Year" and "Album of the Year". Cassper released Sweet And Short 2.0, his debut studio album in the Amapiano language, on July 30, 2021.
The album has 10 tracks and features Abidoza, Samthing Soweto, LuuDadeejay, Kammu Dee, Lady Du and Ma Lemo. , Semi Tee, Boohle, DJ Sumbody, Reece Madlisa, Thulz, and Zuma are also featured in the album.
Personal Life
In July 2015, after months of denying involvement in romantic relationships, Cassper and Boitumelo Thulo, a South African actress, finally confirmed that they were dating. The announcement was featured on the cover of a magazine, DRUM, where the magazine implied that the couple were engaged. However, Cassper and Thulo denied the claim saying the headlines were a ploy to increase the sales of the magazine. Eventually, in December 2015, the couple broke up.
Presently, Cassper is in a romantic relationship with Thobeka Majozi who birthed him a son on the 14th of September 2020. He also released an album with the scanned image of his son as the artwork. The name of his son is Khotso and he shows him off on social media several times.
Controversies
Cassper was wrapped up in a feud with AKA. As Cassper was claiming his song, 'Doc Shebeleza' was the biggest song in South African Hip-Hop, AKA was promoting his single, 'congratulate'. AKA threw shades at Cassper as he tweeted; "There's a rapper running around saying he got the biggest song in the country … I challenge you to find his song in the iTunes Top 100″.
After seeing the tweet, Cassper replied with a tweet stating why his song was bigger and better than AKA's. Arguments ensued between both rappers as they responded to each other's tweets several times. In August 2014. The two rappers were scheduled to perform together on SABC 1 music show, 'Live Amp' when one of AKA's entourage allegedly pulled a gun on Cassper and his team.
Controversies further arose in 2015, when Cassper confronted AKA of slapping him which led to both rappers releasing diss tracks. When asked about the status of his dispute with AKA in 2018, Cassper responded that the two will never make up, and this has thus far come to pass.
In 2018, Benny Mayengani, a Xitsonga musician wanted to hold a concert. Mayengani then named his concert with a similar affix as Cassper. After that, Cassper charged Mayengani with using his trademark to threaten him with a cease-and-desist letter.
Discography
Studio Albums
Sweet And Short 2.0 (2021)
A.M.N (Any Minute Now) (2020
Sweet and Short (2018)
Thuto (2017)
Refiloe (2015)
Tsholofelo (2014)
Awards and Nominations
Internationally and locally, Cassper Nyovest has won numerous remarkable awards and recognitions. His first award was in 2013 when he won four awards at the South African Hip-hop awards.
Likewise, he received nominations for the Nigerian Headies awards. Additionally, he was ranked the top MC at the MTV base program and has had numerous endorsements from companies including Castle Lite, Ciroc, MTN, and AG mobile. Shoprite, Samsung South Africa, Coca-Cola, and KFC SA are other companies that endorsed him.
Cassper Nyovest's Net Worth
Cassper has an estimated net worth of $3 million. His source of income is basically from show performances, album sales and money made from his Youtube, endorsements and investments he owned. The artiste is financially balanced and is one of the richest artists in South Africa.
Social Media Handles
Instagram: casspernyovest
Twitter: @casspernyovest