Denzel Washington (December 28, 1954) is a highly respected and acclaimed American actor, director, and producer who has been a major figure in the entertainment industry for over four decades. Washington first gained recognition for his work on the stage, appearing in productions such as "A Soldier's Play" and "Ceremonies in Dark Old Men." He made his film debut in 1981 in the movie "Carbon Copy," and went on to appear in several notable films throughout the 1980s, including "A Soldier's Story," "Cry Freedom," and "Glory," which earned him his first Academy Award for Best Supporting Actor.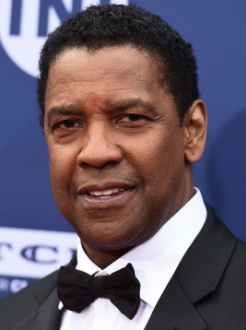 Denzel Washington Biography
| | |
| --- | --- |
| Full Name : | Denzel Washington |
| Date of Birth : | December 28, 1954 |
| Place of Birth : | New York |
| Occupation : | Actor | Film Producer |
| Networth : | $250 million |
Early Life & Education
Denzel Washington was born on December 28, 1954, in Mount Vernon, New York, to Denzel Hayes Washington Sr. and Lennis "Lynne" Washington. His father was a Pentecostal minister and his mother was a beautician and operator of a beauty parlor.
Washington grew up in a working-class household with two siblings, an older sister, and a younger brother. His family moved around frequently during his childhood, eventually settling in the Bronx when he was a teenager. Despite their modest circumstances, Washington's parents emphasized the importance of education and encouraged him to pursue his interests.
Washington attended Pennington-Grimes Elementary School, where he discovered a love for acting and was encouraged by his teachers to pursue it further. He later attended Mainland High School in Daytona Beach, Florida, where he played football and was a member of the drama club.
After high school, Washington attended Fordham University in New York City, where he studied drama and journalism. While at Fordham, he continued to pursue his interest in acting, appearing in several plays and productions, and later earned his Bachelor of Arts degree in 1977. Washington then went on to study acting at the American Conservatory Theater in San Francisco, where he honed his skills and began to establish himself as a talented performer.
Career
Denzel Washington's career began in the theater, where he made his professional debut in the Off-Broadway production of "Wings of the Morning" in 1976. He then went on to perform in several other Off-Broadway and Broadway productions, including "A Soldier's Play" and "Ceremonies in Dark Old Men."
Washington made his film debut in the 1981 comedy "Carbon Copy," but it was his performance in the 1984 film "A Soldier's Story" that first brought him critical acclaim. He continued to garner attention with his performances in the films "Cry Freedom" (1987) and "Glory" (1989), which earned him his first Academy Award for Best Supporting Actor.
Throughout the 1990s and 2000s, Washington solidified his status as one of the most talented actors of his generation. He delivered memorable performances in a variety of critically acclaimed films, including "Malcolm X" (1992), "The Hurricane" (1999), and "Training Day" (2001), which earned him his second Academy Award, this time for Best Actor.
In addition to his work in film, Washington has also had success on television, appearing in the hit medical drama "St. Elsewhere" in the 1980s and producing and starring in the television film "The George McKenna Story" in 1986.
Washington has also proven himself as a talented director, helming several successful films, including "Antwone Fisher" (2002) and "The Great Debaters" (2007).
Throughout his career, Washington has been recognized for his outstanding work with numerous awards and accolades, including three Golden Globe Awards, a Tony Award, and two Academy Awards. He is widely regarded as one of the greatest actors of all time and continues to be a prominent figure in the entertainment industry.
Personal Life
Denzel Washington is married to Pauletta Pearson, whom he met on the set of the television film "Wilma" in 1977. The couple married on June 25, 1983, and have four children together: John David, Katia, Olivia, and Malcolm. John David is a former professional football player who has also become a successful actor, while Malcolm is a filmmaker and producer.
Washington is known for being very private about his personal life and rarely discusses it in public. However, he has spoken about the importance of his faith and his family in his life, and is often seen attending church with his wife and children.
Filmography
Denzel Washington has had a prolific career in film, appearing in a wide variety of movies across different genres. Here is a list of some of his most notable film appearances:
Carbon Copy (1981)
A Soldier's Story (1984)
Power (1986)
Cry Freedom (1987)
For Queen and Country (1988)
Glory (1989)
Mo' Better Blues (1990)
Mississippi Masala (1991)
Ricochet (1991)
Malcolm X (1992)
The Pelican Brief (1993)
Philadelphia (1993)
Crimson Tide (1995)
Devil in a Blue Dress (1995)
Courage Under Fire (1996)
The Preacher's Wife (1996)
Fallen (1998)
The Siege (1998)
Remember the Titans (2000)
Training Day (2001)
John Q (2002)
Man on Fire (2004)
Inside Man (2006)
American Gangster (2007)
The Book of Eli (2010)
Flight (2012)
The Equalizer (2014)
Fences (2016)
The Magnificent Seven (2016)
Roman J. Israel, Esq. (2017)
The Equalizer 2 (2018)
Ma Rainey's Black Bottom (2020)
This is not a comprehensive list of all of Denzel Washington's film appearances, but it includes some of his most notable and acclaimed performances.
Awards & Achievements
Denzel Washington has received numerous awards and accolades throughout his career, including:
Two Academy Awards for Best Supporting Actor (for "Glory" in 1989) and Best Actor (for "Training Day" in 2001)
Three Golden Globe Awards for Best Actor in a Drama Motion Picture (for "Malcolm X" in 1993, "The Hurricane" in 2000, and "Training Day" in 2002)
A Tony Award for Best Actor in a Play (for "Fences" in 2010)
The Cecil B. DeMille Award at the Golden Globes in 2016 for "outstanding contributions to the world of entertainment"
The AFI Life Achievement Award in 2019 for his contributions to American culture
The National Medal of Arts in 2011, presented by President Barack Obama, for his contributions as an actor and filmmaker
A star on the Hollywood Walk of Fame
Washington has also been nominated for numerous other awards, including BAFTA Awards, Screen Actors Guild Awards, and Emmy Awards. He is widely regarded as one of the greatest actors of his generation and has been praised for his range and versatility as a performer.
Philanthropy
Washington is also known for his philanthropic work, supporting a number of charitable organizations and causes over the years. He is a supporter of the Boys & Girls Clubs of America and has donated money to the Fisher House Foundation, which provides housing for military families while their loved ones receive medical treatment.
In his free time, Washington enjoys playing basketball and has been known to participate in celebrity games. He is also an avid fan of boxing and has attended many major fights over the years.
Networth
Denzel Washington's net worth is estimated to be around $250 million. His wealth has primarily come from his successful acting career, which spans several decades and includes numerous hit films and television shows. Washington has also earned money as a director and producer and has been a spokesperson for several high-profile brands, including AT&T and American Express. In addition, he has invested in real estate and owns several properties, including a $14.6 million mansion in Beverly Hills. Despite his wealth, Washington is known for his philanthropic work and has donated millions of dollars to various charitable causes over the years.
Social Media Handles
Denzel Washington is known for keeping a relatively low profile on social media and does not have official accounts on platforms such as Twitter or Instagram. There are some accounts on these platforms that claim to be Denzel Washington, but they are not verified and it is unclear if they are actually associated with the actor. Washington has stated in interviews that he prefers to keep his private life separate from his public persona and does not feel the need to use social media to promote himself or his work.