Nkosinathi Innocent Maphumulo (born March 11, 1976) is professionally referred to by his stage name, DJ Black Coffee. He is a professional DJ and producer/songwriter of house music from South Africa. He developed his career gradually over the course of over two decades, riding the rising international interest in the developing dance music scene in his own country. He is now perhaps the largest DJ in Africa.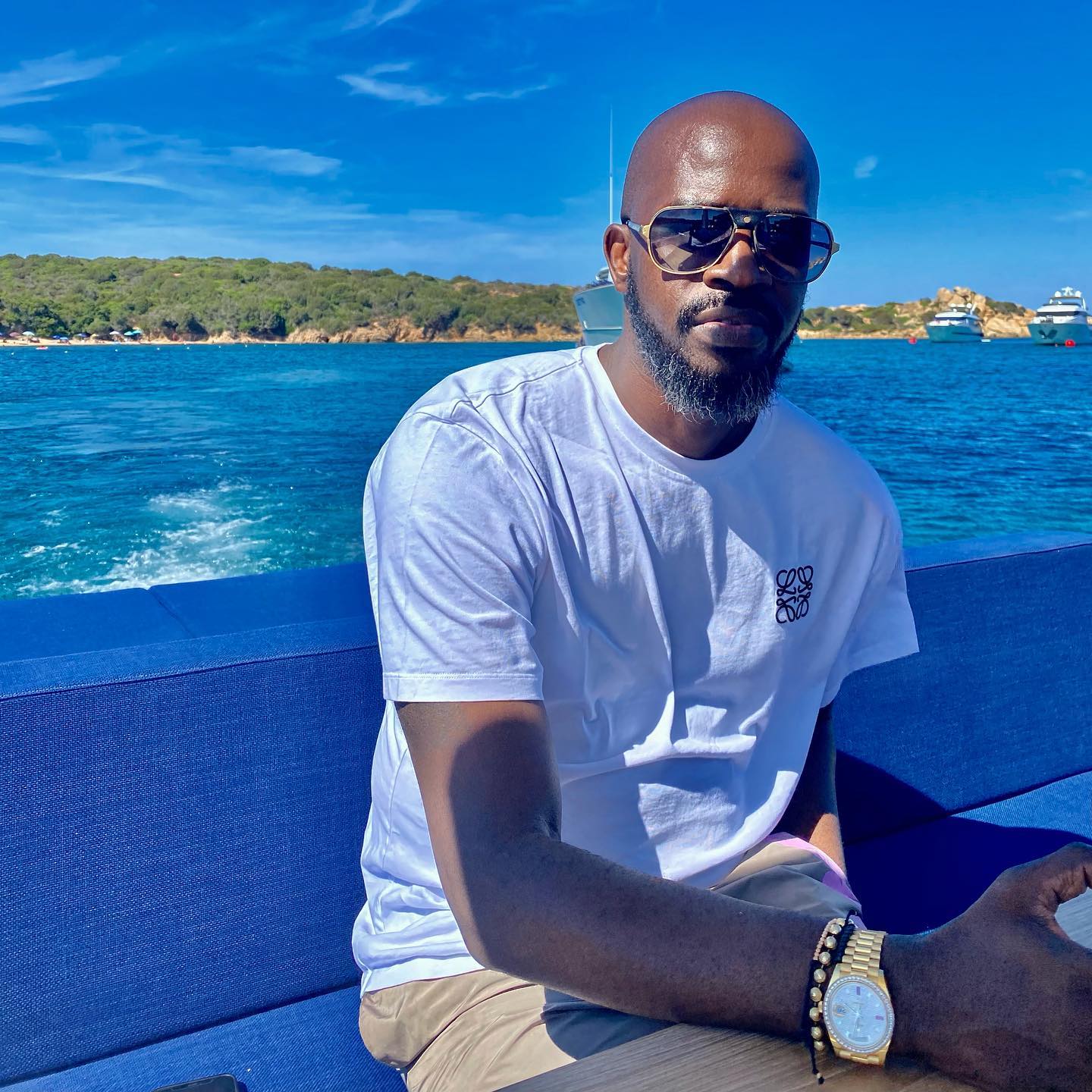 DJ Black Coffee Biography
Full Name

Nkosinathi Innocent Maphumulo

Stage Name

DJ Black Coffee

Date of Birth

March 11, 1976

Place of Birth

Umlazi, South Africa.

Nationality

South Africa

Occupation

Producer, DJ, Songwriter

Awards

BET Award for Best International Act: Africa

Net Worth

$60 million

Social Media Handles

Instagram: realblackcoffee
Twitter: @RealBlackCoffee
Early Life and Education
DJ Black Coffee was born on March 11, 1976, in Umlazi, South Africa. He grew up in a music environment, mainly because he was impacted by his uncle's enormous reggae collection as a child. Later on, he was 12 years old when he left for Umtata with his mother after having divorced his father. The territory is located near the Ngangelizwe township and 29 kilometres from Nelson Mandela's residence in Qunu.
In 1990, while everyone was celebrating Nelson Mandela's release from Robben Island, Maphumulo, he was involved in a taxi accident and sustained serious injuries to his left arm.
However, he returned to Durban to attend Natal Tech, where he majorly studied jazz music theory but left school early. Later on, he and his two friends, Thandukwazi "Demor" Sikhosana and Mnqobi "Shota" Mdabe went on to establish the Afro-pop trio "Shana." (Simply Hot and Naturally African). They were backing singers for renowned folk-blues guitarist Madala Kunene at the time. He continued to study electronic music creation at the same time.
Career
In 2003, he was admitted into the South African dance music industry after being selected as one of the two South African participants at the Red Bull Music Academy when his song "Happiness" was included on the "DJs at Work album," where he received his first significant break.
In 2005, Hugh Masekela's 1972 song Stimela was remixed by DJ Black Coffee to serve as the basis for his debut album. Later that year, he published his debut album under his own name and established his record label, Soulistic Music. The album included Busi Mhlongo and included samples from well-known South African musicians, including Thandiswa Mazwai and Hugh Masekela. He was well received around the nation and soon hailed as a "rising star." He used very simple music-making tools to produce his album, "Black Coffee." The author of Black Coffee said, "I don't know how to explain the production stages of my album because all I did was put down the basic ideas that I had." I didn't use any MIDI controllers; everything was played with a computer mouse.
By the middle of 2007, Black Coffee's tribal, vocal-infused beats had earned him recognition in the South African DJ scene. In the same year, he released his second studio album, Have Another One, which included "Wathula Nje," a remix of the jazz song "Thetha" by Victor Ntoni from the year 2004. Later, "Wathula Nje" and "Even Though," featuring Bantu Soul, were published on vinyl and digitally by the European label Realtone Records in Europe. Siphokazi, Busi Mhlongo, and Kwaito sensation L'vovo were among the artists on the twelve-track album. It also marked the debut of Culoe De Song, a high school producer from Eshowe, Kwa Zulu Natal, who at the time was 17 years old and later became the second artist to sign with Soulistic Music. Culoe De Song was discovered by Black Coffee, who also worked with her on the afro-electronic dub 100.
At the same time, Black Coffee functioned at the Red Bull Music Academy Lounge at the Sonar Festival in Barcelona alongside recognised DJs such as Little Louie Vega, Alix Alvarez, Frank Roger, Charles Webster, DJ Spinna, and Osunlade.
In 2009, Home Brewed, Black Coffee's third album, was published and includes performances by Ringo Madlingozi, Zonke, Hugh Masekela, Zakes Bantwini, and others.
New releases from Culoe de Song, Tumelo, and Zakes Bantwini sold gold and platinum between 2009 and 2010.
In 2010, he attempted to break the Guinness Book of World Records by performing nonstop for 60 hours at Maponya Mall in Soweto. In the same category at the South African Music Awards, he also took home two prizes in the categories of Best Urban Dance Album and Best Male Artist.
Again in 2011, at Moses Mabhida Stadium in Durban, Africa Rising was introduced. It was filmed for the Africa Rising DVD and featured a live band and 24-piece orchestra in front of around 8,000 viewers. Four further albums were released in that year, including "Elevation" by Culoe de Song, "Here and Now" by Sai & Ribatones, "Invocation" by Boddhi Satva, and the label's "Soulistic Music Cuts," as two examples.
In 2012. The "Africa Rising" DVD and triple-CD achieved double platinum sales in a single month. On the album, Black Cofee worked with a variety of musicians, including Bucie and the soulful performer Toshi Tikolo on the song "Buya."
In 2013, he gave performances all over the world at venues like Southport Weekender, Panoroma Bar, Circoloco, and The Boiler Room. Additionally, he attended music conventions in Johannesburg, including ADE and RBMA. In the same year, he worked on important projects with the DJ duo Black Motion and the musical group Mi Casa. He also rose to prominence as a featured speaker during his friend Vusi Thembekwayo's tour. He was highlighted in South Africa's Destiny Man issue in November 2013.
In January 2015, in Mexico's Circoloco, he experienced his first world tour, and it ended there in August 2015 at DC-10. In the same year, he dropped "Pieces of Me," which counts as his fifth album.
The second week of September saw the release of Pieces of Me, which the Recording Industry Association of South Africa certified platinum one month later (RISA).
The album's title and cover were criticised for being too similar to those of US singer Ledisi's 2011 album Pieces of Me. The album garnered a lot of excellent feedback for its music, and some music critics considered it to be one of the greatest albums of the year. In October, South Africa certified it as platinum. He worked on this record with Azola, Portia Monique, Ribatone, Nakhane Toure, Mondli Ngcobo, Kensy, NaakMusiq, and Lungi Naidoo.
Again in 2016, he performed at the Ultra Music Festival and the Coachella Valley Music and Arts Festival. He came in at number 91 on Resident Advisor's ranking of the best 100 DJs at the conclusion of the year. He helped create the beat for the song "Get It Together" on Drake's More Life album in 2017, which was released in March.
He worked with David Guetta on the single "Drive" featuring Delilah Montagu, which was released in 2018. He appeared on Guetta's Seventh Album. He issued a seven-track EP titled Music Is King towards the conclusion of that year.
In 2018, he released a single where he worked with David Guetta, titled "Drive," and presented Delilah Montagu, which was featured on Guetta's album. At the end of that year, he released a seven-track EP titled Music Is King. The EP features significant musicians: Msaki, Samthing Soweto, Mondli Ngcobo, Karyendasoul, and Zhao. Music Is King was selected for Best Dance Album and Album of the Year and won Best Male Artist of the Year at the 25th South African Music Awards.
In December 2019, he embarked on Music Is King Concert to promote his EP, performed at Ticketpro Dome, Johannesburg on 14 and Kings Park Outer Field, Durban on 15. And in September 2019, he released "LaLaLa" with American R&B singer Usher.
2020 till date Subconsciously, released by Black Coffee's seventh studio album, which was made available on February 5, 2021. At the 64th Annual Grammy Awards, the album was named Best Dance/Electronic Album.
In October 2021, he created a reworking of Mpho Sebina's tune "Too Late for Mama," which was featured on the extended play Music Forever. Three songs from Drake's 2022 album Honestly and Nevermind were co-written and co-produced by Coffee. In 2022, Black Coffee became the first African to win a Grammy award for Best Dance/Electronic Album.
Personal Life
In 2011, Black Coffee married Enhle Mbali Mlotshwa, a television presenter and actress. And they both had two children, which they shared; he also has two more from his prior relationship. They divorced in 2019, after separating in July of that year.
Discography
Since 2005, Black Coffee has released the following albums and DVDs under his Soulistic Music label in addition to singles and remixes.
Albums
Black Coffee (2005)
Have another one (2007)
Home Brewed (2009)
Africa Rising DVD (2012)
Africa Rising CD (2012)
Pieces of Me (2015)
The Journey Continues EP (2016)
Music is King EP (2018)
Subconsciously (2021)
Songs
Superman
Time
"Stuck in Your Love"
Ilala
Even Though
Arise and shine!
The Beat of Indlamu
Arise and shine!
Adio Mare
Awards and Nominations
BET Award for Best International Act: Africa
South African Music Award for Best Dance Album
South African Music Award for Collaboration of the Year
DJ Award for Best Breakthrough
South African Music Award for International A
South African Music Award for Male Artist of the Year
South African Music Award for Best Engineered Album
South African Music Award for Album of the Year
DJ Award for Best Deep House
Grammy Award for Best Dance/Electronic Album.
Net Worth
With an estimated net worth of $60 Million, South African DJ Black Coffee is one of the wealthiest artists on the planet.
Social Media Handles
Instagram: realblackcoffee
Twitter: @RealBlackCoffee