Donald John Trump (born June 14, 1946) is an American politician, media personality, and businessman who served as the 45th president of the United States from 2017 to 2021. Trump was a businessman and real estate developer who owned, operated, or had his name leased to many hotels, casinos, golf courses, resorts, and residential complexes in the New York City region and abroad.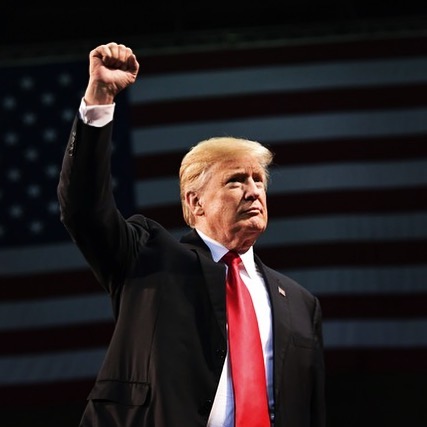 Donald Trump Biography
Full Name :

Donald John Trump

Date of Birth :

June 14, 1946

Place of Birth :

Queens, New York City, U.S.

Occupation :

Politician | Businessman | Media personality

Political party :

Republican

Spouse :

Melania Knauss

Children :

Donald Jr. | Ivanka Eric | Tiffany Barron

Parents :

Fred Trump (Father)

Mary Anne MacLeod (Mother)

Net Worth :

$3.2 billion

Social Media Handles :

Instagram: @realdonaldtrump

Twitter: @realDonaldTrump
Early life & Education
Donald John Trump was born on June 14, 1946, at Jamaica Hospital in the New York City borough of Queens. He was the fourth child of Fred Trump, a real estate developer who was born in the Bronx and whose parents were German immigrants, and Mary Anne MacLeod Trump. In the Jamaica Estates district of Queens, where he was raised alongside his older siblings Maryanne, Fred Jr., and Elizabeth, as well as his younger brother Robert, Trump went to the private Kew-Forest School from kindergarten through sixth grade.
He began attending the private boarding school New York Military Academy when he was 13 years old, and in 1964 he began attending Fordham University. He transferred to the University of Pennsylvania's Wharton School two years later and earned a B.S. in economics there in May 1968. Trump's attorney Michael Cohen threatened the College Board, Trump's high school, and other institutions with legal action in 2015 if they disclosed Trump's academic records.
During the Vietnam War era, Trump was granted four student draft deferments while in college. He received a medical clearance for military service in 1966, and a local draft board declared him qualified to enlist in the military in July 1968. In October 1968, he was classified 1-Y, a conditional medical deferment, and in 1972, he was reclassified 4-F due to bone spurs, permanently disqualifying him from service.
Career
Political Career
Political Party
Right now, Trump is listed as a Republican. Over the previous thirty years, he has changed parties multiple times. Trump initially registered as a Republican in 1987 before switching to Independent status in 1989. Trump originally ran for president in 2000 on the Reform platform. He declared himself a Democrat in 2001.
Although Trump registered as an Independent in 2011 to prepare for a potential run in the presidential election the following year, he had already returned to the Republican party by 2009. He eventually joined the GOP again to support Mitt Romney's presidential bid in 2012, and he has remained a Republican ever since.
Presidential campaigns
Trump has frequently switched between political parties. He registered for the Republican Party in 1987, the Independence Party, the Reform Party's New York state affiliate, in 1999, the Democratic Party in 2001, the Republican Party in 2009, the unaffiliated party in 2011, and the Republican Party in 2012.
Trump published full-page ads in three major newspapers in 1987 outlining his opinions on foreign affairs and how to close the federal budget deficit. He disqualified himself from running for president but not for municipal office. He addressed Lee Atwater in 1988 and requested to be taken into consideration as George H. W. Bush's running partner.
Indications of a presidential bid from the 2000 election and 2011. Trump entered the 2000 California and Michigan primaries for the nomination of the Reform Party to run for president of the United States, but he dropped out in February 2000. Trump received 7% of the vote in a July 1999 survey that pitted him against anticipated Democratic nominee Al Gore and likely Republican opponent George W. Bush.
Trump made his first speaking appearance at the Conservative Political Action Conference (CPAC) in February 2011 and delivered talks in early primary states while speculating about running against President Barack Obama in the 2012 election. He declared he would not run in May 2011 and supported Mitt Romney in February 2012. Trump's aspirations for the presidency were not usually taken seriously at the time.
2016 presidential campaign
Trump received an unprecedented level of free media coverage due to his reputation and controversial remarks, which helped him advance in the Republican primary. He frequently made ambiguous, provocative claims during his campaign, and a record amount of them was untrue. Trump constantly accused the media of prejudice and declared that he detested political prejudice.
In June 2015, Trump made his campaign official. Political observers initially did not take his campaign seriously, but he swiftly ascended to the top of the polls. In March 2016, he took the lead, and in May, he was named the presumed Republican nominee.
Hillary Clinton led Trump in national polling averages throughout the campaign, but in early July her lead narrowed. In mid-July Trump selected Indiana governor Mike Pence as his vice presidential running mate, and the two were officially nominated at the 2016 Republican National Convention. Trump and Clinton faced off in three presidential debates in September and October 2016. Trump twice refused to say whether he would accept the result of the election.
Presidency (2017–2021)
Trump lost the national popular vote by more than 2.8 million even though he earned 304 electoral votes to 227 electoral votes, securing him the presidency. Trump often asserted during the election that three to five million people had cast illegitimate votes for Clinton. The inauguration day for Trump was January 20, 2017.
Following Trump's unexpected victory, there was a lot of journalistic discussion about the accuracy of polls and the Clinton campaign's tactical errors. Most experts felt that Trump had successfully exploited the economic concerns and racial biases of some working-class whites, particularly men, and that Clinton had taken for granted some of her main constituencies.
Donald Trump took office on January 20, 2017. Trump started issuing executive orders very shortly after assuming office to make good on some of his campaign pledges and to present himself as someone who acts quickly and decisively. On his first day in office, he issued his first directive, directing that all "unwarranted economic and regulatory burdens" brought on by the ACA be minimized until its "prompt repeal."
He gave the Secretary of Homeland Security instructions to start developing plans for the construction of a wall along the nation's southern border five days later. A five-year ban on "lobbying activities" by former executive branch officials was imposed by an executive order on ethics, but several Obama administration limits on lobbying were softened or eliminated.
Immigration
One of Trump's most controversial early executive orders, issued on January 27, implemented his promised "Muslim ban," which temporarily suspended immigration to the United States from seven Muslim-majority countries in the interest of national security. The travel ban, as it came to be known, was immediately challenged in court on statutory and constitutional grounds (i.e., for allegedly violating anti-discrimination and other provisions of the U.S. Immigration and Nationality Act and for being inconsistent with the due process and establishment-of-religion clauses of the Constitution).
The ban also provoked spontaneous demonstrations at major airports in the United States in support of persons with valid visas who were prevented from boarding flights to the U.S. or who were detained upon arrival and forced to return to their originating countries. In February a district court in Washington state issued a nationwide temporary restraining order enjoining enforcement of the travel ban, which the Court of Appeals for the Ninth Circuit declined to stay.
Foreseeing eventual defeat in the courts, Trump in March issued a second executive order, designed to avoid the constitutional pitfalls of the first, which it superseded. The second order also dropped Iraq from the list of targeted countries and narrowed the categories of persons whose travel would be affected. Nevertheless, district courts in Hawaii and Maryland issued preliminary injunctions blocking enforcement of the revised travel ban, which were largely upheld in May and June by the Fourth and Ninth Circuit Courts of Appeal, respectively. After agreeing in June to hear the consolidated cases during its October 2017 term, the U.S. Supreme Court significantly narrowed the injunctions, allowing the travel ban to be enforced against "foreign nationals who lack any bona fide relationship with a person or entity in the United States."
In September Trump issued a third version of the ban, which continued to apply to immigrants from six Muslim-majority countries but now included immigrants from North Korea and certain government officials of Venezuela. The Supreme Court then vacated as moot the cases it had been scheduled to hear regarding the second travel ban. The third ban, like the previous two, was immediately challenged and enjoined, but the Supreme Court stayed the injunctions in December pending review by the Fourth and Ninth Circuits (which upheld them). The Ninth Circuit's decision in Trump v. Hawaii was eventually reversed by the Supreme Court in June 2018. In its ruling, the Court held, among other things, that the ban was not motivated by unconstitutional religious bias, notwithstanding many public statements by Trump that had indicated otherwise to lower courts.
Supreme Court of Donald Trump
In January 2017, Trump made good on his promise to place conservative justices on the Supreme Court by nominating Neil Gorsuch, a judge of the Court of Appeals for the Tenth Circuit, to fill the seat that had become vacant with the death of Antonin Scalia in February 2016. Although Obama had put forward Merrick Garland, a judicial moderate, as Scalia's replacement in March 2016, the majority leader of the Senate, Republican Mitch McConnell, refused to schedule a vote or even hold hearings on Garland's nomination, declaring that the Senate should not consider any Supreme Court nominee during an election year.
McConnell's gamble that a Republican would win the presidency and nominate a more conservative justice proved successful. Gorsuch was confirmed by the Senate in April after Senate Republicans overcame a Democratic filibuster by removing the traditional 60-vote minimum needed for cloture (ending debate and proceeding to a vote).
In July 2018 Trump nominated another conservative appellate court judge, Brett Kavanaugh of the District of Columbia Circuit, to replace retiring Supreme Court Justice Anthony Kennedy. In hearings before the Senate Judiciary Committee in September, a childhood acquaintance of Kavanaugh's, Christine Blasey Ford, testified that he had sexually molested her when they were underage teens in Maryland and that he was "stumbling drunk" during the assault. Kavanaugh was also accused of a separate act of sexual assault by a former classmate at Yale University, Deborah Ramirez, and a third accuser, Julie Swetnick, declared in a sworn statement that Kavanaugh had attended parties at which gang rapes took place.
In his testimony, Kavanaugh angrily denied the allegations, insisting that they were the product of a conspiracy by Democrats to exact revenge on behalf of "the Clintons" for Kavanaugh's role as a member of the legal team of independent counsel Kenneth Starr during the latter's investigation in the 1990s of U.S. Pres. Bill Clinton's affair with White House intern Monica Lewinsky. A subsequent supplemental investigation by the FBI, ordered by Trump, was severely limited in duration and scope: Kavanaugh, Ford, and Swetnick were not interviewed; dozens of witnesses recommended to the FBI by Ford and Ramirez were not contacted; and repeated offers of corroborating evidence by numerous other persons were not acted upon.
After the Republican chairperson of the Judiciary Committee declared that the FBI's confidential report had found "no corroboration" of the allegations, Kavanaugh was narrowly confirmed by the Senate in October. Ford's emotionally compelling testimony—and the belief among many women of both political parties that she had been treated unfairly—galvanized the #MeToo movement of survivors of sexual assault and reinforced perceptions of the Republican Party and the Trump administration as being insensitive to women's concerns. Meanwhile, Trump defended Kavanaugh as a victim of persecution and contended that the #MeToo movement had created a dangerous climate for men.
In September 2020, eight days after the death of Associate Justice Ruth Bader Ginsburg, Trump announced his nomination of Judge Amy Coney Barrett, whom he had appointed to the Court of Appeals for the Seventh Circuit only two years earlier, as Ginsburg's replacement. Notwithstanding the justification they had offered for refusing to consider Garland's nomination four years earlier, Senate Republicans declared their intention to confirm Barrett quickly.
After Judiciary Committee hearings and Senate debate that Democrats criticized as improperly rushed, Barrett was confirmed by the full Senate on October 26, exactly one month after her nomination and only eight days before the presidential election. An extremely conservative judge, Barrett was expected to move the ideological center of the Supreme Court even farther to the right than it had been under the Court's previous 5–4 conservative majorities and to make conservative rulings from the Court more likely for many years to come.
Trump also successfully appointed a record number of district and appellate court judges, having inherited more than 100 federal bench vacancies resulting from the refusal of Senate Republicans to confirm most of Obama's judicial nominees during the last two years of his presidency. Trump's judicial appointments, almost all of whom were drawn from recommendations by the conservative Federalist Society, were mostly white and male; they were also generally young (less than 50 years old), ensuring that they would serve for several years or even decades.
Their usually quick confirmations on party-line votes helped to further the Republican Party's longstanding project of transforming the federal judiciary, particularly at the appellate level, into a conservative bulwark against liberal legal initiatives and policymaking. By the end of Trump's single term as president in January 2021, nearly 30 percent of all federal judges were Trump appointees.
Social Media Executive Order
Trump, who is well-known for using Twitter to further his agenda and criticize opponents, faced backlash in May 2020 after retweeting rumors that Joe Scarborough, a former congressman turned MSNBC host, had killed one of the staff members. Around that time, the president tweeted claims that major voter fraud would result from mail-in ballots, which prompted Twitter to include fact-checking links to two of his posts.
Trump signed an executive order that called for new regulations under Section 230 of the Communications Decency Act of 1996 to remove statutory liability protections and cut federal funding for Twitter, Facebook, and other tech companies that engage in censorship and political conduct after accusing the social media platform of trying to censor him and "interfering" in the 2020 election.
2020 Election Defeat
Although most national polls had Trump well behind Biden heading into election day, the president looked to be on solid footing as he claimed the crucial state of Florida and jumped out to a lead in other battleground states. However, the race began tipping in Biden's favor as the mail-in ballots gradually added up, prompting the president to lash out about the process and launch lawsuits designed to challenge the results in Pennsylvania, Michigan, Nevada, and Georgia.
On November 7, 2020, four days after election day, Biden was declared as the 46th president-elect after winning Pennsylvania, making Trump the first president to lose his reelection bid since George H.W. Bush in 1992. Trump refused to concede in a subsequent statement, pointing to the ongoing litigation while noting that "this election is far from over."
On December 14, 2020, all 538 electors in the Electoral College cast their vote, formalizing Biden's victory over President Trump in the 2020 presidential election. Biden received 306 votes and Trump received 232.
His lawsuits gaining little to no traction in courts around the country, the president continued seeking out ways to change the outcome of the election. On January 2, 2021, he urged Georgia Secretary of State Brad Raffensperger to "find" the nearly 12,000 votes needed to overcome the deficit in the state to Biden. Additionally, with a few loyal senators and dozens of House Republicans announcing their plans to object during the congressional certification of Biden's Electoral College win on January 6, 2021, Trump ratcheted up the pressure on Pence, as president of the Senate, to reject the votes from contested states.
Capitol Siege, Twitter Ban, and Second Impeachment
On January 6, the president held a rally in which he declared that he would "never concede" and exhorted supporters to march to the Capitol building nearby. The supporters promptly stormed the Capitol and fought with police, at one point taking over the Senate chamber as lawmakers were evacuated for their safety.
"These are the things and events that happen when a sacred landslide election victory is so unceremoniously & viciously stripped away from great patriots who have been badly & unfairly treated for so long," Trump tweeted, adding, "Go home with love & peace. Remember this day forever!"
Law enforcement reclaimed control of the complex at about 6 p.m., following the chaos that had resulted in four deaths, more than 50 arrests, and the declaration of a public emergency by Washington, D.C., Mayor Muriel Bowser. Congress soon reconvened, its session continuing well past midnight as some members continued voicing their concerns about the election results.
At just after 3:40 a.m. on January 7, Vice President Pence formally declared Biden the winner of the election. His social media accounts were temporarily suspended because of the riots.
Later that day, Trump posted a video on his Twitter account addressing the "heinous attacks" on the Capitol and also conceding the election. "We have just been through an intense election, and emotions are high." But now tempers must be cooled and calm restored. "We must get on with the business of America," he said. "Now Congress has certified the results. A new administration will be inaugurated on January 20. My focus now turns to ensure a smooth, orderly, and seamless transition of power. This moment calls for healing and reconciliation."
Trump later tweeted that he will not attend Biden's inauguration. On January 6, Trump's Twitter account was temporarily suspended. Two days later, Twitter announced a permanent ban on his account, and several other social media platforms, such as Facebook and Instagram, followed suit.
On January 13, the majority of the House voted to impeach Trump for a second time for "incitement of insurrection," making him the first president in history to be impeached twice. On February 13, Trump was acquitted, with the Senate voting 57-43.
Farewell Address
On January 19, 2021, Trump released a farewell video on his final day as president. "Four years ago, I came to Washington as the only true outsider ever to win the presidency. I had not spent my career as a politician, but as a builder looking at open skylines and imagining infinite possibilities. I ran for President because I knew there were towering new summits for America just waiting to be scaled. I knew the potential for our nation was boundless as long as we put America first," he said in the almost 20-minute speech. "So I left behind my former life and stepped into a very difficult arena, but an arena nevertheless, with all sorts of potential if properly done. America had given me so much, and I wanted to give something back."
Business career
Real Estate
Starting in 1968, Trump was employed at his father Fred's real estate company, Trump Management, which owned middle-class rental housing in New York City's outer boroughs. In 1971, he became president of the company and began using The Trump Organization as an umbrella brand.
In 1985, Trump acquired the Mar-a-Lago estate in Palm Beach, Florida. In 1995, he converted the estate into a private club with an initiation fee and annual dues. He continued to use a wing of the house as a private residence. In 2019, Trump declared Mar-a-Lago his primary residence.
Atlantic City casinos
In 1984, Trump opened Harrah's at Trump Plaza, a hotel and casino in Atlantic City, New Jersey, with financing and management help from the Holiday Corporation. It was unprofitable, and Trump paid Holiday $70 million in May 1986 to take sole control. Trump had earlier bought a hotel and casino in Atlantic City from the Hilton Corporation for $320 million. On completion in 1985, it became Trump Castle. His wife Ivana managed it until 1988.
Trump bought a third Atlantic City venue in 1988, the Trump Taj Mahal. It was financed with $675 million in junk bonds and completed for $1.1 billion, opening in April 1990. It went bankrupt in 1989. Reorganizing left him with half his initial stake and required him to personally guarantee future performance. To reduce his $900 million of personal debt, he sold his failing Trump Shuttle airline, his megayacht, the Trump Princess, which had been leased to his casinos and kept docked, and other businesses.
In 1995, Trump founded Trump Hotels & Casino Resorts (THCR), which assumed ownership of Trump Plaza, Trump Castle, and the Trump Casino in Gary, Indiana. THCR purchased the Taj Mahal in 1996 and went bankrupt in 2004, 2009, and 2014, leaving Trump with 10 percent ownership. He remained chairman until 2009.
Branding and licensing
The Trump name has been licensed for various consumer products and services, including foodstuffs, apparel, adult learning courses, and home furnishings. According to an analysis by The Washington Post, there are more than 50 licensing or management deals involving Trump's name, which have generated at least $59 million in revenue for his companies. By 2018, only two consumer goods companies continued to license his name.
Trump University
In 2004, Trump co-founded Trump University, a company that sold real estate training courses priced from $1,500 to $35,000. After New York State authorities notified the company that its use of the word "university" violated state law (as it was not an academic institution), its name was changed to Trump Entrepreneur Initiative in 2010.
In 2013, the State of New York filed a $40 million civil suit against Trump University, alleging that the company made false statements and defrauded consumers. In addition, two class actions were filed in federal court against Trump and his companies. Internal documents revealed that employees were instructed to use a hard-sell approach, and former employees testified that Trump University had defrauded or lied to its students. Shortly after he won the 2016 presidential election, Trump agreed to pay a total of $25 million to settle the three cases.
Media career
Books
Using ghostwriters, Trump has produced up to 19 books on business, financial, or political topics under his name. His first book, The Art of the Deal (1987), was a New York Times Best Seller. While Trump was credited as co-author, the entire book was written by Tony Schwartz.
Film and television
Trump made cameo appearances in many films and television shows from 1985 to 2001.
Trump had a sporadic relationship with the professional wrestling promotion WWE since the late 1980s. He appeared at WrestleMania 23 in 2007 and was inducted into the celebrity wing of the WWE Hall of Fame in 2013.
Starting in the 1990s, Trump was a guest about 24 times on the nationally syndicated Howard Stern Show. He also had his own short-form talk radio program called Trumped! (one to two minutes on weekdays) from 2004 to 2008. From 2011 until 2015, he was a weekly unpaid guest commentator on Fox & Friends.
From 2004 to 2015, Trump was co-producer and host of reality shows The Apprentice and The Celebrity Apprentice. On The Apprentice, Trump played the role of a chief executive, and contestants competed for a year of employment at the Trump Organization. In The Celebrity Apprentice, celebrities competed to win money for charities. On both shows, Trump eliminated contestants with the catchphrase "You're fired."
Trump, who had been a member since 1989, resigned from the Screen Actors Guild in February 2021 rather than face a disciplinary committee hearing for inciting the January 6, 2021, mob attack on the U.S. Capitol and for his "reckless campaign of misinformation aimed at discrediting and ultimately threatening the safety of journalists." Two days later, the union permanently barred him from readmission.
Personal Life
In 1977, Trump married Czech model Ivana Zelníčková. They had three children: Donald Jr. (born 1977), Ivanka (born 1981), and Eric (born 1984). Ivana became a naturalized United States citizen in 1988. The couple divorced in 1992, following Trump's affair with actress Marla Maples. Trump and Maples married in 1993 and divorced in 1999. They have one daughter, Tiffany (born in 1993), who was raised by Marla in California. In 2005, Trump married Slovenian model Melania Knauss. They have one son, Barron (born in 2006). Melania gained U.S. citizenship in 2006.
Net Worth
In 1982, Trump made the initial Forbes list of wealthy people for holding a share of his family's estimated $200 million net worth (equivalent to $562 million in 2021). His losses in the 1980s dropped him from the list between 1990 and 1995. After filing the mandatory financial disclosure report with the FEC in July 2015, he announced a net worth of about $10 billion. Records released by the FEC showed at least $1.4 billion in assets and $265 million in liabilities. Forbes estimated his net worth at $4.5 billion in 2015 and $3.1 billion in 2018. In its 2021 billionaires ranking, it was $2.4 billion (1,299th in the world), making him one of the wealthiest officeholders in American history.
The precise net worth of Donald Trump is not publicly known. Various news organizations have attempted to estimate his wealth. Forbes estimates it at $3.2 billion as of October 26, 2022, with Trump making much higher claims.
Social Media Handles
As a former United States president, Donald Trump has amassed a number of followers on social media platforms where he has been very active. On Instagram, he has a verified account with over 23.3 million followers. On Twitter, he has a verified account with over 87.8 million followers. You can follow him through the following social media handles.
Instagram: @realdonaldtrump
Twitter: @realDonaldTrump