Francis Ngannou was born on September 5, 1986. He is a Cameroonian-French professional mixed martial artist and professional boxer who is currently signed to the Professional Fighters League (PFL). He also competed in the Heavyweight division in the Ultimate Fighting Championship (UFC), where he was the reigning UFC Heavyweight Champion at the time of his departure from the promotion.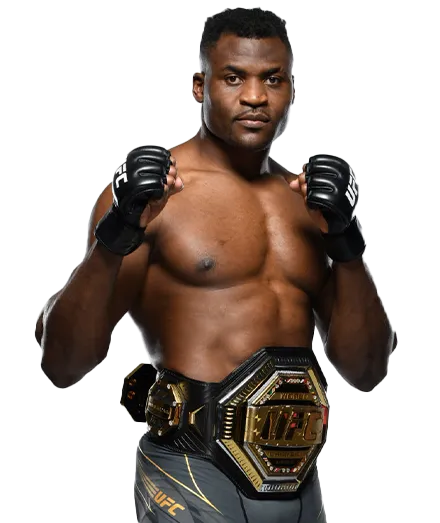 Francis Ngannou Biography
Full Name

Francis Ngannou

Nickname

The Predator

Date of Birth

September 5, 1986

Place of Birth

Batié, Cameroon

Occupation

Martial Artist | Boxer

Net Worth

$10 million

Social Media Handles

Instagram: @francisngannou

Twitter: @francis_ngannou

Facebook: @francisngannouofficial
Early Life and Education
Francis Ngannou was born on September 5, 1986, in the village of Batié, Cameroon. He lived in poverty and had little formal education growing up. Ngannou's parents divorced when he was six years old, and he was sent to live with his aunt. At 10 years old, Ngannou started working in a sand quarry in Batié because of a lack of funds. As a youngster, he was approached by several gangs in his village to join them. However, Ngannou refused and instead decided to use his father's negative reputation as a street fighter as motivation to do something positive and pursue boxing.
Career
Ngannou began his MMA career in 2013 after emigrating to France to pursue professional boxing. He quickly rose through the ranks of the French MMA scene, winning his first six fights by knockout. In 2015, Ngannou signed with the UFC and made his promotional debut in December of that year.
Ngannou quickly established himself as one of the most feared strikers in the UFC, winning his first five fights by knockout or submission. In 2018, he challenged Stipe Miocic for the UFC Heavyweight Championship, but lost by unanimous decision.
Ngannou bounced back from his loss to Miocic with four consecutive victories, all of which came by knockout. In 2021, he faced Miocic again for the UFC Heavyweight Championship and won by knockout in the second round.
Ngannou defended his UFC Heavyweight Championship once in 2022 before departing from the promotion in January 2023. He signed with the Professional Fighters League (PFL) in February 2023 and is scheduled to make his PFL debut in 2024.
Also in 2023, Ngannou and Tyson Fury finally met in the ring, in a highly anticipated crossover event. The fight was a closely contested affair, with both fighters landing heavy punches. Ngannou was particularly effective with his right hand, and he staggered Fury on several occasions. However, Fury was able to weather the storm and come back strong in the later rounds.
In the end, the judges scored the fight a split decision in favor of Fury. Ngannou was disappointed with the result, but he was proud of his performance. He had proven that he could compete with the best boxers in the world.
Personal Life
Francis Ngannou is a devout Christian and has spoken openly about his faith. He is also a vocal advocate for social justice and has spoken out against racism and police brutality. Also, Ngannou speaks several languages including Ngemba, French, and English.
Filmography
| Year | Title | Role |
| --- | --- | --- |
| 2022 | Jackass Forever | Himself |
| 2021 | F9 | Ferocious Professional |
Net Worth
Ngannou's net worth is estimated to be around $10 million. The majority of his earnings come from his career as a mixed martial artist, but he also has additional income from sponsorships and endorsements.
Social Media Handles
Francis Ngannou is very active on social media platforms, especially on Instagram and Twitter. You can follow him through the following handles.
Instagram: @francisngannou
Twitter: @francis_ngannou
Facebook: @francisngannouofficial
Francis Ngannou biography posits him as one of the most popular and exciting mixed martial artists in the world today. He is known for his incredible power and his devastating striking ability. Ngannou is also a role model for many people, and he has shown that it is possible to achieve your dreams, no matter what your background is.