Goodluck Ebele Jonathan (GCFR, GCON) is a prominent Nigerian politician who has served in different political spheres of the country, most especially as the President of the Federal Republic of Nigeria from 2010 to 2015. He has also served as the Vice President of Nigeria during former President Umaru Musa Yar'Adua's tenure. And before that, he served as Governor of Bayelsa State from 2005 to 2007.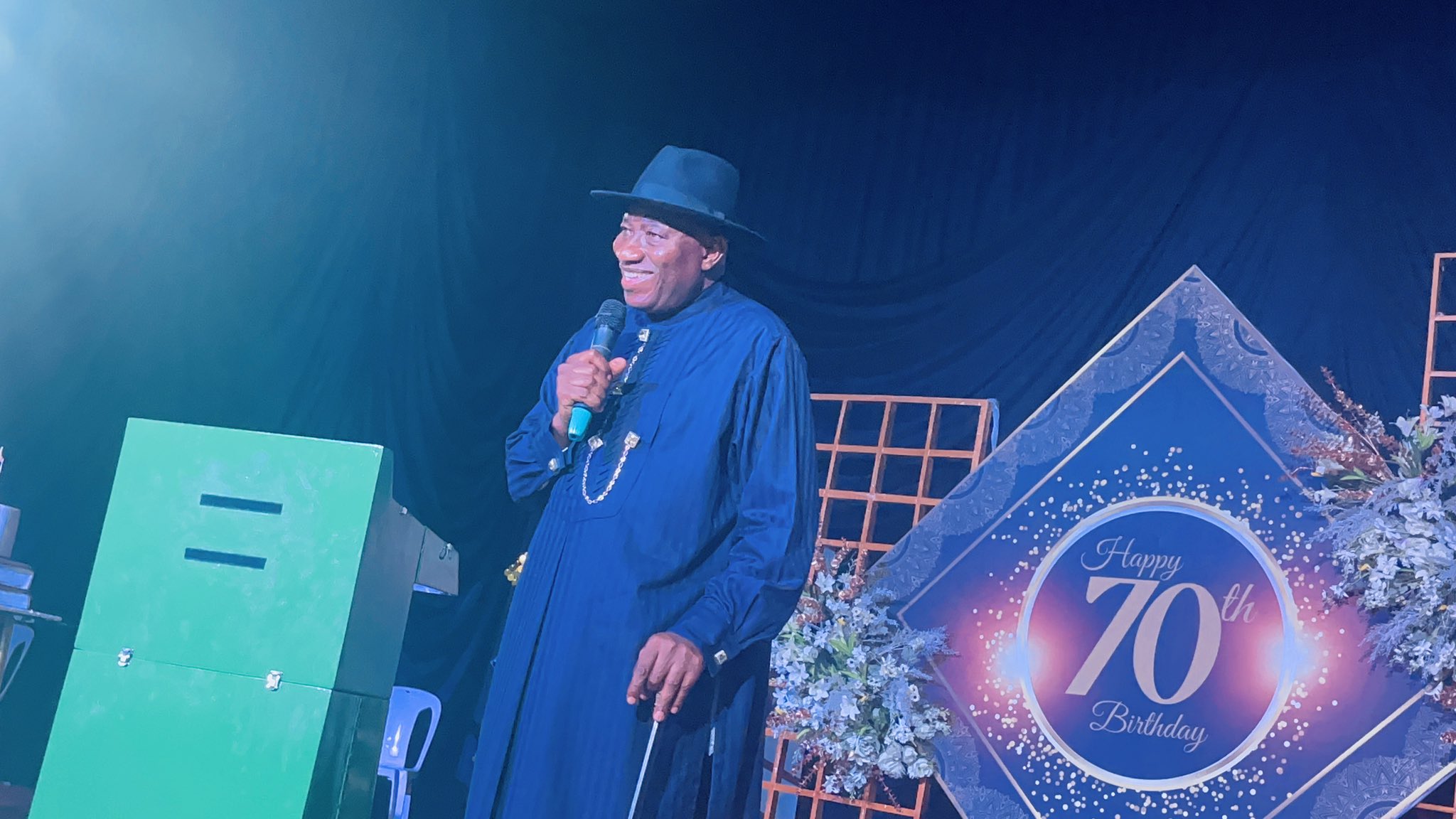 Goodluck Jonathan Biography
Full Name :
Goodluck Ebele Azikiwe Jonathan GCFR, GCON
Date of Birth :
November 28, 1957
Place of Birth :
Bayelsa State, Nigeria
Highest Qualification :
Professor
Spouse :
Dame Patience Jonathan
Children :
Ariwera (Son)
Aruabai (daughter)
Social Media Handles :
Twitter: @GEJonathan
Instagram: _goodluckjonathan
Early Life & Education
Goodluck Jonathan was born on the 28th of November, 1957, in Ogbia, which falls in the Ijaw ethnic group in Bayelsa State. He graduated from the University of Port Harcourt with a doctorate in zoology, a master's degree in hydrobiology and fisheries biology, and a bachelor's degree in zoology with second-class honors. He held jobs as a lecturer, and environmental protection officer, and an education inspector prior to entering politics in 1998.
Political Career
The major part of Jonathan's career is premised on politics. He started his political career in 1998. On May 29, 1999, Diepreye Alamieyeseigha, the PDP's candidate for Bayelsa State governor, and Jonathan took the oath of office together. Up until December 2005, Jonathan was the deputy governor. When the current governor, Diepreye Alamieyeseigha, was removed from office by the Bayelsa State Assembly after being accused of money laundering in the United Kingdom, Jonathan, who had been serving as the deputy governor at the time, was sworn in as the new governor.
Vice President
In 2007, Jonathan was chosen to be Umaru Musa Yar'Adua's running mate under the Peoples Democratic Party (PDP), for the general presidential election. Yar'Adua and Jonathan were elected in April and assumed office in May. As a vice president, Jonathan entered into negotiations with militants in the Niger Delta who were fighting against oil firms that are operating in the region.
Early in 2010, when Yar'Adua's prolonged absence from the nation for medical treatment alarmed many Nigerians called for Yar'Adua to legally hand over authority to Jonathan, which made Jonathan's profile increase significantly. Members of Nigeria's National Assembly took matters into their own hands and voted on February 9, 2010, to have Jonathan assume full power and serve as acting president until Yar'Adua was able to resume his duties as there were growing concerns and there was no word from Yar'Adua on the request to transfer power to his vice president. Later that day, Jonathan accepted and took over, but it was unsure if the change of leadership was legal.
On February 24, 2010, after Yar'Adua arrived back in Nigeria, it was declared that Jonathan would continue to serve as president in the meantime while Yar'Adua recovered. Jonathan consolidated his authority the next month by removing Yar'Adua's cabinet. Yar'Adua passed away on May 5, 2010, and Jonathan was inaugurated as president the following day. Yar'Adua never fully recovered. Jonathan committed to being involved in the Niger Delta peace talks and stated his plans to overhaul the nation's frequently criticized election system, as well as fight corruption and address the nation's energy issues.
Presidency
The National Assembly gave Jonathan's nomination of Kaduna State Governor Namadi Sambo to take over as vice president approval on May 18, 2010. Jonathan and Vice President Sambo contested together and won the 2011 presidential election.
He was sworn in as President and Commander-in-Chief of the Nigerian Armed Forces on May 29, 2011, becoming Nigeria's 14th president. In his inaugural speech, he promised to keep putting President Yar'adua's seven-point agenda policy into action and that his government will concentrate on a transformation agenda. He listed his administration's priorities as being electoral, political, and anti-corruption reforms. He claimed that extremely sad and unexpected circumstances led to his election to office.
A northeast-focused insurgency led by the religious extremist group Boko Haram dominated the nation throughout Jonathan's first term as president. The government took steps like establishing states of emergency in the hardest-hit areas and attempting to mediate, but Boko Haram's violence persisted until a regional force was established and started pursuing the group gravely starting in February 2015.
Jonathan had mixed progress in addressing the country's economic problems; despite general economic growth under his leadership, many Nigerians continued to live in poverty, with a relatively high proportion of the impoverished residing in the north. He also had to cope with PDP divisions, which resulted in a number of PDP members defecting to opposition parties. In spite of this, Jonathan was once again chosen to represent the PDP in the 2015 presidential election.
2015 Presidential Election
More than a dozen contenders ran against President Jonathan, but the All Progressives Congress(APC) presidential candidate Muhammadu Buhari was his toughest rival. Buhari had a strong military history and was considered capable of successfully dealing with the insurgents, making him an attractive candidate to many. Jonathan had been accused of not moving effectively enough to battle Boko Haram. The March 28, 2015 election ended up being the most closely contested presidential election ever in Nigeria. When the majority of the results were totaled, it became obvious that Jonathan would lose against Buhari, and Jonathan gave up. It was the first time an incumbent has been defeated in Nigerian history.
Post Presidency
After Jonathan left office as the president, he has been severally appointed to different positions. In 2019, he was appointed to serve as the Bayelsa Education Trust Fund board's honorary special advisor. He was also appointed as the first chairman of the International Summit Council for Peace in June 2019. Furthermore, The Economic Community of West African States (ECOWAS) designated Jonathan as a special envoy in July 2020 to facilitate negotiations amid the Malian protest.
Personal Life
Jonathan is married to his wife, Dame Patience Jonathan, who served as the First Lady of Nigeria when his husband was the president. The couple has two children, Ariwera (Son) and Aruabai (daughter).
Controversies
Most people have characterized Jonathan's administration as corrupt. The Jonathan government, which let politicians and their associates fill their wallets with impunity, allowed corruption to flourish. Numerous instances of large quantities of money being misused have been reported, including the purported disappearance of 3.98 trillion (US$20 billion) and the alleged distribution of 398 billion ($2 billion) in the military to high-ranking officials. Jonathan's wife, Patience Jonathan, was allegedly charged with money laundering by Nigeria's anti-crime organization, the Economic and Financial Crimes Commission(EFCC), according to Wikileaks documents published in 2006.
According to reports, the Muhammadu Buhari administration has been battling corruption that was committed under Jonathan since May 2015. Several former Jonathan political office holders and appointees, as well as party members, have been detained on various corruption-related accusations. Some are believed to have repaid some of the money they stole, including former finance minister Nenadi Usman. The alleged offenses have not, however, led to any of these officials' convictions. It is yet unknown if Jonathan, who is thought to have either orchestrated or approved of the misconduct, would be detained.
Awards & Recognition
First Class of the Order of the Most Ancient Welwitschia mirabilis.
Grand Commander of the Order of the Federal Republic (GCFR)
Grand Commander of the Order of the Niger (GCON)
Jonathan was awarded the chieftaincy title of the "Se lolia I" of Wakirike Bese.
Net Worth
Goodluck Jonathan has an estimated net worth of $12 million. His sources of income are attached to his past political positions and appointment.
Social Media Handles
Goodluck Jonathan has huge followers on social media, most especially on Twitter where he has over 1.9 million followers. You can follow him on the following social media handles.
Twitter: @GEJonathan
Instagram: _goodluckjonathan