John Winston Ono Lennon (born John Winston Lennon; 9 October 1940 – 8 December 1980) was an English singer, songwriter, pianist, and peace campaigner who rose to prominence around the world as the band's founder, co-composer, co-lead vocalist, and rhythm guitarist. The rebelliousness and biting humor of Lennon's music, writing, and artwork, as well as his performances on film and in interviews, were hallmarks of his body of work. His songwriting collaboration with Paul McCartney continues to be the most recognized in history.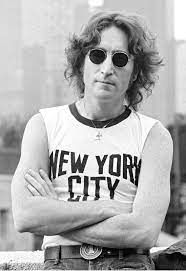 John Lennon Biography
Full Name :

John Winston Lennon

Date of Birth :

October 9, 1940

Death Date :

December 8, 1980

Occupation :

Singer | Songwriter

Spouses :

Cynthia Powell ​ ​(1962 – 1968)​

Yoko Ono ​(1969)

Children :

Julian | Sean

Parents :

Alfred Lennon (Father) | Julia Stanley (Mother)
Early Life
John Winston Lennon was born on October 9, 1940, during a German air raid in Liverpool, Merseyside, England.
Lennon's parents divorced when he was four years old, and he eventually moved in with his aunt Mimi. Father of John Lennon was a merchant seaman. He missed his son's birth and did not spend much time with him when he was young.
Julia, Lennon's mother, had remarried but still frequently went to see him and Mimi. She bought Lennon's first guitar and taught him how to play the piano and banjo. When Julia was fatally hit by a car being driven by an off-duty police officer in July 1958, Lennon was distraught. One of the most devastating experiences of his life was her death.
Lennon enjoyed playing practical jokes as a kid and getting into messes. He took pleasure in painting deformed and crippled figures as a child and young adult. Lennon's schoolmaster believed that since he had creative talent but received poor grades in school, he could attend an art college.
Career
Music Career
As a youth, Lennon participated in the skiffle craze. He founded The Quarrymen in 1956, and in 1960 they became the Beatles. He was initially the group's de facto leader, sometimes referred to as "the wise Beatle," a position that was ultimately transferred to McCartney.
In addition to starring in a number of movies, such as How I Won the War, Lennon also wrote two volumes of nonsense writing and line drawings called In His Own Write and A Spaniard in the Works.
His compositions were used as anthems by the anti-war movement and the broader counterculture of the 1960s, beginning with "All You Need Is Love." He co-founded the Plastic Ono Band in 1969 with his second wife, the multimedia artist Yoko Ono, and organized the two-week Bed-ins for Peace anti-war protest. He also left the Beatles to pursue a solo career.
Lennon and Ono worked together on a variety of projects between 1968 and 1972, including a trilogy of avant-garde albums, further films, his solo debut John Lennon/Plastic Ono Band, and the top 10 songs "Give Peace a Chance," "Instant Karma!", "Imagine," and "Happy Xmas (War Is Over)".
After relocating to New York City in 1971, the Nixon administration attempted to deport him for three years due to his criticism of the Vietnam War. Between 1973 and 1975, when Lennon and Ono were no longer together, he worked on the Pussy Cats album by Harry Nilsson.
Additionally, he collaborated with David Bowie and Elton John on chart-topping songs, including "Whatever Gets You Through the Night" ("Fame"). Lennon made his musical comeback in 1980 with the Ono-collaborated album Double Fantasy, capping a five-year absence. Three weeks after the album's release, Mark David Chapman, a fan of the Beatles, killed him.
Lennon had 25 number-one singles in the Billboard Hot 100 chart as a performer, songwriter, or co-writer. His best-selling record Double Fantasy earned the 1981 Grammy Award for Album of the Year. The Brit Award for Outstanding Contribution to Music was given to Lennon in 1982. In a 2002 BBC history poll of the 100 Greatest Britons, Lennon came in ninth place. He was listed as the 38th greatest artist overall and the fifth greatest singer by Rolling Stone. He was twice inducted into the Rock and Roll Hall of Fame—once as a member of the Beatles in 1988 and once as a solo performer in 1994—and into the Songwriters Hall of Fame in 1997.
John Lennon Murder
On December 8, 1980, at around 5:00 p.m., Lennon signed a copy of Double Fantasy for Mark David Chapman before he and Ono left The Dakota for a recording session at the Record Plant. Around 10:50 p.m. after the session, Lennon and Ono rode in a limousine back to the Dakota. They got out of the car and entered the building through the archway. Then, at close range, Chapman fired four shots at Lennon—two to the back and two to the shoulder. At 11:15 p.m., Lennon was transported in a police car to the emergency room of Roosevelt Hospital, where he was declared dead.
The next day, Ono released a statement that read: "John loved and prayed for the human race, and there is no funeral for him," it reads. Do the same for him, please." At Ferncliff Cemetery in Hartsdale, New York, his bones were cremated. In Central Park in New York, where the Strawberry Fields memorial was subsequently built, Ono had his ashes spread. When Chapman disregarded his lawyer's advice and pled guilty to second-degree murder, he avoided going to trial and received a 20-years-to-life sentence.
"(Just Like) Starting Over" and "Double Fantasy" topped the charts in the US and the UK in the weeks after the murder. In January 1981, "Imagine" reached at number one in the UK, while "Happy Xmas" peaked at number two. "Woman," the second song from Double Fantasy, replaced "Imagine" atop the UK chart. Later that year, Roxy Music's cover of "Jealous Guy," which was created as a homage to Lennon, reached number one in the UK.
Discography
Solo
1970: John Lennon/Plastic Ono Band
1971: Imagine
1973: Mind Games
1974: Walls and Bridges
1975: Rock 'n' Roll
With Yoko Ono
1968: Unfinished Music No. 1: Two Virgins
1969: Unfinished Music No. 2: Life with the Lions
1969: Wedding Album
1970: Yoko Ono/Plastic Ono Band
1972: Some Time in New York City
1989: Double Fantasy
Posthumously
1984: Milk and Honey (Polydor)
Filmography
Year Title
1977 The Day the Music Died
1976 Chelsea Girls with Andy Warhol
1972 Ten for Two: The John Sinclair Freedom Rally
1972 Eat the Document
1971 Up Your Legs Forever
1971 The Museum of Modern Art Show
1971 Sweet Toronto
1971 Erection
1971 Clock
1971 Breathing Together: Revolution of the Electric Family
1970 Let It Be
1970 Freedom
1970 Fly
1970 Apotheosis
1970 3 Days in the Life
1969 Walden (Diaries, Notes, and Sketches)
1969 Self-Portrait
1969 Muhammad Ali, the Greatest
1969 Honeymoon
1969 Bed Peace
1968 Yellow Submarine
1968 Two Virgins
1968 No. 5
1967 Pink Floyd: London
1967 Magical Mystery Tour
1967 How I Won the War
1967 Bottoms
1965 Help!
1964 A Hard Day's Night
Television
Year Title
1977 All You Need Is Love: The Story of Popular Music
1975 A Salute to the Beatles: Once upon a Time
1972 John Lennon and Yoko Ono Present the One-to-One Concert
1972 Imagine
1971 The Dick Cavett Show
1969 Rape
1966 The Beatles in Japan
1966 The Beatles at Shea Stadium
1965 The Music of Lennon & McCartney
1965 Not Only… But Also
1964 What's Happening! The Beatles in the U.S.A.
1964 The Ed Sullivan Show
1964 Around the Beatles
1964 Ready Steady Go!