Dame Julie Andrews was born as Julia Elizabeth Wells on October 1, 1935. She was an iconic figure in the world of entertainment and is celebrated for her extraordinary talent, grace, and timeless contributions to film, theater, and music. She had a long and successful career, captivating audiences all over the world with her captivating performances and exceptional singing abilities. Julie Andrews is famous for her humanitarian activities and persistent dedication to the arts, in addition to her artistic triumphs.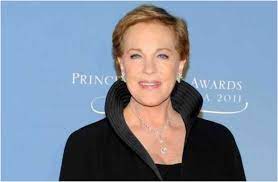 Julie Andrews Biography
Full Name

Dame Julie Andrews

Date of Birth

1 October 1935 (age 88)

Place of Birth

Surrey, England

Occupations

Actress | Singer | Author

Spouses

Tony Walton​ (m. 1959; div. 1968)​
Blake Edwards (m. 1969; died 2010)

Children

Emma | Walton Hamilton
Early Life
Julie Andrews was born on October 1, 1935, in Walton-on-Thames, Surrey, England. She grew up in a close-knit family and displayed her prodigious singing talents at a young age. Her mother, Barbara Ward Wells, was born in Chertsey and married Edward Charles "Ted" Wells (1908–1990), a teacher of metalwork and woodwork, in 1932. Andrews' early life was marked by the hardships of World War II, during which she and her family endured the Blitz bombings in London. Despite these challenges, her parents nurtured her love for the arts, and she received vocal training from an early age.
Career
In 1954, Andrews made her Broadway debut in the U.S. version of the well-known British musical comedy The Boy Friend. She played the character of Cockney flower girl Eliza Doolittle in the 1956 production of My Fair Lady by Alan Jay Lerner and Frederick Loewe.
The show became one of the biggest hits in Broadway history and a huge hit in Britain because of Andrews's universally praised performance. During the duration of the program in 1957, Andrews made an appearance on American television in a musical adaptation of Cinderella that Richard Rodgers and Oscar Hammerstein II created specifically for her. She achieved another success in 1960 playing Queen Guinevere in Lerner and Loewe's Camelot, a part created particularly for her.
Andrews made her film début in 1964, despite not getting the role of Eliza in the movie adaptation of My Fair Lady. Walt Disney approached Andrews backstage after seeing her performance in Camelot and offered her the lead part of the enchanted proper English nanny in Mary Poppins (1964). The film became one of Disney's largest moneymakers, and Andrews' performance was recognized with Grammy and Academy Awards. But Andrews would find it difficult to discard the healthy role and reputation.
Andrews received a second Academy Award nomination for her depiction of the governess and aspiring nun Maria in The Sound of Music (1965), one of the highest-grossing movies ever. This role also helped to solidify her lovely, "goody-goody" reputation.
The Americanization of Emily (1964) and Alfred Hitchcock's Torn Curtain (1966), two tragic, non-musical parts that Andrews tried to adapt, were eclipsed by the success of her musicals, which made her one of the biggest stars of the decade. Traditional cinema musicals were, however, losing favor by the late 1960s. Andrews was seen by many as a has-been after appearing in two costly musical flops, Star! (1968) and Darling Lili (1970), the latter of which was produced, directed, and co-written by Blake Edwards, whom she married in 1970.
Under the name Julie Edwards, she released two children's novels, Mandy (1971) and The Last of the Really Great Whangdoodles (1974), and she continued to perform on television and in concerts. But it wasn't until 1979 when she performed a supporting role in Edwards' well-known comedy 10 that she had another prominent film appearance. With the release of the film, viewers started to accept Andrews in more diverse roles.
She demonstrated her ability to play both comedic and dramatic roles, and for her portrayal of a woman who impersonated a male female impersonator in Edwards' Victor/Victoria (1982), she was nominated for an Academy Award. In Duet for One (1986), she played a violinist who was battling multiple sclerosis and received high appreciation for the role. The Princess Diaries (2001) and The Princess Diaries 2: Royal Engagement (2004) are two of her later comedies. She also gave the voice of the queen in several of the animated Shrek movies (2004, 2007, and 2010), as well as the narration for the fantasy Enchanted (2007).
Andrews also provided voices for characters in the movies Aquaman (2018) and Despicable Me 3 (2017). Julie Andrews' Collection of Poems, Songs, and Lullabies, a spoken-word album for kids, won her a Grammy Award in 2011, and she also received a special Grammy for lifetime accomplishment.
Personal Life
On May 10, 1959, Andrews got married to set designer Tony Walton in Weybridge, Surrey. When Andrews was performing in the play Humpty Dumpty at the London Casino in 1948, they first crossed paths. The couple's daughter Emma was born in November 1962. They split up in 1968.
After seeing Blake Edwards for at least two years and having him direct her in Darling Lili, Andrews wed him in November 1969. She then became the stepmother to his children, Jennifer and Geoffrey. Amy and Joanna, two Vietnamese children, were adopted by Edwards and Andrews in the 1970s. Before his passing away on December 15, 2010, in Santa Monica, California, they were married for 41 years. Age-wise, he was 88. Andrews has nine grandchildren and three great-grandchildren.
Andrews resides in Sag Harbor, New York, where Emma, her daughter and fellow author, helped co-found the Bay Street Theater.
In recent years, Andrews has faced health challenges, including a surgery that affected her singing voice. Despite this setback, she remains an inspirational figure, adapting her career to focus on writing, directing, and narrating.
Filmography
Julie Andrews' filmography includes numerous acclaimed roles, with notable films such as:
Mary Poppins (1964)
The Sound of Music (1965)
Hawaii (1966)
Torn Curtain (1966)
Thoroughly Modern Millie (1967)
Star! (1968)
Darling Lili (1970)
The Wild Rovers (1971)
The Carey Treatment (1972)
The Tamarind Seed (1974)
10 (1979)
S.O.B. (1981)
Victor/Victoria (1982)
That's Life! (1986)
Duet for One (1986)
The Princess Diaries (2001)
Princess Diaries (2001)
The Princess Diaries 2: Royal Engagement (2004)
Eloise at the Plaza (2003)
Eloise at Christmastime (2003) movie poster
Tooth Fairy (2010)
Andrews has also provided voice acting for numerous animated films and television shows, including:
Shrek 2 (2004)
Shrek the Third (2007)
Enchanted (2007)
Shrek Forever After (2010)
Despicable Me (2010)
Despicable Me 3 (2017)
Aquaman (2018)
Minions: The Rise of Gru (2022)
Awards and Honours
Throughout her illustrious career, Julie Andrews has received a multitude of awards and honors, including:
Academy Award for Best Actress (Mary Poppins, 1964)
Golden Globe Awards for Best Actress – Motion Picture Musical or Comedy (Mary Poppins, 1964; The Sound of Music, 1965; Victor/Victoria, 1982; Duet for One, 1986)
Emmy Awards for Outstanding Voice-Over Performance (Bridgerton, 2021, 2022)
BAFTA Film Awards for Most Promising Newcomer to Leading Film Roles (Mary Poppins, 1965) and Outstanding British Contribution to Cinema (1989)
Grammy Awards for Best Children's Album (Mary Poppins, 1965), Best Original Cast Album (The Sound of Music, 1966), and Best Female Pop Vocal Performance ("I Will Wait for You", 1963)
Kennedy Center Honors (2001)
Screen Actors Guild Life Achievement Award (2007)
AFI Life Achievement Award (2022)
In addition to these awards, Andrews has also received numerous honorary degrees and other accolades, including:
Dame Commander of the Order of the British Empire (DBE) (2000)
Disney Legend (1991)
Broadway Hall of Fame inductee (2010)
American Film Institute's 50 Greatest American Screen Legends (1999)
Dame Julie Andrews' remarkable talent, enduring legacy, and dedication to the arts continue to inspire and enchant audiences around the world, making her a true icon in the realm of entertainment.
Net Worth
Julie Andrews has a net worth of $30 million. Andrews has earned her net worth through her successful career as an actress, singer, and author. She has starred in numerous films and television shows.