Kenny Kunene is one of the most influential men in South Africa who doubles as a businessman and the secretary-general of the Patriotic Alliance.  He came into the limelight because of his history as an ex-convict who turned successful politician and entrepreneur.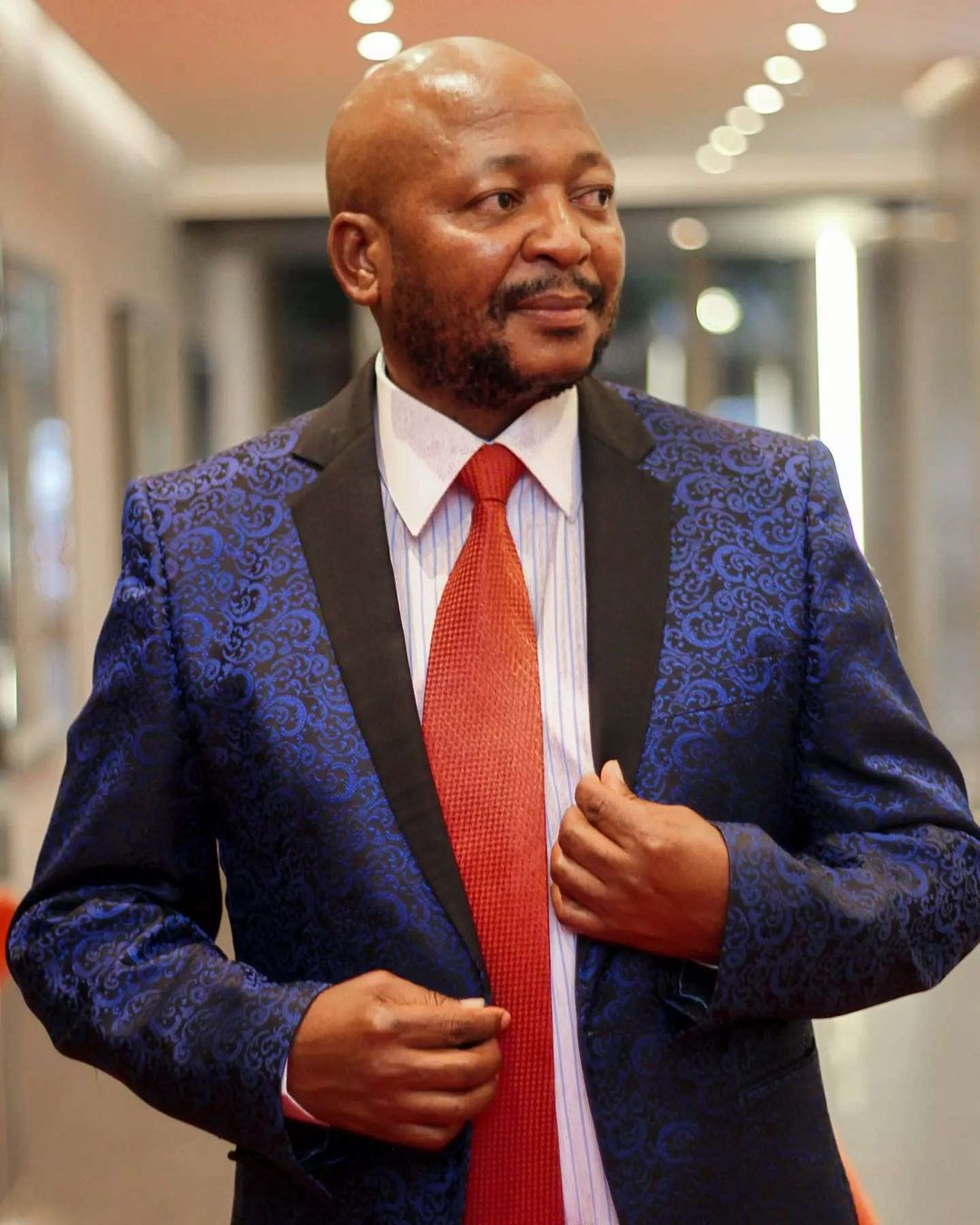 Kenny Kunene Biography
Full Name :

Kenny Kunene

Date of Birth :

21st of October 1970

Nationality :

South Africa

Occupation :

Businessman

Spouse :

Nonkululeko Whitney  Mhlanga (2017- present), Mathato Kunene (1996- 2012)

Children :

Thato, Mpho, Mosa, Remo and Reemona

Net Worth :

R260 Million

Social Media Handles :

Instagram: kenny_kunene
Twitter: @Kenny_T_Kunene
Early Life and Education
Kunene was born on the 21st of October 1970 in Kutlwanong in Odendaalsrus. He is the third child in his family and has three other siblings. His father is not known to the public and was raised by his mother and grandparents.
Kunene started his educational career in Marobe Primary School and Rearabetswe Secondary School, located in the Free State Province of SA. during his early years, he ventured into politics and engaged in a protest with other students who were agitating against the apartheid regime. He was arrested at the protest and was jailed for 6 months at the age of 15.
After his release, he got admitted into Vista University, now the Central University of Technology to continue his education. At that university, he bagged a teacher's degree majoring in English and History.
Career
Kunene started his career while in prison. For the second time in his life, he was imprisoned from 1997 to 2003 after being convicted of running a Ponzi scheme. While in prison, he coordinated parties to build goodwill among his fellow inmates and became influential in the prison.
Later when he was released, he went to work at Calculus Private School in Bloemfontein. Later, he began to work with a convicted bank robber, Gayton Mckenzie who has become a motivational speaker after he had been released from prison. Mckenzie and Kunene then invested in the seafood distribution business.
Also, Kunene worked as a public relations consultant and lobbyist for mining companies in March 2021. However, The Hawk, South African Special Police Investigation Unit, confirmed that they have done an investigation on Kunene regarding fraudulent representations to the community and potential shareholders as part of the application for mining righteous by Central Rand Gold (CRG). but then, no charges were levelled.
Until 2013, Kunene was a supporter of the African National Congress but later left after he had written a letter to President Jacob Zuma, criticising his leadership. In July 2013, Kunene joined the Economic Freedom Fighters as a high-profile member of the organization's Command team before he resigned from the organization in August 2013.
In November 2013, Kunene became the secretary general of the Patriotic Alliance but left the party in 2014. Kunene is currently concentrating on his businesses including the Smart City Technology Company which has Yookoo RIde, an e-hailing Taxi app in South Africa. He is also into Public Relations, Skills Training and Development, Government Relations, mining consulting and investments.
Kunene was at a time in the media space. He was the star of the South African reality television show So What: Big Money, Big Dreams, which aired on e.tv in 2011. He also appeared in the fourth episode of the British travel documentary television series The Moaning of Life in 2013. Also, in April 2014, Kunene was the Roastee of Comedy Central Africa's Roast of Kenny Kunene. This business Mogul owns two online news outlets, The WeeklyXpose and AfricaNews 24-7.
Kenny Kunene is also the owner of New Money Record and in 2012 he released his debut album, ZAR Sushi Miz. in 2011, he designed the ZAR Club which is a club that hosted lavish events within its premises. Kunene being a fan of sushi, the ZAR Club was also prominent for serving exotic sushi.
Later, the club became criticised when he hosted notable South African Personalities for his birthday in October 2010. He spoilt his guests with delicious sushi but they were served on the bodies of semi-naked women. Civil and political organizations condemned this action, considering it to be too demeaning to women.
Personal Life
Kunene was first married to Mathato Kunene. The couple divorced in 2012 because Kunene was dating other women including Zama Ngcobo and actress Sophie Ndaba, during his marriage with Mathato.
However, Kunene remarried and wedded his lovely wife Nonkululeko Whitney Mhlanga. They are blessed with five beautiful children; Mpho, Mosa, Remo, Reemona and Thato. He and his family live in Sandton, Johannesburg.
In South Africa, Kunene is known for his love of Sushi and has been referred to by many people as, "The Shisha King".
Kenny Kunene Net Worth
Kunene is known to be a versatile business and has an estimated net worth of R260 million. He has accumulated all his wealth from the profits he makes from his businesses.
Social Media Handles
Instagram: kenny_kunene
Twitter: @Kenny_T_Kunene