Brian Ouko Omollo (Born 12 June 1990) popularly known as  Khaligraph Jones who is also called papa jones, is an award-winning Kenyan rapper who was born in Nairobi, Kenya. He is popularly known for his hit song "Mazishi" and Yego. He has two albums so far "Testimony 1990" which was released in 2018 and his recent album "Invisible Currency" which was released on 7 march 2022.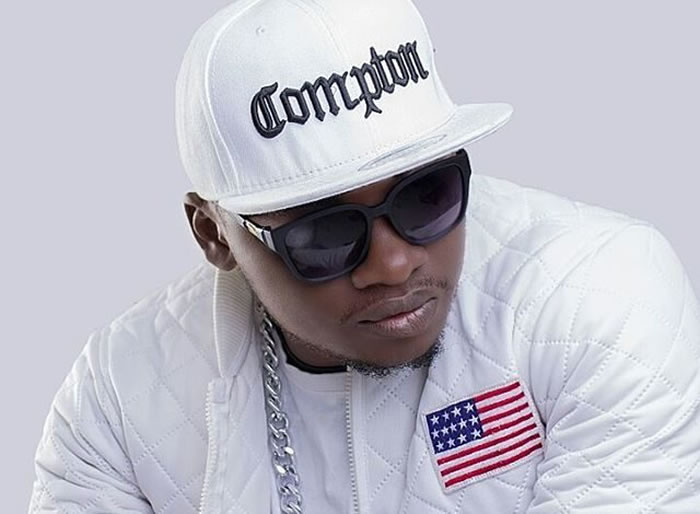 Khaligraph Jones Biography
Full Name :
Brian Ouko Omollo
Stage Name :
khaligraph Jones
Date of Birth :
12 June 1990
Years Active :
2013-present
Early life
Khaligraph Jones was born and grew up in kayole, situated north of Soweto, and southwest of Njiru, a neighborhood in Nairobi, Kenya. His mother gave him the name Ouko Robert in tribute to Dr. Robert Ouko, a Kenyan politician who was assassinated on 13 February 1990.
Career
Khaligraph's musical career started when he was in elementary school, but he officially began his career in 2008 at a function called "Words And Picture." He was inspired by his elder brother in the early stages of starting music. Before his visibility in the industry, he was making gospel music with HopeKid, with whom they were studying at the same school.
He became the talk of the town when he released a single titled Yego. Rapper Kristoff collaborated with Khaligraph, which made him one of the first people to feature Khaligraph, and he later introduced him to rapper STL and blew up in the remix to the song Biashara.
In April 2014, he released his debut studio album, titled "Point of No Return". Before the year was over, he followed up the album quickly with Autograph, a collection of previously released tracks. he released a mixtape called "Eff Off".
Khaligraph released another studio album 4 years after his first album, titled "Testimony 1990." in June 2018. The album is all about his troubles and those of his country, Kenya.
In 2019, he was among artists who represented his country Kenya at Coke Studio Africa, he was paired with Nigerian Singer Rude Boy.
Khaligraph had a deal with a sports betting company named Odibets under their Odimtaani initiative to launch the 'OdiNare' rap challenge in 2021.
Khaligraph Jones released another Album on 7 March 2022 titled Invisible Currency but it was available only on Boomplay streaming service which accumulate a total of 1 Million Streams in Six days on the streaming platform. He later released it on other streaming platforms on March 13, 2022.
Discography
Testimony 1990 Tracks
Testimony ft. Sagini
Made it on Me ft. Eddy Magnate
Blessings
For Life
G Like That
Gwala ft. YCEE
Making Babies
Taking It All ft. Timmy Blanco
instagram Girls
No Change ft. Fena* "Aiseee" ft. Ray C
Superwoman ft. Mr Eazi
All The Way Up
Now You Know ft. Rostam
Beat It
Go Hard ft. Esco
Don Know ft. K.O
Complicated ft Ria
Invisible Currency Tracks
Invisible Currency
All I Need
Ikechukwu
Rada Safi
Ateri Dala ft. Prince Indah
Am on the Move ft. Blackway
Maombi Ya Mama ft. Adasa
Kamnywesoft. Mejja
Wanguvu ft. Ali Kiba
Inner Peace ft. Kev the Topic
Tsunami ft. Scar
How We Do ft. Xenia Manasseh
Ride for You ft. Rudeboy
Bad Dreams
Flee
Hiroshima ft. Dax
The Khali Chronicles
He has also released different singles that hit from 2013 till date.
Personal life
He is a proud father of Amila, and his baby mama's name is Georgina Muteti.
Awards
He has won different awards, one of them being the Channel O Music Video Awards Emcee Africa in 2019, which gave him instant international visibility.
He won "Best Rap Act of the Year" at the fifth Annual African Muzik Magazine Awards 2018 (Afrimma) that took place at House of Blues in Dallas, Texas in 2018.
He also won best Hip Hop act at the Soundcity MVP Awards in January 2020. The ceremony was held at the Eko Convention Center in Lagos, Nigeria.
He was nominated for BET Awards in 2020 as Best International Flow against South Africa's Nasty C, Brazil's DJonga, Ivorian Kaaris, and eventual winner, grime rapper Stormzy from the Uk. In May 2021 he won East African Rapper of the Year at MTN Uganda.
Net Worth
Khaligraph is one of the most influential singers and performing artists. His net worth is estimated to be $3 million.
Social Media
Instagram @khaligraph_jones
Twitter @khaligraph