Professor Kingsley Bosah Chiedu Ayodele Moghalu is a Nigerian political economist. From 2009 to 2014, he was the Deputy Governor of the Central Bank of Nigeria, appointed by President Umaru Musa Yar'Adua. From 2015 to 2017, he was a Professor of Practice in International Business and Public Policy at Tufts University's Fletcher School of Law and Diplomacy. In the country's general election in February 2019, he ran as the presidential candidate of the Young Progressives Party (YPP).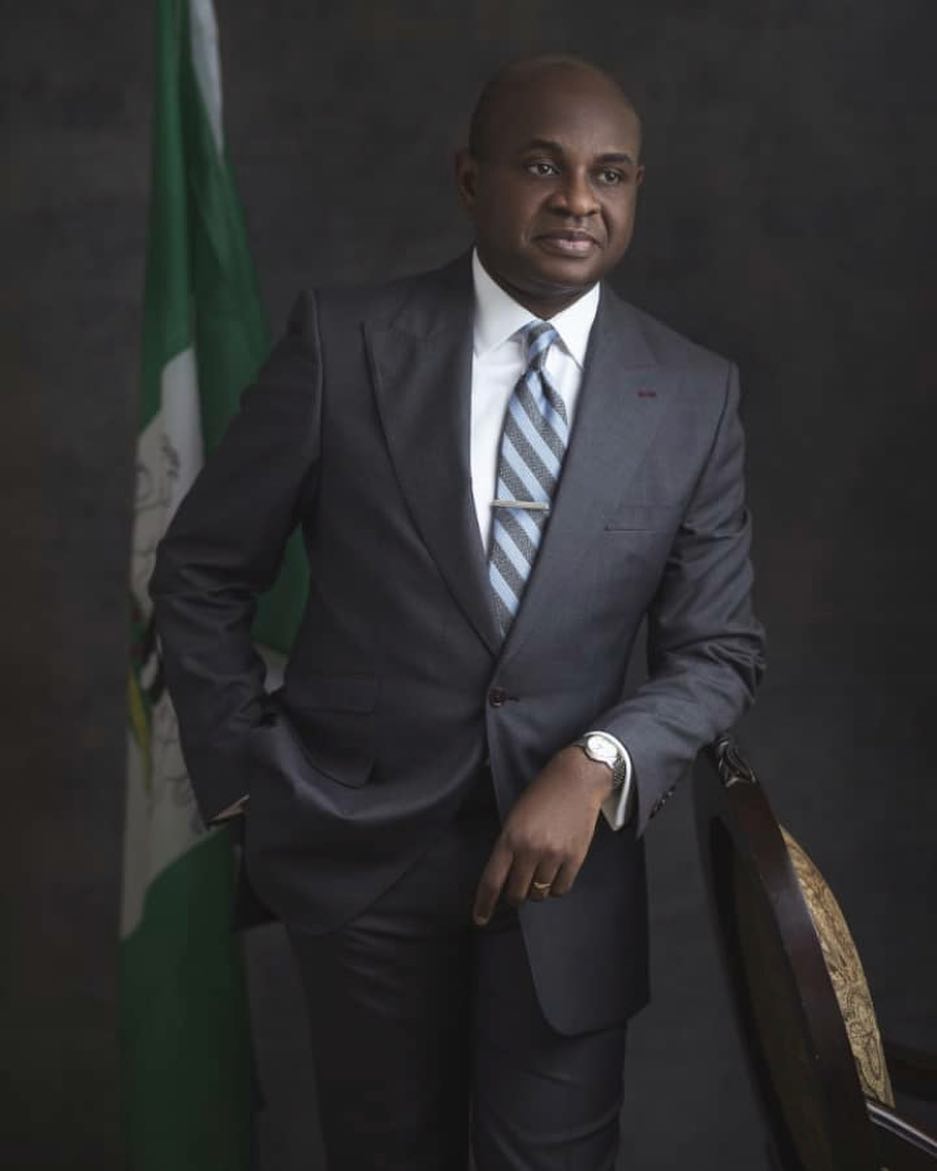 Kingsley Moghalu Biography
Full Name :
Professor Kingsley Bosah Chiedu Ayodele Moghalu
Date Of Birth :
7 May 1963
Spouse :
Maryanne Moghalu
Occupation :
Political economist
Highest Qualification :
Doctor of Philosophy degree in International Relations
Social Media :
Twitter: @moghalukingsley
Instagram: profkmoghalu
Early Life and Education
Moghalu was born in May 1963 in Lagos State, Nigeria to Isaac Moghalu (now deceased), a Nigerian Foreign Service Officer, one of a small group of promising young Nigerians inducted into the Ministry of Foreign and Commonwealth Affairs after Nigeria's independence in 1960. His mother, Lady Vidah Chinelo Moghalu, was a schoolteacher at the Breadfruit School on Lagos Island who later became a professional dietician. Moghalu spent his early childhood in Switzerland and Washington, DC, where his father was posted. Isaac Moghalu transferred his service back to Nigeria's Eastern Region as the country was rocked by a political and humanitarian crisis, and the family returned to Nigeria in April 1967. The Eastern Region announced its secession from Nigeria the following May, and Moghalu and his family lived in his hometown of Nnewi, as well as Umuahia, the capital of the short-lived Republic of Biafra, during the civil war that lasted for two and a half years. In the 1970s, Kingsley received his secondary school education at Eziama High School, Aba; Government College Umuahia; and Federal Government College Enugu. He earned a degree in law from the University of Nigeria in 1986, and a certificate as a Barrister at Law from the Nigerian Law School, Lagos.
Moghalu obtained a Master of Arts degree in 1992, at The Fletcher School of Law and Diplomacy at Tufts University, where he was the Joan Gillespie Fellow and a research assistant in the International Political Economy programme. Moghalu later obtained his Doctor of Philosophy degree in International Relations at the London School of Economics and Political Science in 2005 with a thesis entitled "Justice as policy and strategy: A Study of the Tension Between Political and Judicial Responses to Violations of International Humanitarian Law". He also earned the International Certificate in Risk Management from the Institute of Risk Management in London. He received advanced executive education in macroeconomics and financial sector management, corporate governance, and global strategic leadership at the International Monetary Fund Institute, Harvard University's Kennedy School of Government, Harvard Business School, and the Wharton School at the University of Pennsylvania.
Career
In 1992, Moghalu became a member of the United Nations. His first post was with the United Nations Transitional Authority in Cambodia as a UN human rights and elections officer. He was promoted to political affairs officer in the department of peacekeeping operations at the United Nations Headquarters in York a year later. He worked as a political counsellor to the UN Secretary-General's representative in Croatia from 1996 to 1997 in the former Yugoslavia. In 1997, Kingsley was deployed as a legal adviser to the UN International Criminal Tribunal for Rwanda (UNICTR) in Arusha, Tanzania, and eventually advanced to the position of spokesman for the international tribunal. He was in charge of policy development, strategic planning, and external relations as special counsel and spokesman. The United Nations International Criminal Tribunal for Rwanda (UNICTR) handed down the first-ever judgement on genocide by an international court during his term.
At the World Health Organisation in Geneva, Switzerland, in 2002, Moghalu was named head of global partnerships and resource mobilisation at The Global Fund to Fight AIDS, Tuberculosis, and Malaria (GFATM), a public-private international development finance organisation and social investment fund with $20 billion in assets and investments in 140 developing and middle-income countries. He was a member of the Global Fund's senior management group, which determined business strategy, and a member of the risk management committee before being promoted to director in 2006.
Moghalu was named to the UN General Assembly-mandated Redesign Panel on the United Nations Internal Justice System by UN Secretary-General Kofi Annan in 2006. The Redesign Panel spent six months in the first half of 2006 at the UN Headquarters in New York, reviewing and making recommendations on how to improve the UN's judicial administration system.
Kingsley Moghalu was named to the high-level Independent Expert Group on Financing for Development by the United Nations Conference on Trade and Development (UNCTAD) in Geneva, Switzerland, in 2017. The Expert Group examined and gave recommendations on how developing nations might better accomplish the Sustainable Development Goals and mobilise local resources for development.
In December 2008, Moghalu resigned from the United Nations. In Geneva, he established Sogato Strategies S.A., a global strategy and risk firm.
In November 2009, President of the Federal Republic of Nigeria Umaru Yar'Adua (2007–2010) appointed Moghalu as deputy governor of the Central Bank of Nigeria. Moghalu was the Financial System Stability Deputy Governor. He also served as deputy governor for operations, overseeing currency and branch operations, payment systems, and the handling of Nigeria's $37 billion in foreign reserves. He oversaw the implementation of payment system improvements, including the creation and implementation of the Bank Verification Number, a unique identity (BVN).
Moghalu has also served on the board of directors of Opportunities Industrialization Centres International, a non-profit worldwide entrepreneurship development organisation created by Reverend Leon Sullivan, the late US civil rights activist.
Moghalu was a member of the CBN's Monetary Policy Committee (MPC), Committee of Governors (CoG), and Board of Directors, as well as a member and representative of the CBN on President Goodluck Jonathan's Economic Management Team. He has served on the boards of the Nigerian Export-Import Bank (NEXIM) and the Financial Institutions Training Centre, as well as the Asset Management Corporation of Nigeria, the Securities and Exchange Commission (SEC), and the Alliance for Financial Inclusion in Kuala Lumpur (AFI). He also served on the Board of Executive Committee of the International Islamic Liquidity Management Corporation, based in Kuala Lumpur, representing the CBN.
Political Career
Moghalu announced his intention to run for President of Nigeria in February of this year. Later, he decided to run on the Young Progressive Party's platform. As the presidential campaign came to a close in February 2019, Wole Soyinka, a Nigerian Nobel Laureate, endorsed Kingsley Moghalu for the position of President of Nigeria. Sanusi Lamido Sanusi, the Emir of Kano at the time, backed Moghalu for President as well. Moghalu also received the support of Adeyeye Enitan Ogunwusi, the Ooni of Ife.
Despite losing the election to Buhari, Moghalu's candidacy, based on his manifesto "Build, Innovate, and Grow" (BIG), had tremendous appeal and shifted the political discourse in Nigeria toward the need for political and electoral reform. Moghalu resigned from the YPP in October 2019, stating that he would focus his efforts in the near future on advocating for election reform through the non-partisan citizen movement To Build a Nation (TBAN). He later joined the African Democratic Congress (ADC), where he contested as the party's flag bearer, but lost in the party's primary.
Personal Life
Prof. Mogahalu is married to Maryanne Moghalu, a lawyer and social entrepreneur, and she is the Executive Director of the Isaac Moghalu Foundation, which the Moghalu family founded in 2005 in memory of the family patriarch, Isaac Moghalu. IMOF provides educational infrastructure such as libraries and scholarships to educational institutions and disadvantaged children and youth. Gen. Yakubu Gowon, a former Head of State of Nigeria, opened the Foundation in Nnewi in December 2005. Kingsley Moghalu and Maryanne Moghalu are the parents of four children.
Prof. Moghalu has four siblings: Nancy Ijeoma Ijemere, a Senior Information Technology Specialist with a Master of Science in Information Technology from Carnegie Mellon University; Chris Moghalu, a security expert with a Master of Science in Information Technology from Howard University; Robert Odi Moghalu, a US high school educator and author of three books; and Chikezie Moghalu, a petroleum engineer with Chevron Corporation and a Master of Science in Information Technology.
Controversy
During Moghalu's time at the CBN, he pioneered non-interest (Islamic) banking. This policy sparked a heated political debate. Moghalu defended the choice to implement Islamic banking, explaining that it was one of several steps to increase financial inclusion, not an Islamization agenda, as many Christians in a country riven by sectarian strife mistakenly assumed.
Moghalu's relationship with his former boss, Sanusi Lamido Sanusi, who had been suspended by President Goodluck Jonathan, was temporarily strained in early 2014 due to a principled disagreement. Sanusi had accused the country's publicly owned oil corporation of committing a $20 billion fraud. Moghalu was dissatisfied with the way his former boss handled the sensitive situation. He voiced his displeasure that Sanusi had gone beyond his job as the central bank's chief and into political engagement, but he highlighted his support for Sanusi's monetary policy leadership.
When Moghalu visited the former Emir of Kano at his royal palace in Kano in November 2017, the two men reunited. Sanusi met Moghalu with pomp and fanfare, together with the whole Emirate Council of Kano. The Emir lauded Moghalu's contributions to Sanusi's leadership team's triumphs at the CBN and added that he had no regrets in recommending Professor Moghalu for appointment as a deputy governor of the central bank to President Yar'Adua.
Publications
Moghalu, Kingsley Chiedu (February 2018). Build, Innovate, and Grow: My Vision for Our Country.
Moghalu, Kingsley Chiedu (24 July 2014). Emerging Africa: How the Global Economy's 'Last Frontier' Can Prosper and Matter.
Moghalu, Kingsley Chiedu (2006). Global Justice: The Politics of War Crimes Trials.
Moghalu, Kingsley (15 November 2005). Rwanda's Genocide: The Politics of Global Justice.
He wrote an essay in the book Bretton Woods: The Next 70 Years (2015).[30]
In 2014, Moghalu delivered the Thomas Hodgkin Memorial Lecture at the University of Oxford.
Impact and Influence
In remembrance of his father, Kingsley Moghalu established the Isaac Moghalu Foundation (IMoF) in 2005. The foundation is dedicated to promoting literacy, education, skills development, and leadership development. It has provided educational infrastructure support such as new classroom buildings, sanitary facilities, and libraries to schools in disadvantaged areas in Anambra State and Abuja Federal Capital Territory, as well as trained over 1,000 women in entrepreneurial skills in Anambra, Kano, and Nasarawa State, Nigeria, including widows and women with disabilities. IMoF also provides public leadership talks on a regular basis.
Honours
National Honour of the Officer of the Order of the Nigerian (OON) by President Goodluck Jonathan.
Degree of Doctor of Laws (LL.D.) Honoris Causa. by Anambra State University.
Fellow of the Chartered Institute of Bankers of Nigeria (FCIB).
The Rotary International Distinguished Service Award
The "Against All Odds" Achievement Award of the African Women's Economic
The Consortium Federation of West African Freelance Journalists Association named Moghalu "Nigerian Political Icon of the Year" in what the association called "the Nigerian Political Achievers Hall of Fame" (2019).
On December 28, 2020, the traditional title of Ifekaego of Nnewi Kingdom was bestowed by HRH Igwe Kenneth Onyeneke Orizu III.
Net Worth
His net worth is not public knowledge. He is known to be okay and doing well for himself.
Social Media Handle
Twitter: @moghalukingsley
Instagram: profkmoghalu
Professor Kingsley Moghalu has proven his mettle in the public and private sectors in Nigeria and also on the international scene. We are yet to know his next decision concerning his political career.