Maya Angelou (born April 4, 1928 – May 28, 2014) was a well-known poet, civil rights activist, and American memoirist. She is recognized for a long number of plays, movies, and television shows spanning more than 50 years in addition to publishing seven autobiographies, three books of essays, and several books of poetry. She was given more than 50 honorary degrees in addition to other honors. The seven books in her autobiography series, which center on her formative years and early adulthood, are what made Angelou famous. Her first book, I Know Why the Caged Bird Sings (1969), which describes her life up to the age of 17, earned her praise and notoriety on a global scale.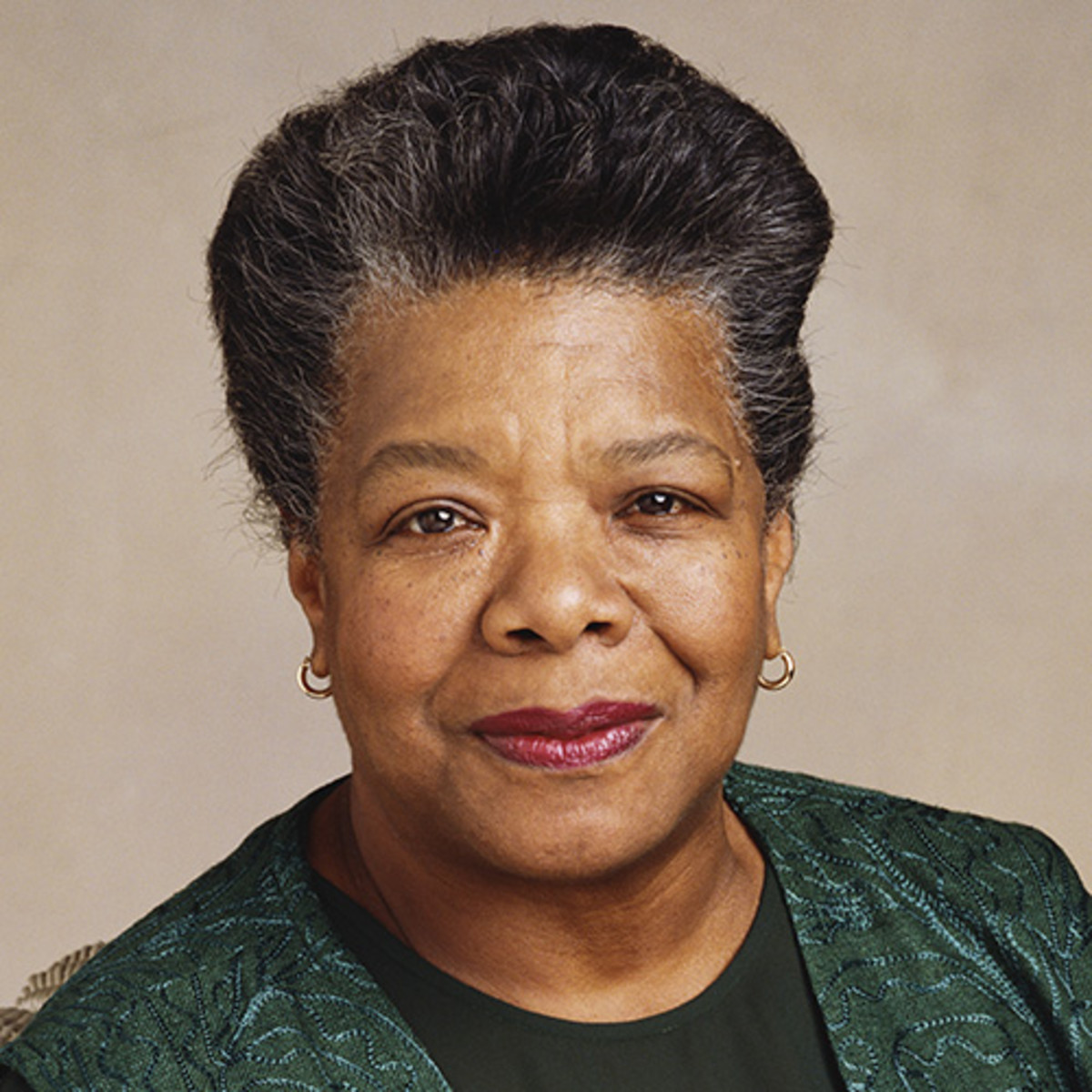 Maya Angelou Biography
Full Name

Marguerite Annie Johnson

Date of Birth

April 4, 1928

Death Date

May 28, 2014

Place of Birth

St. Louis, Missouri, U.S.

Occupation

Writer | Poet | Civil Rights Activist

Years Active

1951–2014

Spouses

Tosh Angelos (1951 – 1954)​
Paul du Feu ​(1974 – 1983)

Children

Guy Angelou
Early Life & Education
Angelou was born on April 4, 1928, in St. Louis, Missouri. Angelou had a challenging upbringing. She and her older brother, Bailey, were taken to live with their father's mother, Anne Henderson, in Stamps, Arkansas, when their parents divorced when she was very young.
Racial prejudice and discrimination were something that African American Angelou personally encountered in Arkansas. Around the age of 7, she was victimized by a family member as well: Angelou's mother's lover molested her during a visit with her mother. The boyfriend was killed by Angelou's uncles in retaliation for the sexual assault. Angelou ceased speaking after becoming so shocked by the event. She went back to Arkansas and remained essentially silent for years.
Angelou relocated to San Francisco, California, during World War II. She was awarded a scholarship to the California Labor School in which she could study acting and dancing.
During this time, Angelou also became San Francisco's first Black female cable car conductor, a position she held just temporarily.
Career
Maya Angelou had a variety of odd jobs as a young adult before discovering her calling as a poet and writer. Among them were a fry cook, sex worker, nightclub performer, cast member of Porgy and Bess, coordinator of the Southern Christian Leadership Conference, and correspondent in Egypt and Ghana during the independence of Africa.
Along with acting, writing, directing, and producing plays, films, and public television shows, Maya Angelou also worked as a producer. She was appointed the inaugural Reynolds Professor of American Studies at Winston-Salem, North Carolina's Wake Forest University, in 1982. She collaborated with Malcolm X and Martin Luther King Jr. throughout her time as a Civil Rights Movement activist.
Maya started making around 80 appearances a year on the lecture circuit in the 1990s and kept doing so into her nineties. The first poet to do an inaugural recitation since Robert Frost at John F. Kennedy's inauguration in 1961 was Maya Angelou, who read her poem "On the Pulse of Morning" (1993) in 1993 during the first inauguration of Bill Clinton.
I Know Why the Caged Bird Sings was Angelou's first foray into openly discussing her private life. Her works have been regarded as a defense of Black culture, and she was valued as a voice for Black people and women.
Despite attempts to prohibit her books from some American libraries, her writings are extensively used in schools and institutions around the world. Although many reviewers believe them to be autobiographies, Angelou's most renowned works have been classified as autobiographical fiction.
She intentionally set out to subvert the typical format of the autobiography by criticizing, altering, and expanding the genre. She writes on topics including racism, identity, family, and travel.
Books
Seven autobiographies in total were written by Angelou. Scholar Mary Jane Lupton claims that Angelou's third autobiography Singin' and Swingin' and Gettin' Merry Like Christmas was the first third volume of an established African-American autobiography.
From Arkansas to Africa and back to the United States, her writings "extend over time and place," covering events from the start of World War II to the assassination of Martin Luther King Jr.
All God's Children Need Traveling Shoes, her fifth autobiography, was published in 1986. In it, Angelou describes returning to Ghana in order to learn more about the history of her tribe. In 2013, at the age of 85, she released her sixth autobiography, Mom & Me & Mom.
The successive autobiographies of Angelou have typically been evaluated "in light of the first" by critics, with Caged Bird garnering the highest accolades. Hilton Als, a writer, described Angelou's five essay collections as "wisdom books" and "homilies linked together with autobiographical prose."
Robert Loomis, an executive editor at Random House who retired in 2011 and has been referred to as "one of publishing's hall of fame editors," served as Angelou's editor over the course of her literary career. We have a relationship that is kind of famous among publishers, Angelou remarked of Loomis.
Poems
Although Angelou authored a number of poetry books, the most well-known being the Pulitzer Prize-nominated Just Give Me a Cool Drink of Water 'Fore I Die from 1971. Other well-known poetry anthologies by Angelou include:
1971: 'Just Give Me a Cool Drink of Water 'fore I Diiie' (1971)
1975: Oh Pray My Wings Are Gonna Fit Me Well, which includes Angelou's poem "Alone"
1978: And Still I Rise, which features the beloved poem "Phenomenal Woman"
1983: Shaker, Why Don't You Sing?
1990: I Shall Not Be Moved, featuring the poem "Human Family"
1997: Even the Stars Look Lonesome
1993: 'On the Pulse of Morning'
This poem by Maya Angelou, one of her most well-known pieces, was written especially for and presented at President Bill Clinton's inauguration ceremony in January 1993. Since Robert Frost read his poem "The Gift Outright" at John F. Kennedy's inauguration in 1961, this was the first inaugural reading. For the audiobook version of the poem, Angelou went on to win a Grammy Award (best-spoken word album). Among Angelou's other well-known poems are:
1962: His Day Is Done, a tribute poem Angelou wrote for Nelson Mandela as he made his secret journey from Africa to London
2005: Amazing Peace, written by Angelou for the White House tree-lighting ceremony
Personal Life
Guy Angelou was born in 1944, when Maya Angelou was 16 years old. She took on several jobs after giving birth to help support her and her child. The son of Maya Angelou, Guy Johnson, is also a poet.
After getting married to Greek sailor Anastasios Angelopoulos in 1952, Angelou adopted his surname, which she combined with her childhood moniker, "Maya," to create her professional name. Later, the couple got divorced.
Known for keeping her weddings private, Angelou was probably married at least three times, including to a carpenter named Paul du Feu in 1973.
Accomplishments and Awards
Numerous honors have been bestowed upon Angelou throughout her career, including the 1998 Audience Choice Award from the Chicago International Film Festival and a nomination for Down in the Delta from the Acapulco Black Film Festival in 1999.
Additionally, she received two NAACP Image Awards in the best literary work (nonfiction) category for Letter to My Daughter 2008 and her 2005 cookbook.
Death
After dealing with health issues for a while, Angelou passed away on May 28, 2014, at her home in Winston-Salem, North Carolina. The news of her departure soon spread, and many people expressed their sorrow and remembered Angelou on social media. Among those who tweeted their favorite words from her in remembrance were the singer Mary J. Blige and the politician Cory Booker.
Additionally, Angelou was praised in a statement by President Barack Obama, who was "a genuinely extraordinary woman, a brilliant writer, and a fierce friend. It was Angelou's gift to serve as a constant reminder that we are all God's children and that we all have something to contribute "He composed.
In May 2021, it was announced that Angelou would be one of the first women to be commemorated with a new series of quarters from the U.S. Mint.