Michael Blackson's (Born on November 28, 1972) whose name is Jafari Ferguson. He is a Ghana born American actor, Writer, and stand-up comedian who is also known as "The African King Of Comedy". He was born in liberia to Ghanaian father and Liberian mother in. Michael Blackson moved to the US in the year 1987 when he was a teenager. He is well known for his roles in numerous films and television shows.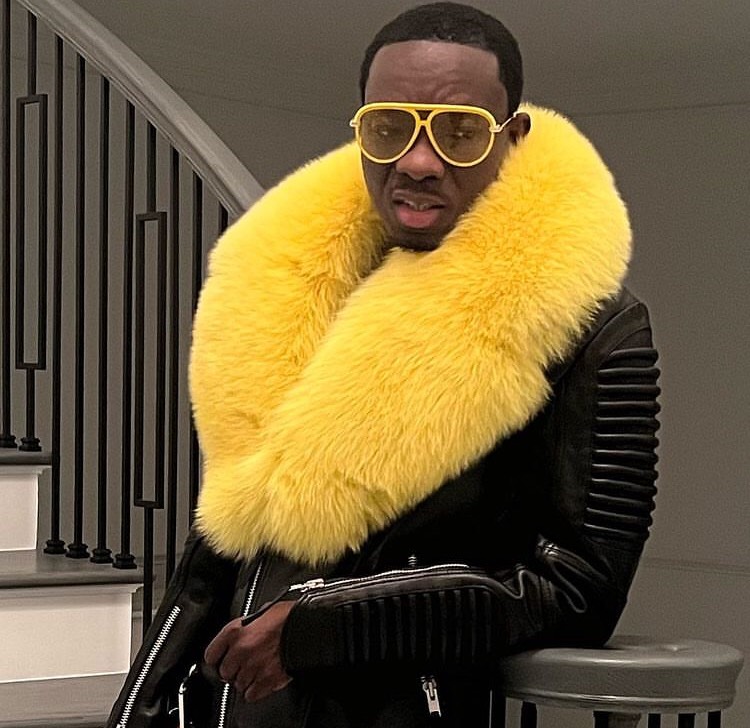 Michael Blackson Biography
Full Name :

Jafari Ferguson

Stage Name :

Michael Blackson

Date of Birth :

28 November 1972

Place of Birth :

Liberia

Nationality :

Ghana

Occupation :

Comedian, Actor

Years Active :

1989 – Present

Net Worth :

$4 million

Social Media Handles :

Instagram page @michaelblackson

Twitter Account @michaelblackson
Early Life And Education
Michael Blackson was born on November 28, 1972, in Liberia to a Ghanaian father and a Liberian mother. He spent his early life between Monrovia and Ghana before relocating back to the United States in the 1980s.
His mother worked in a secondary school while his father worked for a theater company, and because he always wanted his son to work in a movie, he enrolled him in acting classes at an early age. He attended Bartram High School. Michael Blackson moved to the USA to be an actor at the age of 13, but he noticed that other kids treated him differently and weirdly. He realized he needed to gather more courage and confidence in others to be among them.
Career
Michael Blackson is a successful figure in America, who has done outstanding work in his career. He is known for his comedy and acting, and it has made him very popular in Ghana. Michael made his acting debut in the year 1989, he later features in shows like 30 Rock, 50 Central, Love & Hip-Hop Atlantic, ComicView, and many more.
He started working in various bars and clubs in Philadelphia when he made his debut as a comedian at the old " Comedy Works"
Michael Blackson's first known participation was in 1993, followed by 1996 when he released the "Urban Comedy Festival" in New York City. And he later competed at the laffapolooza Comedy Festival in Atlanta.
He made his film debut with the comedy "Next Friday" in the year 2000. He starred alongside Ice Cube, Mike Epps, and John Witherspoon. He ended up getting a role in a movie that was to be produced by Ice Cube's production company.
In 2007, Michael appeared in another movie with Master P, who was the writer and the producer of the film. He made an appearance in B.o.B.'s music videos titled 'I'll Be in the Sky" in 2010.
He appeared on The American Host with an actor and a comedian named Mo'Nique in 2011. In 2016, he also starred in his next movie, which was a comedy-horror movie titled Meet the Blacks. The movie starred Mike Epps, George Lopez, Gary Owen, and many more.
BET announced Michael as the official host of the BET social awards, and the ceremony was held on February 11, 2018.
Personal Life
There is no information about his current relationship, but there was a rumor on social media that Michael was dating George Reign, the Grammy-winning songwriter, and singer. He had been accused of cheating on her, but Michael dismissed the rumors, and ever since then, he has kept his personal life very private.
As of now, Michael is engaged to his fiance, Miss Rada. He proposes to her in a radio interview on "The Breakfast Club" on November 24, in the year 2021. They have been together for quite a while. And they later broke up before the engagement day.
Michael Blackson has three children from a previous relationship. He gave birth to a twin, and his firstborn is known as Michael Jr. The twins' names are Noah and Niko.
Filmography
Film
Lean On Me
Next Friday
Repos
The Last Stand
Master P. Presents the Hood Stars of Comedy, Vol. 1
The savages
Black Supaman
Banana Leaves
You're Triflin
Internet Dating
What We Do
The Mail Man
My American Nurse 2
Ex$pendable
Threading Needles
In Sickness and in Health
Mutumbo the Lost Prince
Coffin Dodgers
LeLe: Sugar Daddy
The Bill Collector
Kony Montana
Tooken
One Night in
More Money, More Family
Meet the Blacks
The Substitute
Easy money
The Stuff
Nobody's Fool
Got My Hustle Up
Sliders
Angel and the Mailman
I Got The Hook Up 2
The Lick Movie
American Dream
Coming 2 America
Someday Isles
The House Next Door: Meet the Blacks 2
Television
Snaps
ComicView
Showtime in Harlem
The Bad Boys of Comedy
30 Rock
ComicView
1st Amendment Stand Up
Are We There Yet?
Walter Latham's Comedy After Dark
Blackson's Basement
In the Cut
50 Central
leave it to Steve
Wild 'N Out
Hip Hop Squares
Rich Africans
Love & Hip Hop: Atlanta
Transitions
Dr. Blackson
Casting One Mo' Chance
Net Worth
Michael Blackson is one of the richest and most influential comedians and actor in Ghana.
His networth is estimated at $4 million and he earns an estimated salary of $300,000 + Per Year.
Social Media Handles
Instagram page @michaelblackson
Twitter Account @michaelblackson