Moses Francis Masika Wetangula (born 13 September 1956), is a Kenyan lawyer and politician. He is the current Speaker of the National Assembly of Kenya. He is also the leader of the Ford Kenya party.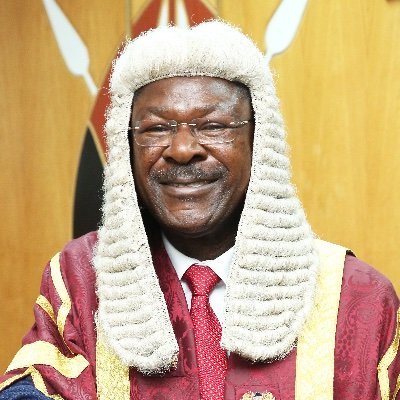 Moses Wetangula Biography
Full Name :
Moses Francis Masika Wetangula
Date of Birth :
13 September 1956
Place of Birth :
Nalondo, Kenya
Occupation (s) :
Politician | Lawyer
Active Years :
1992 – present
Political Party :
Ford Kenya | Kenya kwanza | KANU
Net Worth :
$1 million – $10 million
Social Media Handle :
Twitter @Wetangulam
Early Life and Education
Moses Wetangula was born on September 13, 1956. He attended Nalondo Primary School and went to three different secondary schools, Busakala Secondary School, Teremi Secondary School, and Friends School Kamusinga, before proceeding to the University of Nairobi, where he obtained a Bachelor of Laws (LLB) degree.
Career
Moses was a lawyer before he went into politics. His political career started when he was nominated as Kanu MP after the 1992 general election, and he served till 1997. He has also served in other positions like the magistrate and the chairman of the Electricity Regulatory Board.
Moses has contributed to many organizations with funds raised to set up projects on a self-help basis, and also offer legal services for people in the local area. He also mobilized women and the youth to begin income-generating projects.
He was elected in December 2002 to the National Assembly. On January 8, 2008, Moses got an appointment by President Mwai Kibaki as Minister for Foreign Affairs. Later in January, the United Kingdom criticized the presidential election. Moses called out to the United Kingdom high commissioner and said that "our elections don't need a stamp of authority from the House of Commons."
On 13, April 2008, he retained his post after Kibaki and Raila Odinga agreed on the sharing of power, and both of them claimed victory in the presidential election.
In March 2012, Moses was in Bamako, Mali during a coup d'etat. He was stranded and was later moved out of the hotel after several days. Kibaki changed his position from Foreign Minister to Trade Minister after he returned to Kenya.
Moses Wetangula was elected in 2013, as senator representing Bungama County, and became minority leader in the senate house before he was later replaced by James Orengo, senator representing Siaya County. The incident happened because Raila Odinga was unhappy that none of his Luos were in that position, so he instructed James to replace him in that position, which was signed by 16 ODM senators.
Tokyo embassy scandal
On October 27, 2010, Moses left his ministerial post because of allegations filed against him concerning involvement in the Kenyan Tokyo embassy scandal. He was supposed to accept free property from the Japanese government for the embassy. Instead, he withheld 1.6 billion shillings from the sale of Kenyan property in Nigeria and used it to buy a less suitable property. George Saitoti was the acting foreign minister before the issue was solved.
He was back to his position in August 2011, after the issue was solved, though he permanently left the position a few months later to successfully contest for the position of Senator for Bungoma County.
Senate Minority Leader
He was selected as Minority Leader after winning the election to the Senate, but the Bungoma high court nullified his election on September 30, 2013, and the seat was declared vacant by the Speaker of the Senate on October 16, 2013. Another election was held on December 19, 2013, Moses Wetangula won his Bungoma senatorial seat with 149,458 votes against his main contender, Musikari Kombo, who came second with 81,016 votes, followed by Makali with 2,155 votes and Wakoli with 1,899 votes from a total of 942 polling stations, with a 57 percent voter turnout.
On the 20th of March 2018, he was replaced by Siaya senator James Orengo as Senate Minority leader.
Speaker of the National Assembly
Moses was re-elected as Bungoma senate seat in the August 2022 general election. However, he resigned shortly after from that position to compete for the position of Speaker of the National Assembly of Kenya.
On 8 September 2022, he successfully became the speaker of the 13th Speaker of the National Assembly of Kenya after defeating Kenneth Marende who also contested for the same position. He won with 215 votes against Marende with 130 votes.
Personal Life
Mr. Mzee Dominic Wetangula, Moses's father, is a retired teacher in Nalondo, Bungoma County. Almost all of his family are into politics. His younger brother, Timothy Wanyonyi Wentangula, is the MP for Westlands Constituency in Nairobi County, while Fred Wetangula, a Nairobi-based businessman, and the late Tony Waswa Wetangula. He also has a younger sister, Emmeryncian Naswa.
Moses has many wives and children, but his first wife's name is Phyllis Wetangula but she is not living with him.
Moses Wetangula Net Worth
As a successful politician, his net worth is estimated between $1 million – $10 million.
Social Media Handle