Nyesom Wike's full name is Ezebunwo Nyesom Wike. He is the sixth and current Governor of Rivers State and is a well-known Nigerian politician and lawyer. His political party is the People's Democratic Party(PDP). From 1999 until 2007, he served as the Executive Chairman of the Obio Akpor Local Government Area for two terms. On July 14, 2011, he was named Minister of State for Education. After Mrs. Ruqqayatu was removed, Wike was appointed Acting Minister of Education but resigned before the end of his term to run for Governor of Rivers State. Viola Onwuliri took his place.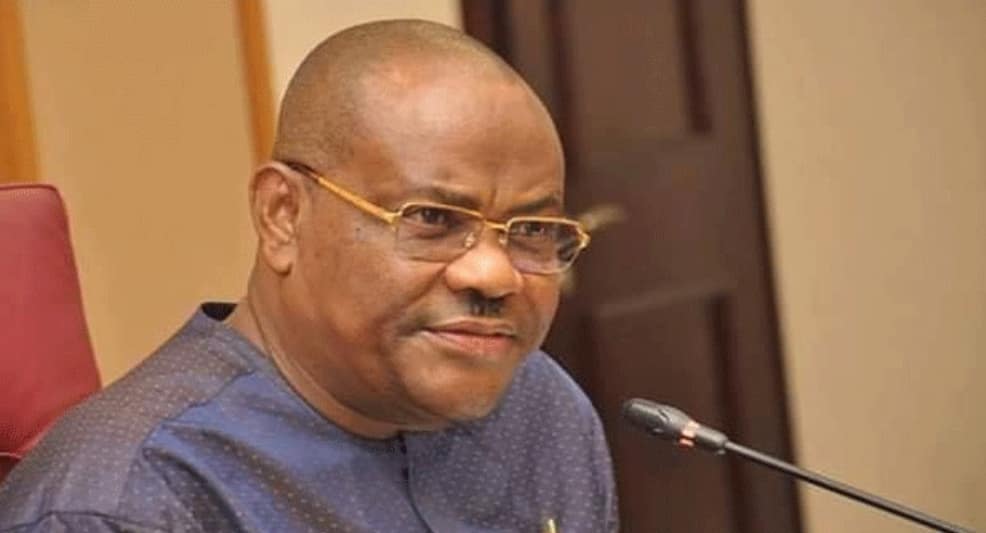 Nyesom Wike Biography
Full Name :
Ezebunwo Nyesom Wike
Date of Birth :
13th December, 1963
Place of Birth :
Rivers State, Nigeria
Higher Qualification :
M.A Political and Administrative Studies
LLB, Law
Children :
Jordan Wike
Joaquin Wike
Jazmyne Wike
Early Life & Education
Wike was born on the 13th of December, 1963. He hails from Ikwerre, Rumuepirikom in Obio-Akpor, Rivers State. Wike studied for his O'level exams at Government Secondary School Eneka in Obiakpor, Rivers State, before proceeding to the Rivers State University of Science and Technology (RSUT). He graduated from RSUT with a Bachelor of Laws degree before enrolling in law school in 1997. Wike also graduated from RSUT with a Master of Arts in Political and Administrative Studies.
Career
After Wike's education, He served briefly in a private law firm before he joined politics.
Politics
Wike first entered politics in 1999 as the Executive Chairman of Rivers' Obio Akpor Local Government Area, a position he maintained until 2007, after being re-elected in 2003. In 2007, when he finished his tenure as LGA's Executive chairman, he was appointed as the governor of Rivers State, Rotimi Amaechi's chief of staff. He was also assigned as the general manager of the campaign team during Governor Amaechi's re-election campaign. President Goodluck Jonathan named him as Minister of State for Education in July 2011, and he was upgraded to Federal Minister of Education in September 2013. He resigned as Federal Minister to run for governor of Rivers State in the 2015 gubernatorial elections.
The Election Tribunal for Rivers State, which is based in Abuja, began hearings on Wike's election on May 13, 2015. Dr. Dakuku Peterside of the APC had asked the tribunal to declare void, Nyesom Wike of the PDP the winner of the governorship election on April 11, 2015, on the grounds that the election had been marred by irregularities and non-compliance with the Electoral Act.
Wike was against the matter being heard in Abuja, stating that it should be heard in Port Harcourt. The then-President of the Court of Appeal rejected Wike's arguments, Justice Zainab Bulkachawa, who ruled that the tribunal be conducted in Abuja for security reasons.
On October 24, 2015, the Rivers State governorship election tribunal declared Wike's election null and void. The election tribunal ordered a rerun of the governorship election in Rivers State within 90 days of the decision. Wike stated that he would challenge the tribunal's decision.
After postponing the process for a few days, INEC proclaimed Nyesom Wike the winner of the Rivers State governorship election on Wednesday, 3 April 2019. As he begins his second term, Wike took the oath of office on Wednesday, May 29, 2019, at Yakubu Gowon Stadium in Port Harcourt. He vowed to put Rivers state first in his speech.
Nyesom Wike declared public primary and secondary education to be free, in keeping with his educational reform ambitions. He made the announcement during a meeting at the government house in Port Harcourt on Monday, June 24, 2019. This was accompanied by both criticism and praise, the latter coming from parents and former state principals and headmasters. Despite the constant demur, Wike's government held its stance until they all disbanded.
Wike announced free registration for participating natives of the state in the annual JAMB examination in 2019 through the State Ministry of Education. During his second tenure as governor, he began construction on three major flyovers in Port Harcourt at the same time. The flyovers are located at Garrison, Rumoukoro, and Artillery.
Personal Life
Nyesom Wike is married to a lovely woman and has three children. Jordan, Joaquin, and Jazmyne are the children of Nyesom Wike and his wife, Eberechi Wike.
Awards & Nominations
On February 23rd, 2018, The Sun Newspapers honored him with the Governor of the Year Award 2017.
The Nigeria National award for the Commander of the Order of the Niger (CON).
Net worth
According to multiple sources, Governor Nyesom Wike is the second richest governor in Nigeria with an estimated net worth of $550million.