Olawale Gladstone Emmanuel Rotimi, popularly known through his works as Ola Rotimi, was one of Nigeria's leading playwrights and theatre directors. He has been called "a complete man of the theatre– an actor, director, choreographer and designer – who created performance spaces, influenced by traditional architectural forms." he has various literature and publications to his credit.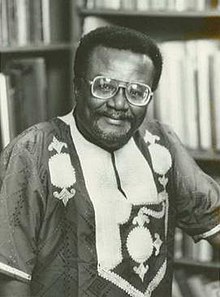 Ola Rotimi Biography
Full Name

Olawale Gladstone Emmanuel Rotimi

Pen Name

Ola Rotimi

Date of Birth

13 April 1938

Died

18 August 2000

Occupations

Playwright, Director, Lecturer

Active Years

1938–2000

Education

Boston University (BFA)
Yale University (MFA)

Notable Works

The Gods Are Not To Blame, Ovonramwen Nogbaisi, and The Epilogue

Net Worth

Unavailable
Early Life and Education
Rotimi was born on April 13, 1938, in Sapele, Delta State, Nigeria. He is the son of Ijaw play enthusiast Dorcas Adolae Oruene Addo and Yoruba steam-launch engineer Samuel Gladstone Enitan Rotimi, who was also a prominent amateur theatre director and producer. He attended the Methodist Boys High School in Lagos from 1951 to 1952, St Jude's School in Lagos from 1951 to 1949, and St Cyprian's School in Port Harcourt from 1945 to 1949, before relocating to the United States in 1959 to attend Boston University, where he earned a BA in fine arts. He married Hazel Mae Gaudreau in 1965. Hazel majored in opera, voice, and music instruction at Boston University. He earned his MA in 1966 from the Yale School of Drama, where he also distinguished himself as a Rockefeller Foundation scholar in dramatic literature and playwriting.
Career
Returning to Nigeria in the 1960s, Rotimi established the Ori Olokun Acting Company and lectured at the University of Ife (now Obafemi Awolowo University). Rotimi spent a large portion of the 1990s living in the Caribbean and the United States, where he worked as a professor at Macalester College in St. Paul, Minnesota. He went back to Ile-Ife in 2000, where he continued to teach till his death at Obafemi Awolowo University. His wife, Hazel, passed away in May 2000, just a few months before Rotimi did.
His later plays include The Gods Are Not to Blame (produced 1968; published 1971), an imaginative verse retelling of Sophocles' Oedipus Rex; Kurunmi and the Prodigal (produced 1969; published as Kurunmi, 1971), written for the second Ife Festival of Arts; Ovonramwen Nogbaisi (produced 1971; published 1974), about the last ruler of the Benin empire; and Holding Talks (1979).
Later pieces, such as If: A Tragedy of the Ruled (1983) and Hopes of the Living Dead (1988), had their world premieres at the University of Port Harcourt and were frequently performed by the drama students at Obafemi Awolowo University. In 1987, the radio play Everyone His/Her Own Problem was aired. In 1991, he released African Dramatic Literature: To Be or to Become?
Rotimi was a rare breed of a patriot who turned down the allure of the West and Europe and stayed at home to make his own contribution to the development of his country. He was one of the best things that could have happened to the literary world—small in stature but a titan in African drama.
As he was being laid to rest in the Amphi Africa Theatre, the audience was pulled to a manuscript of the day's schedule, and his goal of directing a play with 5000 cast members came true. As the man turned his casket, people entered and left the stage in spectacular fashion.
The two plays, Man Talk, Woman Talk and Tororo, Tororo, Roro, were revised in the second half of his final creative decade; the results, which had not yet been published at the time of his death in 2000, have now been released under the title The Epilogue. were most likely intended to serve as a conclusion to Rotimi's entire career in both comedy and theatre.
It is humorous and uses what is known as "Nigerian English" (for instance, "Se you get?" and "I invoked God on him").
The publication will rekindle interest in his satires, which also contain social commentary. With opinions that have influenced theatre behaviour and plays that have shown how drama may influence society's thinking and strive to alleviate some of the difficulties experienced in daily life, Rotimi will undoubtedly go down in literary history as a role model.
Theatrical Career
In his writings, Rotimi frequently investigated Nigeria's history and regional customs. His earliest productions, To Stir the God of Iron (1963) and Our Husband Has Gone Mad Again (1966; published 1977), both took place at Yale and Boston University's theatre programmes.
Personal Life
The marriage of Ola Rotimi and Hazel Mae Gaudreauazel took place in 1965. He lost his wife in May 2000, a few months before Ola Rotimi also died.
Plays
(1963) To Stir the God of Iron
(1966) Our Husband Has Gone Mad Again—depicts the cocoa farmer and businessman Lejoka-Brown as a self-seeking, opportunistic leader who could make better contributions to his country outside the political arena.
(1968) The Gods Are Not To Blame—an adaptation of the Greek classic Oedipus Rex; the main character gets trapped by pride, ignorance and the caprices of the divinities.
(1969) Kurunmi
(1970) Holding Talks
(1971) Ovonramven Nogbaisi—the title character simply luxuriates in the grandeur of his office. Although he is a custodian of culture who inspires people, he does not actively participate in their struggles.
(1973) Grip Am
(1973) Invitation into Madness
(1977) Akassa Youmi*
(1979) If: A Tragedy of the Ruled—in If, the young firebrand Hamidu is nowhere to be found when a real commitment is required.
(1985) Hopes of The Living Dead—Rotimi here depicts a different kind of leader: a selfless, result-oriented, committed leadership complemented by followership that believes in the good of the generality of its members through the application of itself to the cause that is beneficial.
When the Criminals Become Judges
The Epilogue: Two unpublished plays by Ola Rotimi
Man Talk, Woman Talk
Man Talk, Woman Talk is hilarious in the way that only the author's classic comedies can be. He used sardonic humour to seek a level playing field for the resolution of the prejudices that men and women harbour against one another and that influence their ability to coexist peacefully. Although there are no typical courtroom formalities in the scene, it is a court. Humour, arguments, and counterarguments are used instead of legalese. The author's conclusion highlights the balanced roles played by men and women rather than proving one gender to be superior. The poem contains a lot of wits, and it is set in a collegiate setting where the young contestants are idealistic.
Tororo, Tororo, Roro
Tunji Oginni and Philomena James, two characters from Man Talk, Woman Talk, randomly crossed paths when they were filming Tororo, Tororo, Roro. Both of them have distinct goals for running Hotel Kilimanjaro, and their fortuitous encounter leads to lessons as they discuss their issues.
Performances
A Nigerian production of The Gods Are Not To Blame took place in Nigeria in 1968, and years later, a London production of it took place at the Arcola Theatre in Hackney, London. When Femi Elufowoju Jr. was 11 years old, he attended a revival of this play in a Greek amphitheatre that had been rebuilt on a university campus in Ife. Femi later brought the play to the UK as a leading theatrical director with the British group Tiata Fahodzi.
Man Talk, Woman Talk was staged by him as his final performance at the French Institute in Lagos, Nigeria. As a convocation play, he also staged the play of the absurd Tororo Tororo Roro.
Publications
Plays and Literature
Kurunmi
The Gods Are Not to Blame
Ovọnramwẹn Nọgbaisi
Our Husband Has Gone Mad Again[nb 6]
Holding Talks
If: A Tragedy of the Ruled
Understanding "The Gods Are Not to Blame"
Hopes of the Living Dead
Viandanti della storia
African Dramatic Literature
Playwriting and Directing in Nigeria
The Epilogue
Books, essays, and political commentary.
Books
A Dictionary of Nigerian Pidgin English: with an introductory survey of the history, linguistics and socio-literary functions
Introduction to Nigerian literature
The Living Culture of Nigeria
A translation of the play "The Gods Are Not to Blame" into Setswana
Statement towards August
The Masquerade in Nigerian history and culture
An interview (1975) with Ola Rotimi, senior research fellow, Institute of African Studies, University of Ifẹ, Ile Ifẹ
Diversity of Creativity in Nigeria
African Theatre in Performance
Akassa you mi
Issues in African Theatre
Articles
"Conversation with Ola Rotimi"
"How the Kingfisher learned fear"
"Review of: Kiabàrà: Journal of the Humanities 1" (June 1978)
"Through whom the spirits breathe"
"The Trials of African Literature"
"Everyone his/her own problem"
"No direction home"
Archival material and ebooks
Archival material
Papers
African Papers, 1963, 1968–1989
Gbe'ku De:pièce en 1 acte
Ebooks
Initiation into Madness
Our Husband Has Gone Mad Again
If
Holding Talks
Hopes of the Living Dead
Grip Am
Akassa you mi
Kurunmi
Ovonramwen Nogbaisi
Awards and Nominations
Rotimi was awarded two Fulbright Scholarships.
Net Worth
His net worth is unavailable.