Olusegun Obasanjo Matthew Okikiola Ogunboye Aremu Obasanjo, GCFR, is a Nigerian politician and retired general who served as Nigeria's military Head of State between 1976 to 1979 and also served as civilian Nigeria's president from 1999 to 2007. He was a member of the Peoples Democratic Party (PDP) from 1999 to 2015 and the African Democratic Congress (ADC) since 2018. He is an ideological Nigerian nationalist. He is also one of the richest politicians in Nigeria.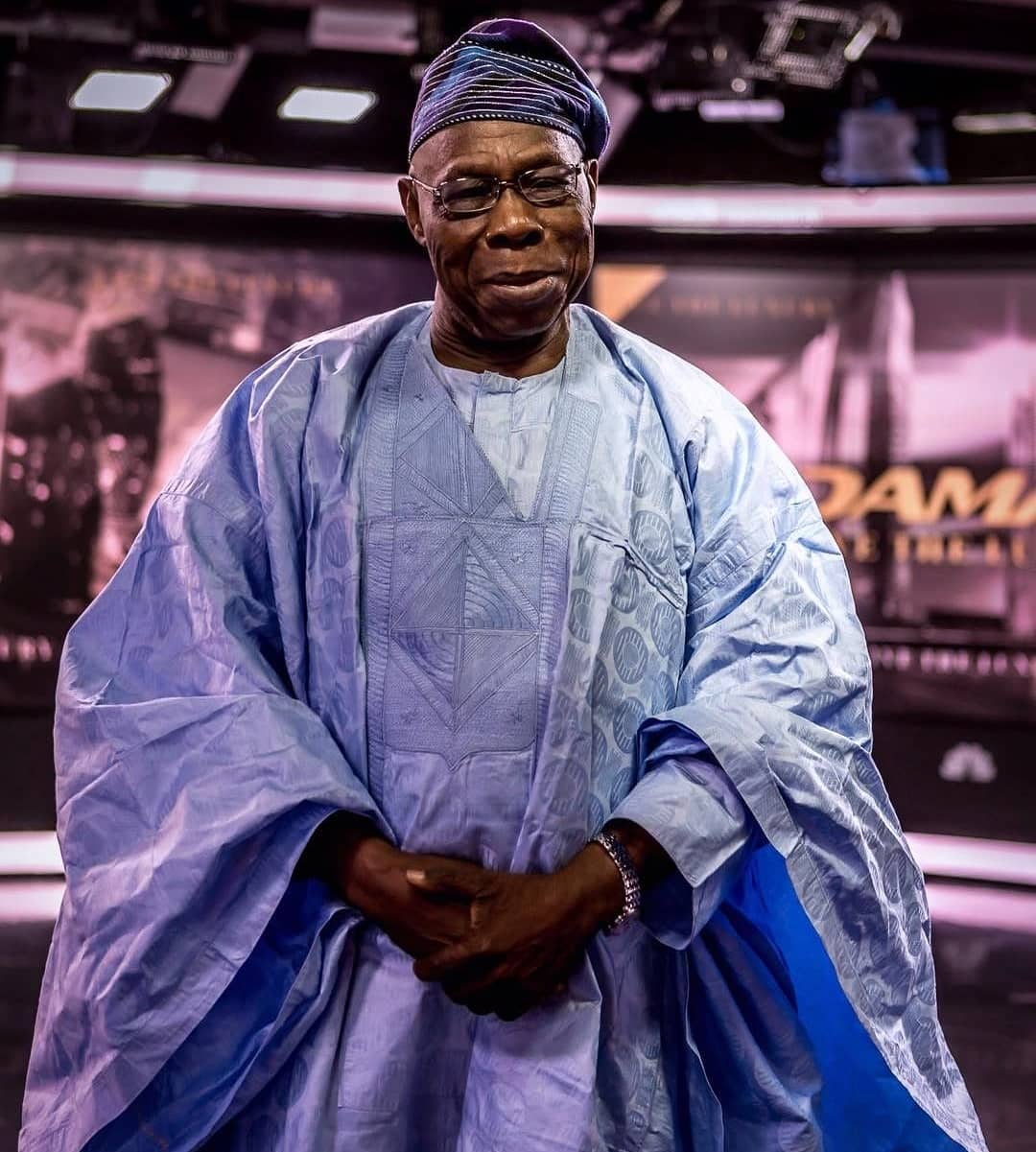 Olusegun Obasanjo Biography
Full Name :

Olusegun Obasanjo Matthew Okikiola Ogunboye Aremu Obasanjo

Nick Name :

Ebora Owu

Date of Birth :

5 March 1937

Place of Birth :

Ogun State, Nigeria

Higher Qualification :

PhD, M.Sc, B.Sc

Parent :

Amos Adigun Obasanjo Bankole (Father)

Bernice Ashabi Bankole (Mother)

Spouse :

Oluremi Akinlawon (Divorced)

Stella Abebe (Late)

Children :

Iyabo Obasanjo

Net Worth :

$1.6 billion
Early Life & Education
Matthew Olusegun Aremu Obasanjo was born on the 5th of March, 1937 in a village called Ibogun-Olaogun in Ogun State, Nigeria. Amos Adigun Obaluayesanjo "Obasanjo" Bankole was his father, and Bernice Ashabi Bankole was his mother. Obasanjo was raised in a Baptist church, and the village church was part of a mission established by the United States Southern Baptist Church. Muslims lived in his village, and his sister later converted to Islam in order to marry a Muslim man.
Obasanjo's father was a farmer, and the youngster, Obasanjo, worked on the farms until he was eleven years old. He enrolled in the village basic school at the age of eleven, and three years later, in 1951, he transferred to the Baptist Day School in Abeokuta's Owu quarter. In 1952, he transferred to the town's Baptist Boys' High School. His school fees were subsidized by the government. Obasanjo excelled in school and became a dedicated Boy Scout. Although there is no proof that he was involved in any political groups at the time, Obasanjo rejected his forename "Matthew" in high school as an anti-colonial stance.
Obasanjo's father, meanwhile, had abandoned his wife and two children. Obasanjo's mother had to rely on trading to make ends meet after falling into poverty. Obasanjo worked on cocoa and kola fields, fished, collected firewood, and sold sand to builders to pay for his education. He also worked at the school over the summer, cutting the grass and doing other manual labour.
Obasanjo took his secondary school exams in 1956, after borrowing money to cover the entry costs. He began wooing Oluremi Akinlawon, the Owu daughter of a station master, the same year. By 1958, they were engaged to be married. After finishing school, he relocated to Ibadan and began teaching. He took the University College Ibadan entrance exam there, but after passing, he discovered that he could not afford the tuition fees. Obasanjo subsequently decided to pursue a career as a civil engineer, and in order to do so, he responded to an advertisement in the Nigerian Army for officer cadet training in 1958.
Military Career
In 1958, Obasanjo enlisted in the army and got officer training in England. He soon progressed through the ranks of the army. He was assigned to lead a commando division stationed at the Biafran front in southeastern Nigeria during the Biafra crisis (1967–70). In January 1970, Biafran soldiers surrendered to him, bringing the fight to an end. General Yakubu Gowon, the military head of state at the time, was deposed by Brigadier General Murtala Ramat Mohammed in 1975, but he promised to hand over authority to civilians by 1979.
Head of State
General Murtala Mohammed was murdered the next year during an unsuccessful coup attempt, and his successor, Obasanjo, took over as head of state. Obasanjo established ties with the United States and emerged as an influential African leader during his three years as president. When elections were held in 1979, Obasanjo maintained his predecessor's schedule for returning to a civilian administration and did not run for president. Despite a razor-thin margin of victory, Nigeria's Federal Electoral Commission proclaimed Shehu Shagari, a northerner, the winner over the strongest candidate from the south, Yoruba Obafemi Awolowo.
The outcome of the election was affirmed by the Supreme Court, and Obasanjo received the respect of the Hausa-Fulani leaders in the north for giving over power to Shagari. Most of Obasanjo's fellow Yoruba as well as others criticized the results over suspicions that the election had been stolen. Obasanjo's international prominence grew significantly during the next few years, as he held numerous posts in the United Nations and other organizations. Obasanjo was imprisoned in 1995 for allegedly plotting a coup against General Sani Abacha, who seized control of Nigeria in 1993 and established an oppressive military dictatorship. Obasanjo was freed after Abacha's death in 1998.
Civilian Presidency
Obasanjo announced his intention to run for president as a candidate of the People's Democratic Party (PDP) after the interim military leader, General Abdusalam Abubakar, committed to organising democratic elections. With 63 percent of the vote, he was declared the winner of the 1999 election. However, there were several claims of fraud, and the results were roundly condemned and criticized by many, notably the Yoruba, who had primarily backed Obasanjo's opponent, Olu Falae.
Obasanjo aspired to alleviate poverty, eradicate government corruption, and establish a democratic system as Nigeria's first civilian leader in 15 years. He also stated that the military and police would be reformed. During his presidency, however, religious and ethnic unrest became a major worry, as violent occurrences increased and most Muslim-dominated states in the north and centre of the country implemented Shariah law. The severe response of Obasanjo to ethnic conflict in the south drew widespread condemnation.
Indeed, despite receiving the pragmatic support of leading Yoruba politicians this time around, Obasanjo faced a shrinking power base heading into the 2003 presidential election, due to his overall authoritative style, the corruption that was still evident among government officials, and a strong challenger Muhammad Buhari, a northerner who was a former general and former military head of state. Despite this, Obasanjo was re-elected in April 2003, receiving more than 60% of the vote, but there were widespread accusations of voting anomalies and claims of fraud, as there had been in previous elections.
Obasanjo drew domestic and international condemnation in 2006 when he attempted to modify the constitution to allow him to run for a third term as president; the proposed amendment was later rejected by the Senate. Because Obasanjo was unable to run, Umaru Yar'Adua was chosen as the PDP's presidential candidate in April 2007. Although he was declared the winner, international monitors slammed the election as tainted by fraud and voting irregularities. Nonetheless, Yar'Adua succeeded Obasanjo on May 29, 2007, and was sworn in.
Post-presidency (2007 – present)
Politics
Obasanjo rose to the post of chairman of the PDP Board of Trustees, with authority over nominations for government positions, as well as policy and strategy. "He aims to sit in the passenger seat giving guidance and ready to grab the wheel if Nigeria goes off course," one Western diplomat said. In April 2012, he voluntarily resigned as chairman of the PDP's board of trustees. He then dropped out of the PDP's political activities. Obasanjo wrote to Nigerian President Goodluck Jonathan in May 2014, urging that he mediate on behalf of the Nigerian government for the release of the Chibok girls kidnapped by Boko Haram insurgents.
During a news conference on February 16, 2015, he announced his departure from the ruling party by ordering a PDP ward chairman to destroy his membership card. He became renowned as the navigator of the APC, a newly established opposition group. He wrote to serving President Muhammadu Buhari on January 24, 2018, pointing out his flaws and asking him not to run for office in 2019. All of his letters to current presidents have so far predicted their downfall. His political outfit, the "Coalition for Nigeria Movement" (CNM), was established in Abuja on January 31, 2018. On May 10, 2018, the movement forms the African Democratic Congress (ADC) as a political party to realize its vision of a new Nigeria.
During a book event for former President Goodluck Jonathan's book "My Transition Hours" on November 20, 2018, he officially confirmed his return to the main opposition party, the Peoples Democratic Party. He announced his retirement from partisan politics on January 22, 2022, after receiving National delegates of the People's Democratic Party at his home in Ota, Ogun State, Nigeria.
Personal Life
Obasanjo had a polygamous lifestyle. He married his first wife, Oluremi Akinlawon, in London in 1963, and they had their first child, Iyabo, in 1967. Oluremi was not satisfied with the way Obasanjo had other women's affairs and claimed that he mistreated her. In the mid-1970s, they divorced. He married Stella Abebe, his second wife, in 1976 after meeting her on a trip to London. They had three children together. The President's wife, Stella Obasanjo who was also the First Lady of Nigeria then, died on October 23, 2005, the day after she had an abdominoplasty in Spain. In 2009, the doctor was sentenced to a year in prison in Spain for carelessness and had to pay $176,000 in restitution to her son.
Controversies
Obasanjo was allegedly accused by a Nigerian parliament committee in March 2008 of allocating $2.2 billion in energy contracts without due procedure during his eight-year administration. Because the leadership of the power probe committee manipulated the entire process, the report of this investigation was never recognized by the full Nigerian parliament. Chief Obasanjo was not indicted, according to any official record.
Further Education
Obasanjo defended his PhD thesis at the National Open University of Nigeria (NOUN) in December 2017. He now has a doctorate in theology.
Books Written by Olusegun Obasanjo
A New Dawn
Addressing Africa's Youth Employment and food security Crisis: The Role of African Agriculture in Job Creation.
Africa in Perspective
Africa Through the Eyes of A Patriot
Africa's Critical Choices: A Call for a Pan-African Roadmap
Challenges of Leadership in Africa
Democracy Works: Re-Wiring Politics to Africa's Advantage
Dust Suspended: A memoir of Colonial, Overseas and Diplomatic Service Life 1953 to 1986
Forging a Compact in U.S. African Relations: The Fifth David M. Abshire Endowed Lecture, 15 December 1987.
Guides to Effective Prayer
L'Afrique en Marche: un manuel pour la reussite économique
Letters to Change the World: From Pankhurst to Orwell.
Making Africa Work: A handbook
My Command
My Watch
My Watch Volume 1: Early Life and Military
My Watch Volume 2: Political and Public Affairs
My Watch Volume 3: Now and Then
Not my Will
Nzeogwu
The Animal Called Man
The Challenges of Agricultural Production and Food Security in Africa
The Thabo Mbeki I know
War Wounds: Development Costs of Conflict in Southern Sudan
Net Worth
According to Buzz Nigeria, former President Olusegun Obasanjo has a net worth estimated at $1.6 billion, which is roughly N663 billion. It was reported that his sources of income came from his career in politics and investments in various big businesses. This has made him one of the richest politicians in Nigeria.