Omotola Jalade Ekeinde is a multi-award-winning Nigerian actress and singer. She has starred in over 200 movies in the Nigerian film industry. She appeared on Time magazine's list of the top 100 global influencers in 2013. For her acting prowess and services to the Nigerian movie industry, she was honored by the Nigerian government in 2014 when she was named a Member of the Order of the Federal Republic (MFR).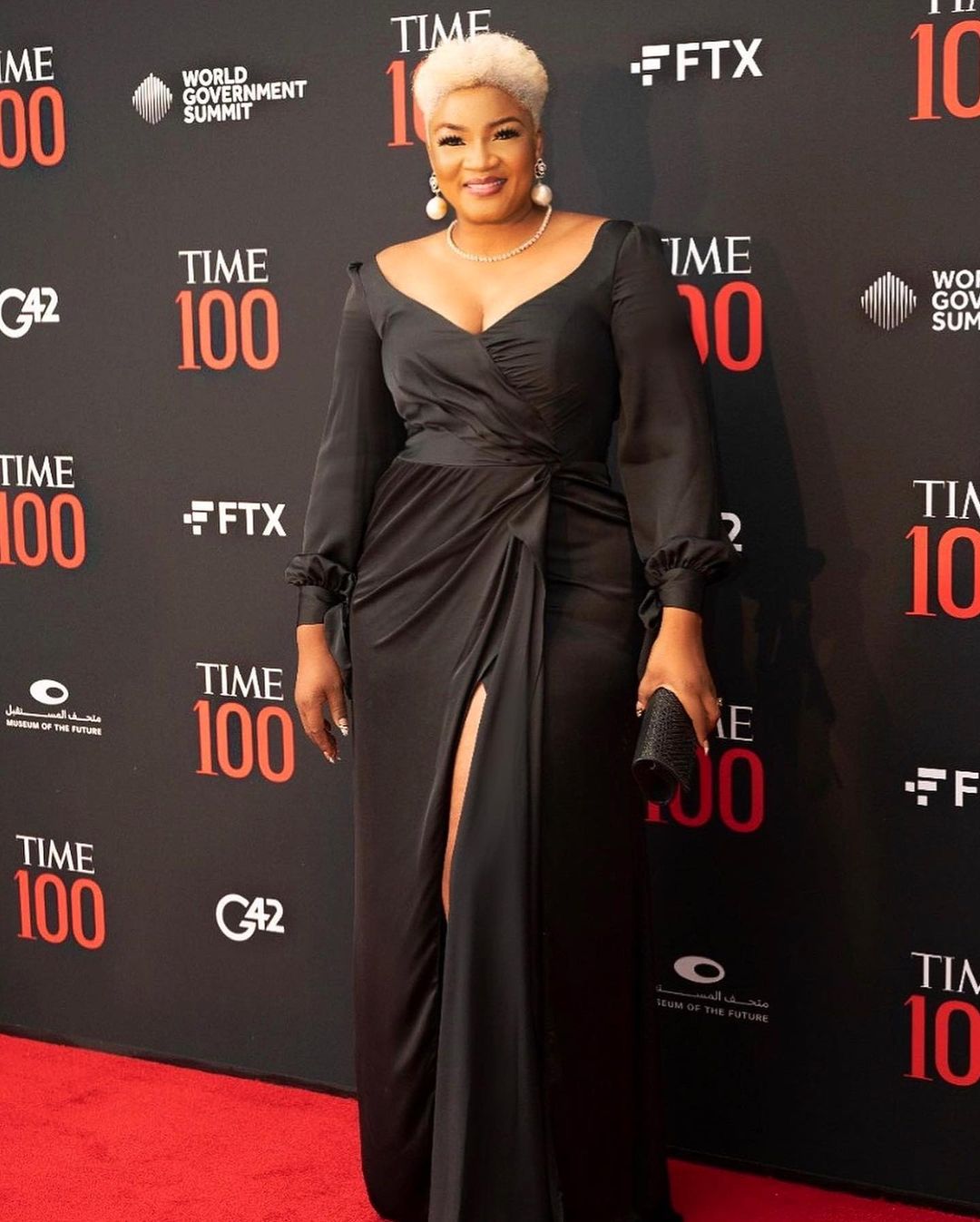 Omotola Jolade Biography
Full Name :
Omotola Jalade Ekeinde
Date of Birth :
February 7, 1978
Place of Birth :
Lagos, Nigeria
Spouse :
Captain Matthew Ekeinde
Parent :
Mr. Oluwashola Jalade (Father)
Mrs. Oluwatoyin Jalade (Mother)
Children :
Princess Ekeinde, Captain E, Meraiah Ekeinde, and Michael Ekeinde
Social Media Handles :
Instagram: @realomosexy
Twitter: @Realomosexy
Facebook: Omotola Jalade Ekeinde,MFR
Early Life & Education
Omotola Jolade was born on the 7th of February, 1978, in Lagos State, into the family of Mr. Oluwashola Jalade and Mrs. Oluwatoyin Jalade. She grew up with her parents and younger siblings, Toyo Jolade and Bolaji Jolade, in Lagos. She hails from Ondo State. Omotola Jalade attended Chrisland School, Opebi from 1981 to 1987. In 1987, she attended Oxford Children's School and Command Secondary School, Kaduna from 1988 to1993. She went further to Yaba College of Technology to study Estate Management and she graduated in 2004.
Acting Career
Shortly after Jalade's graduation from school, she started her life career as a model. She made her acting debut in 1995 when she starred in the movie Venom of Justice. Her acting profession was inspired by a friend she accompanied to an audition. In that same year, she started playing major roles in movies, most especially in Mortal Inheritance, where she played the role of a sickle-cell patient who fought for her life against the odds of survival. This role won her Best Actress in an English-Speaking Movie and Best Actress Overall at the 1997 Movie Awards.
Omotola Jelade has acted in over 200 movies alongside prominent Nollywood actors such as Genevieve Nnaji, Stella Damasus, Pete Edochie, and so on. She has received several awards and nominations with respect to her acting prowess. Among the films she acted in are Lost Kingdom 2, Korsorogun 2, Rescue, Blood Sisters, and so on.
Omotola Jalade launched Omotola: The Real Me in 2012 on Africa Magic Entertainment, an M-Net affiliate that is broadcast on DStv. She became the first famous celebrity from Nigeria to appear on her reality show as a result.
Music Career
Omotola Jalade joined the music industry in 2005 when she released her debut album titled Gba. A year later, she released her second album titled Me, Myself, and Eyes. The Bridge Entertainment assisted Jalade as she started to work on her third album in 2012. To collaborate with producers and composers who could contribute to the creation of a sound that would appeal to American music listeners, she traveled to Atlanta, Georgia in the US. She recorded a song with artist Bobby V and participated in recording sessions with Kendrick Dean, Drumma Boy, and Verse Simmonds.
Personal Life
In 1996, Captain Matthew Ekeinde married Omotola Jalade Ekeinde. On March 30, 1997, Omotola Jalade Ekeinde gave birth to her first daughter. Princess Ekeinde, Captain E, Meraiah Ekeinde, and Michael Ekeinde are their four children. In 1991, she lost her father, Shola Jalade.
Influence and Impact
Omotola Jalade is a well-known philanthropist. She has influenced many people's lives across the world. She has a foundation named Omotola Youth Empowerment Project (OYEP). This project brings together hundreds of young people for the convention and empowerment walk. The 20 Widows Makeover is among the program's most well-known projects. The program is still in operation in honor of Omotola's late mother and was nominated for Best Charity/Cause Related Event at the Nigerian Event Awards in 2012.
She continues to work for causes like the fight against maternal mortality in Sierra Leone and the Own Up, Pay Up, and Clean Up campaign for the Niger Delta with Save The Children UK, Enough is Enough, and Amnesty International. Since 2005, she has served as the World Food Programme's UN envoy.
Awards & Nominations
Actress of the Year at Eloy Awards 2012
Best Actress & Grand Achiever at Global Excellence Recognition Awards in 2004.
Best Actress at Nollywood Travel Film Festival 2017
Best Actress at Toronto International Nollywood Film Festival 2017
Best Actress from the City People Awards for Excellence 2004.
Best Actress-Africa Collaboration at Ghana Movie Awards 2011
Ebony Vanguard Award at Music Video and Screen Awards 2013
Female Entertainment Personality at City People Social Media Awards 2016
GIAMA Humanitarian Award at Golden Icons Academy Movie Awards 2012.
In 2012, Omotola Jalade was honored with a Black Entertainment Film Fashion TV and Arts (BEFFTA) Icon Award on October 27, 2012, for her outstanding contributions to the film industry worldwide.
In 2014, the actress was honored with a Member of the Federal Republic (MFR) award by former President Goodluck Jonathan.
In 2018, she won Best Actress in a Drama/TV Series at the Africa Magic Viewers Choice awards.
Most Friendly Actress by Youth Benefactor's Awards, in 2006.
Most Influential 100 People of African Descent at the United Nations by MIPAD 2018
Movie Icon of the Year at City People Movie Awards 2018
Omotola Jalade Ekeinde acknowledged the recognition as an extraordinary moment for her, stating that the award is the best award she has received globally.
Pan African Best Actress at Screen Nation Awards 2012
She was also named Best Actress Overall for the same award show the same year for her excellent acting in Mortal Inheritance.
Omotola Jalade was awarded Best Actress in a Supporting Role during the African Movie Awards in 2005.
She won one of TIME Magazine's Most influential people in the World in The 2013 TIME 100 list. Her name was listed under the Icons list alongside Michelle Obama, Beyoncé, Kate Middleton, and others.
She won the Best Actress in an English Speaking Film at the 1996/97 Thema Awards for her portrayal of Kemi's character in Mortal Inheritance.
Filmography
2017 Alter Ego
2015 Blood in the Lagoon
2012 Last Flight to Abuja
2012 Amina
2011 Ties That Bind
2011 Last Celebrity
2010 Mind Game
2010 Ijé: The Journey
2010 A Private Storm
2009 My Last Ambition
2009 Kings Battle
2008 Yankee Girls
2008 Worst Enemy
2008 Tomorrow Must Wait
2008 Temple of Justice
2008 Sister's Love
2008 One on One
2008 Blindfold
2008 Beyonce & Rihanna
2007 Total War 1&2
2007 Titanic Battle 1&2
2007 The Revelation 1&2
2007 The Prince of My Heart
2007 Sister's Heart
2007 Sand in My Shoes
2007 Power of Justice
2007 Final War
2007 Desperate Sister
2007 Careless Soul
2006 Taste of Sin 1&2
2006 Sandra Jealousy
2005 Queen of Hasso Rock
2005 Games Women Play
2005 Brave Heart 1&2
2004 Worst Marriage1&2
2004 The Woman in Me 1&2
2004 Sandra Snr. Last Wedding 2
2004 Royal Family 1&2
2004 Pretty Woman
2004 Olivia Last Wedding
2004 No One But You
2004 My Blood 1&2
2004 Moment of Joy
2004 Masterstroke
2004 In Totality
2004 Fateful Love
2004 Die Another Day
2004 All My Life
2004 A Kiss from Rose
2003 Working for Love
2003 Will Die for You
2003 When Love Dies
2003 What I Want
2003 Under Fire
2003 True Love
2003 Touching Love
2003 The Silent Book
2003 The Outsider
2003 Soul Provider
2003 Society Lady
2003 Shackles and the Rugged Cross
2003 Rescue
2003 Oyato
2003 Nkiru Blood Sister
2003 My Best Friend
2003 Have a Dream
2003 Augusta Beyond Belief
2002 Kosorogun
1999 Lost Kingdom
1998 Scores to Settle
1996 Mortal Inheritance
Discography
Albums
Singles
2015″Strong Girl (Remix)" as a featured artist
2014 "Barren Land".
TV Shows
Net Worth
Omotola Jalade is one of the richest and most influential African actresses. According to different sources online, she has an estimated net worth of $8 million.
Social Media Handles
According to Wikipedia, OmotShela is the second Nigerian and the first Nigerian celebrity to receive over 1 million likes on her Facebook page. She currently has over 6.3 million followers on Facebook. Also on Instagram, she has 5.4 million followers, while on Twitter, she has over 1.5 million followers. You can follow her through the following handles.
Instagram: @realomosexy
Twitter: @Realomosexy
Facebook: Omotola Jalade Ekeinde,MFR