Geoffrey Rigathi Gachagua (born in 1965) is a Kenyan politician and has been the current deputy president of Kenya since September 2022. He is the 12th deputy president of Kenya, serving currently.  Gachagua formerly served as Assistant Secretary in the Ministry of Home Affairs and National Heritage. He also served as Personal Assistant to the Head of the Public Service, Personal Assistant to Uhuru Kenyatta, who was then Minister for Local Government, and as a District Officer.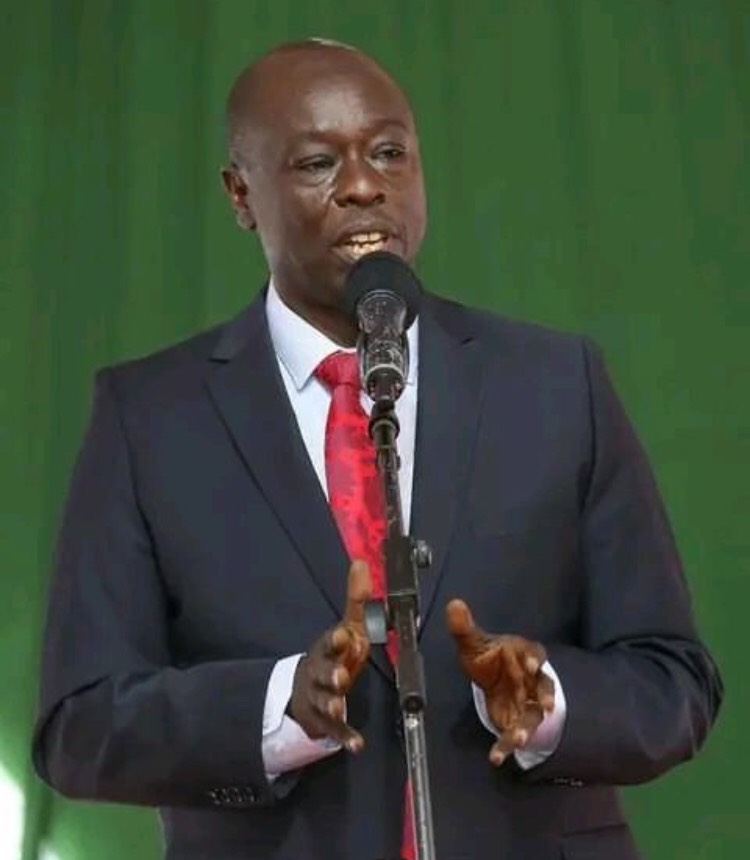 Rigathi Gachagua Biography
Full Name :
Geoffrey Rigathi Gachagua
Place of Birth :
Hiriga village, Kenya
Post :
Deputy President of Kenya
Party :
United Democratic Alliance (UDA)
Spouse :
Dorcas Wanjiku Gachagua  (m.1989)
Social Media Handle :
Instagram @rigathi_gachagua
Twitter @rigathi
Early Life and Education
Rigathi Gachagua was born in 1965 in Hiriga village, Mathira Constituency, Nyeri County. He was the 8th born of the family of Mr. Nashashon Gachagua Reriani and Mrs. Martha Kirigo. His parents were Mau Mau freedom fighters in Mt. Kenya Forest.
He went to Kabiruini Primary School from 1971 to 1977 and proceeded to Kianyaga High School for his O-levels and A-levels.
Gachagua earned a Bachelor of Arts Degree in Political Science and Literature at the University of Nairobi between 1985 and 1988. He held the post of Nyeri District University Students Association (Ndusa) leader. He was also chairman of the Association of Literature Students while at the University of Nairobi.
Career
Gachagua worked at Kenya's Ministry of Home Affairs and National Heritage for a short period of time and later joined the Administration Police Institute in 1990. He was posted at the office of then President Daniel Arap Moi, after graduating from the Administration Police Institute as a District Officer Cadet between 1991 and 1992.
He also served as a district officer in Kakamega, Ng'arua, and Laikipia districts. He went to the Kenya School of Government between 1999 and 2000, where he graduated with an Advanced Diploma in Public Administration. From 2001 to 2006, he worked as the Personal Assistant to Uhuru Kenyatta, the fourth President of the Republic of Kenya. Gachagua stayed behind the scenes, running businesses between 2007 and 2017.
Political Career
Gachagua won the election as a member of parliament for the Mathira constituency in 2017. On May 15, 2022, he was the running mate to the United Democratic Alliance presidential candidate, Hon. William Ruto, under the Kenya Kwanza political coalition.
Gachagua has a pending court case over alleged cases of misappropriation of government funds.
On 28 July 2022, the Kenyan court ordered Rigathi Gachagua to repay KSh. 202 million (US$1.7 million), after the court found out he embezzled the money.
Gachagua was the running mate of President William Ruto in the 2022 Kenyan General Election under the United Democratic Alliance party, they won with over 50% of the valid votes, which made him the current Deputy President of Kenya.
Personal Life
Gachagua got married to Pastoress Dorcas Wanjiku Gachagua in 1989. They met each other during a visit by then President Daniel Arap Moi to the University of Nairobi. They have two sons, Engineer Kevin and Doctor Keith.
Net Worth
Rigathi Gachagua declared his net worth during the deputy president debate and it was estimated to be $Sh800 million ($7 million).
Social Media Handle
Instagram @rigathi_gachagua
Twitter @rigathi