Samuel Leroy Jackson, an American actor, and producer, was born on December 21, 1948. As one of the most well-known performers of his age, he has appeared in over $27 billion worth of movies, placing him as the third highest-grossing actor of all time. He received an honorary award from the Academy of Motion Picture Arts & Sciences in 2022 for being a cultural icon whose dynamic work has resonated across genres, decades, and audiences worldwide.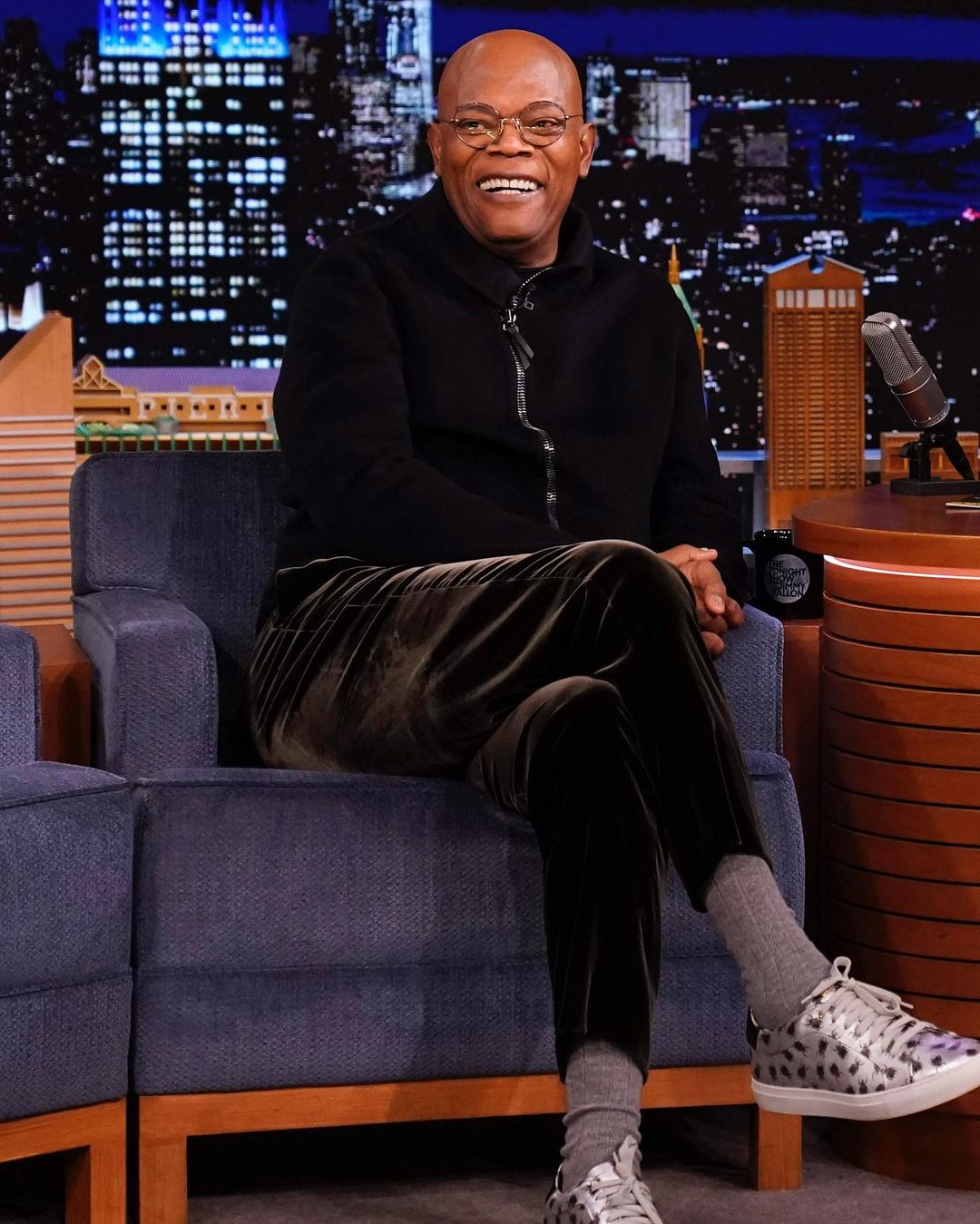 Samuel L. Jackson Biography
Full Name :
Samuel Leroy Jackson
Date of Birth :
December 21, 1948
Place of Birth :
Washington, D.C., U.S.
Occupation :
Actor | Producer
Years Active :
1972 – present
Spouse :
LaTanya Richardson
Social Media Handles :
Instagram: @samuelljackson
Twitter: @SamuelLJackson
Early Years
Samuel Jackson was born in Washington, D.C., on December 21, 1948, and was brought up in Chattanooga, Tennessee, under the tight supervision of his grandmother. When he was ten years old, his mother, Elizabeth, joined them. Jackson developed an early interest in movies through his regular attendance at the neighborhood theater, where he was exposed to the complex themes surrounding the representation of black people in media. Sidney Poitier strikes a white lady in a scene that was cut from Band of Angels for the black audience in Chattanooga.
When Samuel Jackson enrolled at Atlanta's historically Black Morehouse College and became more involved in the Black Power movement, his early memories stayed with him. He protested the lack of black individuals on the board of trustees in 1969, during his junior year, by imprisoning several board members there for two days. As a result, he was subsequently ejected from the institution.
Jackson discovered a new type of inspiration while seeing a performance by the Negro Ensemble Company in the same year. Jackson went to Morehouse College to pursue acting after spending two years working as a social worker in Los Angeles. He earned his degree in acting in 1972.
Career
Samuel Jackson made his theatrical debut in 1980 at The Public Theatre's production of Mother Courage and Her Children. He performed off-Broadway in A Soldier's Story as Private Louis Henderson from 1981 to 1983. In 1987, at the Yale Repertory Theatre, he also created the part of Boy Willie in August Wilson's The Piano Lesson.
In the Broadway revival of the play in 2022, he made a second appearance as Doaker Charles. Jackson's early film performances include Coming to America (1988), Goodfellas (1990), Patriot Games (1992), Juice (1992), True Romance (1993), Jurassic Park (1993), Menace II Society (1993), and Fresh (1994). With movies like School Daze (1988), Do the Right Thing (1989), Mo' Better Blues (1990), Jungle Fever (1991), Oldboy (2013), and Chi-Raq, his collaborations with Spike Lee helped him gain further fame (2015).
Jackson's breakthrough performance came in Quentin Tarantino's Pulp Fiction (1994), for which he was nominated for an Academy Award for Best Supporting Actor and won a BAFTA Award. He worked with Tarantino again, appearing in The Hateful Eight (2012), Django Unchained (2012), and Jackie Brown (1997). (2015). He is well-known for having starred in several high-profile motion pictures, such as Die Hard with a Vengeance (1995), A Time to Kill (1996), The Long Kiss Goodnight (1996), The Negotiator (1997), Deep Blue Sea (1999), Unbreakable (2000), Shaft (2000) and its reboot (2019), XXX (2002), S.W.A.T. (2003), Coach Carter (2005), Snakes on a Plane (2006), Kingsman: The Secret (2019).
In the Star Wars prequel trilogy (1999–2005), he achieved fame as the Jedi Mace Windu. He then voiced the character in the animated movie Star Wars: The Clone Wars (2008) and the computer game Lego Star Wars: The Clone Wars (2011). His visage was utilized for the Ultimate version of the Marvel Comics character Nick Fury with his consent; he subsequently portrayed Fury in 11 MCU movies starting with a cameo in Iron Man (2008) and guest-starring in the TV show Agents of S.H.I.E.L.D. In the forthcoming Disney+ series Secret Invasion, which is scheduled to debut in early 2023, he will reprise this role. Jackson has lent his voice to many animated features, documentaries, TV shows, and video games, including the roles of Lucius Best and Frozone in the Pixar movies The Incredibles (2004) and Incredibles 2. (2018).
He is well-known for his many voiceover parts, including those of Whiplash in Turbo (2013), Afro Samurai's titular character in the anime series, and Frank Tenpenny in Grand Theft Auto: San Andreas (2004). He also provided the narration for the famous film I Am Not Your Negro (2016). Jackson made appearances in several television episodes, video games, music videos, and audiobooks in addition to movies. Samuel Jackson has a minor role in the Public Enemy song "911 Is a Joke" music video. Samuel Jackson provided the voices for a variety of TV characters, including the title character in the anime series Afro Samurai and Gin Rummy, a recurrent character in multiple episodes of the cartoon comedy The Boondocks.
He appeared in the Ghostwriter pilot. He appeared in an episode of the BBC/HBO comedy Extras as a guest star. In the video game Grand Theft Auto: San Andreas, he provided the voice for Officer Frank Tenpenny, the major antagonist. Jackson has presided over many award ceremonies. He has presided over the ESPYs (1999, 2001, 2002, and 2009), the MTV Movie Awards (1998), and the Spike TV Video Game Awards (2005, 2006, 2007, and 2012). He performed the role of God for The Bible Experience, the New Testament audiobook edition of the Bible, in November 2006. Producers decided to give him the starring role because they thought his authoritative, deep voice would match the part the best. He also recorded the Go the Fuck to Sleep audiobook for Audible.com. Jackson played Rev. Sultan in the Falcons' "Rise Up" ad for the 2010 Atlanta Falcons season.
He also made an appearance in the Capital One credit card cash-back advertisements. Jackson also made an appearance as Nick Fury in a Sky UK internet service advertisement for Captain America: The Winter Soldier. He also portrayed Nick Fury in a Marvel Snap video game commercial. I Can't Breathe, which were Eric Garner's last words, was a song advocating social justice that Jackson, KRS-One, Sticky Fingaz, Mad Lion, and Talib Kweli released.
Personal Life
Jackson and Richardson were married in 1980, and they now call California home. Together, they have a daughter called Zoe.
Filmography
Year Title
2023: The Marvels
2022: Paws of Fury: The Legend of Hank
2021: Spiral: From the Book of Saw
2021: The Protégé
2021: Hitman's Wife's Bodyguard
2020: The Banker
2019: Glass
2019: The Last Full Measure
2019: Star Wars: The Rise of Skywalker
2019: Spider-Man: Far From Home
2019: Shaft
2019: QT8: The First Eight
2019: Captain Marvel
2019: Avengers: Endgame
2018: Avengers: Infinity War
2018: Life Itself
2018: Incredibles 2
2017: XXX: Return of Xander Cage
2017: Unicorn Store
2017: The Hitman's Bodyguard
2017: Kong: Skull Island
2016: Cell
2016: The Legend of Tarzan
2016: Miss Peregrine's Home for Peculiar Children
2016: I Am Not Your Negro
2016: Eating You Alive
2015: Kingsman: The Secret Service
2015: The Hateful Eight
2015: Chi-Raq
2015: Barely Lethal
2015: Avengers: Age of Ultron
2014: Reasonable Doubt
2014: RoboCop
2014: Kite
2014: Captain America: The Winter Soldier
2014: Big Game
2013: Turbo
2013: Oldboy
2012: The Samaritan
2012: Zambezia
2012: The Avengers
2012: Meeting Evil
2012: Django Unchained
2011: African Cats
2011: Thor
2011: Captain America: The First Avenger
2011: Arena
2010: Quantum Quest: A Cassini Space Odyssey
2010: Unthinkable
2010: The Other Guys
2010: Iron Man 2
2009: Astro Boy
2009: Mother and Child
2009: Inglourious Basterds
2008: Jumper
2008: The Spirit
2008: Star Wars: The Clone Wars
2008: Soul Men
2008: Lakeview Terrace
2008: Iron Man
2008: Gospel Hill
2007: Farce of the Penguins
2007: Resurrecting the Champ
2007: Cleaner
2007: 1408
2006: Freedomland
2006: Snakes on a Plane
2006: Home of the Brave
2006: Black Snake Moan
2005 Coach Carter
2005: XXX: State of the Union
2005: The Man
2005: Star Wars: Episode III – Revenge of the Sith
2004: Twisted
2004: Unforgivable Blackness
2004: The Incredibles
2004: Kill Bill: Volume 2
2004: In My Country
2003: Basic
2003: S.W.A.T.
2002: Changing Lanes
2002: XXX
2002: Star Wars: Episode II – Attack of the Clones
2002: No Good Deed
2001: The Caveman's Valentine
2001: The 51st State
2000: Rules of Engagement
2000: Unbreakable
2000: Shaft
1999 Star Wars: Episode I – The Phantom Menace
1999: Deep Blue Sea
1998: Sphere
1998: The Red Violin
1998: The Negotiator
1998: Out of Sight
1997: One Eight Seven
1997: Jackie Brown
1997: Eve's Bayou
1996: The Great White Hype
1996: Trees Lounge
1996: The Long Kiss Goodnight
1996: Hard Eight
1996: A Time to Kill
1995: Kiss of Death
1995: Losing Isaiah
1995: Fluke
1995: Die Hard with a Vengeance
1994: Fresh
1994: The Search for One-eye Jimmy
1994: The New Age
1994: Pulp Fiction
1994: Hail Caesar
1994: Assault at West Point: The Court-Martial of Johnson Whittaker
1993: Menace II Society
1993: True Romance
1993: Loaded Weapon 1
1993: Jurassic Park
1993: Amos & Andrew
1992: Juice
1992: White Sands
1992: Patriot Games
1992: Fathers & Sons
1991: Strictly Business
1991: Jungle Fever
1991: Jumpin' at the Boneyard
1991: Johnny Suede
1990: Def by Temptation
1990: The Return of Superfly
1990: The Exorcist III
1990: Mo' Better Blues
1990: Goodfellas
1990: Betsy's Wedding
1990: A Shock to the System
1989: Do the Right Thing
1989: Sea of Love
1988: Coming to America
1988: School Daze
1987: Eddie Murphy Raw
1981: Ragtime
1972: Together for Days
Honors and Awards
Samuel Jackson has won several accolades during his career for his on-screen talents. He won the Cannes Film Festival Award for Best Actor at the 44th Cannes Film Festival for his work in Spike Lee's Jungle Fever (1991). For his work in Quentin Tarantino's Pulp Fiction, he won the Independent Spirit Award for Best Male Lead as well as the BAFTA Award for Best Actor in a Supporting Role (1994).
For his performance, he was nominated for an Academy Award, a Golden Globe, and a Screen Actors Guild Award. He won the Silver Bear for Best Actor at the 48th Berlin International Film Festival for his major role in Quentin Tarantino's Jackie Brown (1997).
According to the Academy of Motion Picture Arts and Sciences, Samuel Jackson is "a cultural icon whose dynamic work has resonated across genres, decades, and audiences worldwide." In 2021, Jackson will receive one of the Academy Honorary Awards. Jackson received his Oscar from a friend and performer, Denzel Washington, at the 12th Annual Governors Awards.
Net Worth
Samuel Jackson has a $250 million net worth, according to Celebrity Net Worth, and his films have earned more than $16.7 billion at box offices worldwide (excluding cameo appearances). For each leading role in a big show, the actor is paid $10 million to $20 million.
Social Media Handles
Samuel L. Jackson is very active on social media platforms, especially Instagram and Twitter, where he has verified accounts with over 7.1 million and 9.1 million followers, respectively. You can follow him on social media through the following handles.
Instagram: @samuelljackson
Twitter: @SamuelLJackson