Stevland Hardaway Judkins, popularly known as Stevie Wonder, was born on May 13, 1950. He is an American singer-songwriter, musician, and record producer. He is credited as a pioneer and influence by musicians across a range of genres that include R&B, pop, soul, gospel, funk, and jazz.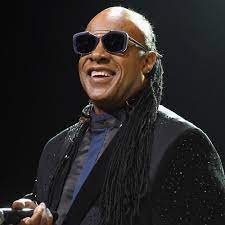 Stevie Wonder Biography
Full Name

Stevland Hardaway Judkins

Date of Birth

May 13, 1950 (age 73

Place of Birth

Saginaw, Michigan, U.S.

Occupation

American Singer

Spouses

Syreeta Wright (m. 1970; div. 1972)​
Kai Millard (m. 2001; div. 2012)​
Tomeeka Bracy ​(m. 2017)

Net Worth

$110 million
Early Life
Stevie Wonder was born on May 13, 1950. He was born six weeks premature in Saginaw, Michigan, and was left blind due to retinopathy of prematurity. Stevie Wonder is the third of five children born to Lula Mae Hardaway and the second of Hardaway's two children with Calvin Judkins. He began playing the piano and harmonica at a young age and taught himself to play several other instruments, including the drums, bass, and guitar.
Wonder's mother relocated to Detroit with her three children after divorcing his father when he was four years old. Wonder was a member of the choir of Whitestone Baptist Church, where he began performing solos at the age of eight. Later, after rekindling her connection with the father of her first child, whose last name also happened to be Hardaway, she changed her name back to Lula Hardaway and had two more children.
According to Lula Mae Hardaway's authorized biography, Stevie's surname was legally changed to Morris when he signed with Motown in 1961. This was an old family name. "Little Stevie Wonder" is the stage name that Berry Gordy gave to the performer.
He started learning to play the piano, harmonica, and drums at a young age. Together with a friend, he started the singing duo Stevie and John. They periodically performed at events like dances and parties as well as on street corners. In Detroit, Wonder attended Fitzgerald Elementary School.
Career
A turning point in both Stevie Wonder's career and the history of music occurred when he signed with Motown Records when he was just 11 years old. He immediately rose to prominence as one of the label's top performers, recording a string of successes including "Fingertips, Pt. 2," "Uptight (Everything's Alright)," and "I Was Made to Love Her." His extraordinary musical aptitude and capacity to connect with a broad spectrum of audiences contributed to his early success.
Stevie Wonder began to write and produce his own records in the 1970s, when he began to have more influence over his music. During this time, he also released some of his most well-received and financially rewarding albums, such as Talking Book (1972), Innervisions (1973), and Songs in the Key of Life (1976). Stevie Wonder gained recognition as one of the most significant and influential musicians of his generation as a result of these recordings, which were revolutionary in their breadth and ambition.
The catchy melodies, intricate harmonies, and socially aware lyrics that make up Stevie Wonder's music distinguish it from other genres. In addition, he is a musical maestro of several genres, including jazz, funk, gospel, R&B, and pop. His songs have covered a variety of subjects, such as spirituality, love, loss, identity, and social justice.
Throughout his career, Stevie Wonder has kept up his recording and touring schedules. Over 30 albums have been released by him, and he has sold over 100 million copies worldwide. With 25 Grammy Awards and an Academy Award for Best Original Song for "I Just Called to Say I Love You" (1984), he is one of the most celebrated musicians in music history.
Personal Life
Stevie Wonder has been married three times and has nine children. He is a vocal advocate for social justice and has worked on a number of charitable causes. In 1970, Wonder got married to Syreeta Wright, a fellow Motown musician; they divorced two years later. She collaborated with Wonder on songs like "Signed, Sealed, Delivered, I'm Yours" and "If You Really Love Me," while he collaborated with Wright on her albums Syreeta (1972) and Stevie Wonder Presents Syreeta (1974). Wonder and Wright were both accomplished lyricists. In 2004, Wright died of cancer.
In 1975, Wonder and Yolanda Simmons gave birth to their first child, Aisha. "Isn't She Lovely" was inspired by his daughter. Keita, the son of the couple, was born in 1977. He had Mumtaz, a son, in 1983 with Melody McCulley. Wonder had a son, Kwame, and a daughter, Sophia, with a woman whose name has not been made public.
In 2001, Wonder got married to Karen Millard Morris. Kailand and Mandla were the couple's two sons before divorcing amicably in 2015. While everything was going on, Wonder started dating Tomeeka Robyn Bracy. The two eventually got married in 2017.
Awards and recognition
Stevie Wonder has won numerous awards and honors throughout his career, including:
25 Grammy Awards
1 Academy Award
1 Golden Globe Award
29 American Music Awards
1 Presidential Medal of Freedom
1 Kennedy Center Honor
1 Polar Music Prize
Discography
The Jazz Soul of Little Stevie (1962)
Tribute to Uncle Ray (1962)
With a Song in My Heart (1963)
Stevie at the Beach (1964)
Up-Tight (1966)
Down to Earth (1966)
I Was Made to Love Her (1967)
Someday at Christmas (1967)
Eivets Rednow (1968)
For Once in My Life (1968)
My Cherie Amour (1969)
Signed, Sealed & Delivered (1970)
Where I'm Coming From (1971)
Music of My Mind (1972)
Talking Book (1972)
Innervisions (1973)
Fulfillingness' First Finale (1974)
Songs in the Key of Life (1976)
Stevie Wonder's Journey Through "The Secret Life of Plants" (1979)
Hotter than July (1980)
The Woman in Red (1984)
In Square Circle (1985)
Characters (1987)
Jungle Fever (1991)
Conversation Peace (1995)
A Time to Love (2005)
Net Worth
According to different sources online, Stevie Wonder's net worth is estimated to be around $110 million.
Stevie Wonder is one of the most iconic and influential musicians of all time. He is a visionary artist who has broken down barriers and inspired generations of musicians. His music continues to be enjoyed by people all over the world.