Thabang Molaba is a South African actor and model who mainly works in Netflix television series and films.  He is famously known for his role as Karabo Molapo "KB" in Netflix original series "Blood and Water" and Gift Mabuza in "The Queen". He is a also singer and a successful entrepreneur, who has gained prominence both in the entertainment and business industry.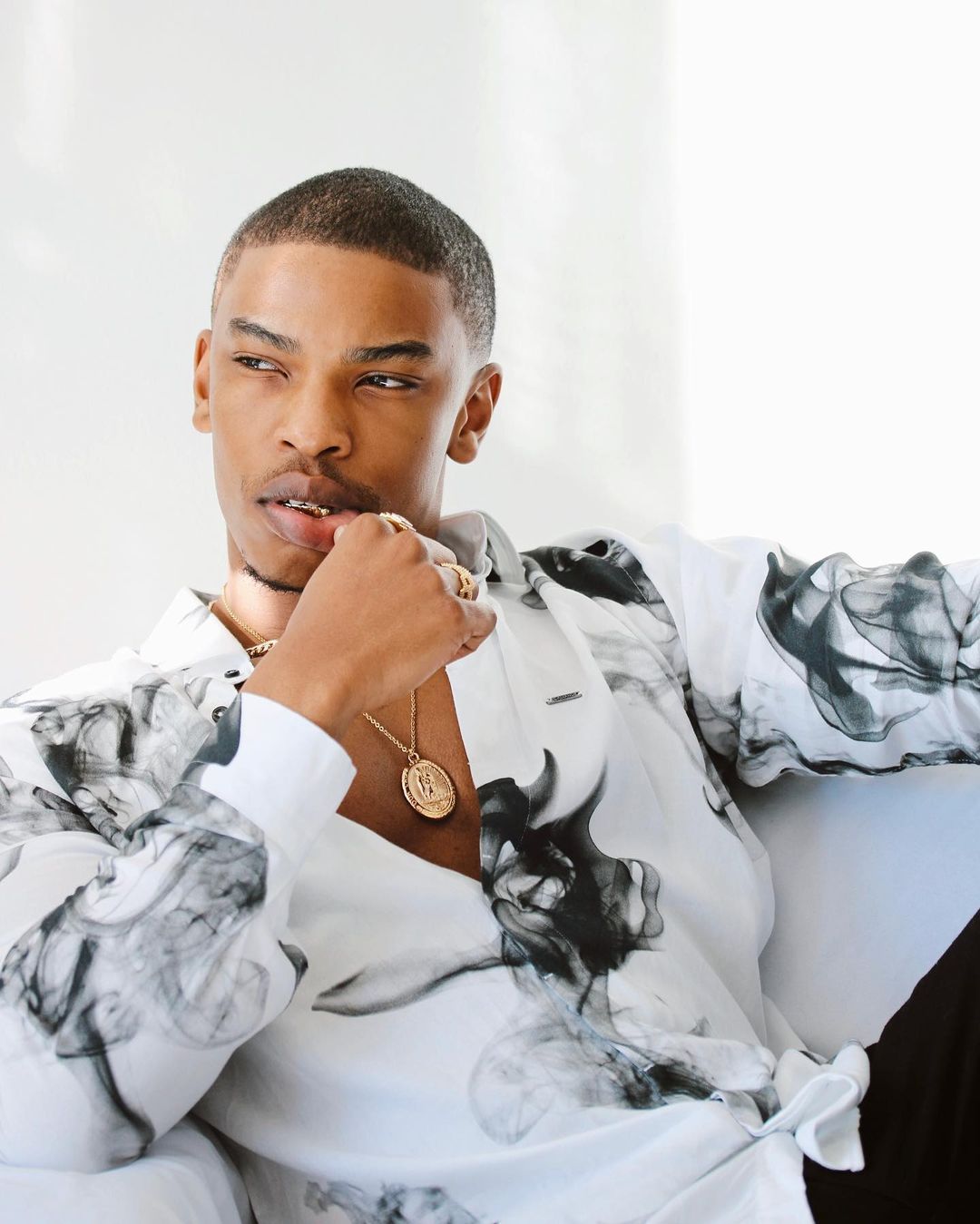 Thabang Molaba Biography
Full Name

Abuti Thabi

Stage Name

Thabang Molaba

Other Nick Names

Kevin and Kale Dinero

Date of Birth

18th of December 1994

Nationality

South Africa

State of Origin

Free-State

Place of Birth

Bethlehem

Parents

Lisbeth Molaba (Mother)

Richard Molaba (Father)

Relative

Thabang Lebeha Shalako (Elder Brother)

Bonginkoshi Bongz Tshabalala (Younger brother)

Net Worth

$2 million

Social Media Handles

Instagram: thabangmolaba_

Twitter: @thabangmolaba_

Facebook: Thabang Molaba (Kevinn)

Email: info@thabangmolaba.co.za
Early Life and Education
Thabang Molaba's birth name is Abutu Thabi and is also known as Kevin and Kale Dinero. He was born on the 18th of December 1994 into a well-settled Christian family from Bethlehem. Thanbang was raised and bred in Harrismith by both of his parents, who is a professor at the University of South Africa and Lisbeth Molaba who is also a Richard Molaba teacher by profession.
He had his primary education and high school education at Harrismith High School and was passionate about acting since that time. Thanbang enrolled at the Tshwane University of Technology, Pretoria where he obtained a Diploma in Logistics and Supply Chain Management.
Ever since his school days, he has been a lover of soccer, rugby and other ex-curricular activities. He also claimed to have been a victim of an extreme bully during his school years which made him have a hard time growing up.
Career
Thabang Molaba has been a lover of acting right from his childhood as he started acting on small stages at a tender age. He had it quite rough because he finds it hard to cope with schooling and acting at the same time.
In a bid to chase his dreams, he relocated to Gauteng. He faced a lot of challenges as an upcoming actor but he passed all through and saw them as an opportunity to be better. Thereafter, he enrolled in acting classes to sharpen his skills.
After several rejections, he became a popular figure when he played the role of 'Gift Mabuza', the son of Gracious Mabuza in the local show The Queen. He often describes himself as a free state-born model with big dreams.
Later in 2017, he made his first appearance on TV and was involved in a promo segment with other models at the Comedy Central Sitcom, I Live. on the 28th of February, he landed another significant role in the series Fumane Ring of Lies which aired on Mzanzi Magic.
Thabang also appeared in a drama series called Diamond City, playing the role of "Mark". Recently, he played the role of Korabo Molapo in the Netflix original series "Blood and Water" which became his most appreciated work. Thabang was also part of the Special TV show "Thembi Takeover" in 2020.
Personal Life
Thabang is a handsome hunk and one of the most dashing actors in South Africa's entertainment industry. He is prominent for his stylish-looking and strong body. Thabang is also a gym freak and likes to always keep his body fit.
Additionally, he is a fashion icon which explains well why he models. He specifically loves watches, clothes and nice-looking shoes. Thabang loves coffee, alcohol and African food. Thabang also loves fast cars as he once said in an interview that "Fast Cars are Fun".
He has two brothers, Thabang Lebeha Shalako, his elder brother who is the co-founder and owner of LTSehlako – PTY LTD. His younger brother's name is Bonginkoshi Bongz Tshabalala and he's currently studying at the Tshwane University of Technology.
Thabang Molaba is single and much is not known about his dating life. However, in 2017, he tweeted; "I'm ready to be an amazing boyfriend to someone's daughter and treat her like a queen". This tweet created an uproar on Twitter as some ladies shot their shots by sending their pictures to his dm as his prospective queen.
He and actor Ama Qatama are very close friends. They both starred in 'Blood and Water' the Netflix movie which gained a lot of recognition internationally for Thabong Molaba specifically.
and even did a kissing scene. He is one of the most searched personalities on social media and the internet.
Thabang Molaba Net Worth
Thabang is a fast-rising actor and a professional model who has over the years accumulated wealth in the range of $500 to $600.
Social Media Handles
Instagram: thabangmolaba_
Twitter: @thabangmolaba_
Facebook: Thabang Molaba (Kevinn)
Email: info@thabangmolaba.co.za