William Kipchirchir Samoei Arap Ruto (born 21 December 1966) is a Kenyan politician and current president of Kenya who is serving as the 5th incumbent president since September 2022. He was deputy president of Kenya from 2013 to 2022, Ruto has also served in different ministerial posts before his presidential ambitions.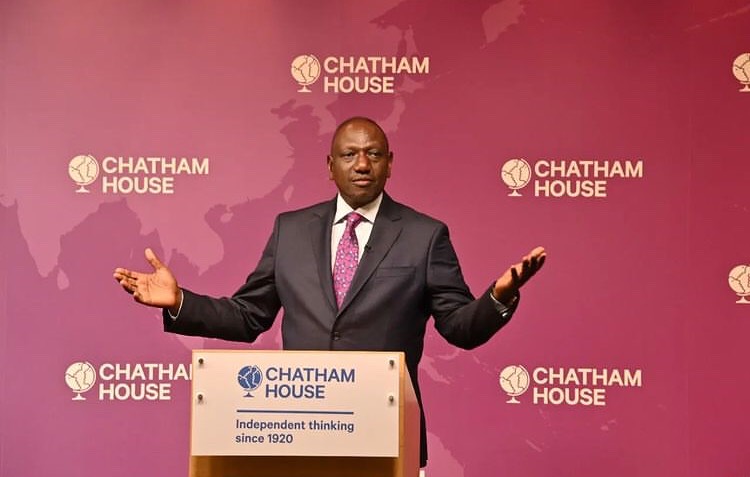 William Ruto Biography
Full Name :

William Kipchirchir Samoei Arap Ruto

Date of Birth :

December 21, 1966

Place of Birth :

Sambut village, Kenya

Nationality :

Kenya

Occupation :

Politician

Post :

Kenya President

Political Party :

United Democratic Alliance (2021 – present)

Spouse :

Rachel Chebet (m. 1991)

Net Worth :

$400 million

Social Media Handle :

Instagram @williamsamoeiruto

Twitter @williamsruto
Early Life and Education
William Ruto was born on 21 December 1966 in a village called Sambut village, Kamagut, Uasin Gishu County, to the family of Mr. Daniel Cheruiyot and Mrs. Sarah Cheruiyot.
Ruto went to Kerotet Primary School and proceeded to high school in Wareng Secondary School and Kapsabet Boys High School in Nandi County.
He further to university where he studied Botany and Zoology at the University of Nairobi, and graduated in 1990 with a bachelor of science in both fields. He applied for a Ph.D.Program at the University of Nairobi, after several years of difficulties, he graduated on 21 December 2018 with a Ph.D. from the university.
Ruto was an active member of the Christian Union when he was still an undergraduate and served as the Chairman of the University of Nairobi's choir.
He also published several papers like Plant Species Diversity and Composition of Two Wetlands in the Nairobi National Park, Kenya.
He met President Daniel Arap Moi, during the church activities on campus, and he later introduced him to politics in the 1992 general elections.
Political Career
Ruto worked as a teacher in the North Rift region of Kenya between 1990 and 1992, he also served as the leader of the local African Inland Church (AIC) Choir during his stay at the school.
YK'92
Ruto became treasurer of the YK'92 campaign group during the re-election of president Moi in 1992 and that's when his political career began. He learned the basics of Kenyan politics from there. After the 1992 elections, YK'92 was demobilized by President Moi and Ruto contend with KANU (then Kenya's ruling party) for different positions but he did not succeed.
Member of Parliament
In the 1997 general election, Ruto beat the incumbent, Reuben Chesire, and Uasin Gishu for a parliamentary seat.
After this, he was later favored by Moi and he appointed him as KANU Director of Elections. In 2002, he became an assistant minister in the Home Affairs (Interior) ministry docket due to his strong support for Moi's preferred successor Uhuru Kenyatta. He was later promoted to join the full cabinet minister when some government ministers resigned to join the opposition party. Though KANU lost the election he was still a parliamentary seat.
Ruto was elected as KANU Secretary General in 2005 with Uhuru Kenyatta getting elected as Chairman. In 2005, KANU opposed Kenya held a constitutional referendum with some members of the ruling NARC coalition government, that decamped from KANU ministers in 2002 under the LDP banner and who were dissatisfied as President Kibaki had not accepted a pre-election MoU on power-sharing and creation of a new post which is Prime Minister, come together and supported KANU to oppose the proposed constitution.
They formed a new group named Orange Democratic Movement (ODM) which originated from the symbol of "No" which is an Orange Since the symbol. Ruto was part of the top, leaders. He reinforces his voter base in the Rift Valley Province. ODM was victorious in the referendum.
In January 2006, Ruto declared publicly his presidential ambition in the next general election (2007). Some members of his party KANU condemned his statement including former president Moi. By this time, ODM had transformed into a political party and he was nominated as Orange Democratic Movement(ODM) presidential candidate, the election take place on 1 September 2007, and he became the third position with 368 votes while the winner was Raila Odinga with 2,656 votes and the runner-up was Musalia Mudavadi with 391. After the election he fully supports Odinga. KANU under Uhuru Kenyatta gave their support to Kibaki, he resigned from his post as KANU secretary general on 6 October 2007.
The presidential election ended in a stalemate took place on December 2007. Kenya's electoral commission declared Kibaki the winner, but Raila and ODM claimed the victory. Mwai Kibaki was sworn in as the president immediately. This led to a violent political crisis. Kibaki and Odinga agreed to form a power-sharing government. The Cabinet was named on 13 April 2008 and sworn in on 17 April, Ruto was appointed as Minister for Agriculture. He was also a Member of Eldoret North's Parliament from 2008 to 4 March 2013.
Ruto faces trial at ICC with others for their involvement in Kenya's 2007/2008 political violence, he faced many challenges with this but in April 2016, the Court dropped charges against him.
On 21 April 2010, Ruto swapped posts with Sally Kosgei, and he was transferred from the Agriculture Ministry to the Higher Education Ministry, He later leave the ministerial duties On 24 August 2011, and maintained a seat in parliament. Ruto collaborated with Uhuru Kenyatta to form the Jubilee alliance for the 2013 presidential election.
Acting President
Ruto was appointed by President Uhuru Kenyatta as acting president of Kenya on 6 October 2014, while the president was away in Hague, he served as the Acting President of Kenya between 6 and 8 October 2014.
In August 2017, Uhuru and Ruto were declared winners with 54% of the total votes cast. But the result was nullified by the Supreme Court of Kenya and an election was held in October 2017. They were re-elected with 98% of the total votes cast. The Supreme Court upheld the results of this second election.
Presidential campaign
Ruto declared his movement to a newly formed United Democratic Alliance party on December 2020. He was the only presidential candidate that attended the second part of the 2022 presidential debate.
On 15 August 2022, Ruto has declared the winner of the general election held on 9 August by the Independent Electoral and Boundaries Commission chaired by Wafula Chebukati defeating candidate Raila Odinga of the Azimio La Umoja party. He won with 50.49% of the valid votes cast, while Odinga received 48.85%.
Odinga challenged the election result announced by the Independent Electoral and Boundaries Commission, with the Supreme Court. On 5 September, the Supreme Court judges announced Ruto as the winner of the election and trashed Odinga's case due to inconclusive evidence of its claims that the election was rigged. Odinga said he respected the Supreme Court's decision even though he strongly disagreed with it.
Controversies
Land grabbing
Ruto has been reported severally in land grabbing which includes several Kenyan state corporations embroiled in endless litigation over the land grabs. Many media and many politicians and activists often describe him as "Arap-Mashamba" (the word being a portmanteau of the son of lands).
Weston hotel land
Ruto has been involved in a land grabbing saga, his mysterious acquisition of Weston hotel land, pitted against public countercharge with several state corporations in Kenya, the original owner of the land surrounding it. According to The Standard, the Kenya Civil Aviation Authority (KCAA), a state agency, was duped and relinquish the land on which the Weston hotel was built. In 2001, KCAA, who is the owner of the land, was given alternative pieces of land by another state agency, the meteorological department.
KCAA did not occupy the alternative piece of land upon which Ruto's Weston hotel was built. KCAA said a powerful cartel, working in the lands ministry was involved in intrigue to relinquish the same piece of land with several land ministry officers part of those that intrigued.
In January 2019, National Lands Commission said Ruto need to pay for the land of 0.773 acres opposite Wilson Airport upon which the Weston hotel was built. In February 2019, Ruto said the land where the Weston hotel was built was acquired illegally. That he had no knowledge of the matter. He wanted to pay the state agency for the land in August 2020 but KCAA rejected the compensation and requested the demolition of the hotel because it was acquired in a fraudulent act.
KCAA said land was assigned for the construction of headquarters and flight paths, it had illegally cooperated with private entities like Priority Ltd. and Monene Investments. Later in the same month, another legislator, Ngunjiri Wambugu, trashed all other cases in Kenya involving stolen property since the affected party were willing to compensate. In December 2020, the KCB Bank supported Ruto in the court battle because of the 1.2 billion shillings deal they had with Weston hotel associated with Ruto.
KPC Ngong forest land scandal
In 2004, Ruto was accused of defrauding another state corporation Kenya Pipeline Company (KPC) of huge amounts of money through land deals. He was exonerated in 2011 but they come back to the case in 2020, due to a disagreement between him and President Uhuru Kenyatta and which lead the President to push the anti-corruption war, the police re-opened investigations in the case.
Muteshi Land
Ruto was asked to pay a sum of 5 million shillings to a victim of 2007/08 post-election violence for illegally taking away his land during the post-election violence in June 2013 and the order was from the court. In the same judgment, the land was recovered from him in Uasin Gishu. Adrian Muteshi had filed a case against Ruto for trespassing on his 100-acre piece of land in Uasin Gishu after the land is under safety during the post-election violence of 2007/08. In February 2014, Ruto appealed the court order to pay the 5 million shilling fine and later withdrew it in 2017 though Adrian Muteshi died on October 2020, at the age of 86 and the death caused was unknown.
Joseph Murumbi's 900-acres
In October 2019, Ruto was accused of grabbing 900 acres of land from former Vice President Joseph Murumbi, the article was published by Daily Nation but Ruto said the article was sponsored which he referred to as fake news. Human rights lobby activist, Trusted Society of Human Rights Alliance started an investigation in the same month concerning the 900-acre piece of land that formerly belonged to another former vice president, Murumbi.
According to the report, Murumbi had defaulted loan with a state corporation, AFC, and the land was charged as a security for the loan. AFC took over ownership of the land that was sold to Ruto after Murumbi paid off the loan owed to the state corporation.
Jacob Juma assassination allegations
Different media in Kenya widely reported that Ruto was linked to the assassination of Jacob Juma. Late Jacob Juma was a wealthy businessman who used to criticize an anti-corruption crusader who was against Ruto and the Jubilee government months before he was assassinated in Nairobi.
In December 2015, Jacob Juma tweeted that Ruto was obsessed with killing him. In May 2016, Jacob Juma was shot dead along Ngong Road. In the same month, during the burial of Jacob Juma, a former Lugari MP Cyrus Jirongo and previously a close associate of Ruto said Jacob Juma had slapped Ruto for unspecified reasons. Jirongo urged police to investigate the assassination based on the assault.
Later in the month, Ruto threatened to sue Jirongo for linking him to the assassination. According to Jirongo, the same assassins were involved in the murder of Meshack Yebei, another murdered prospective defense witness in the ICC trial against Ruto.
In June 2016, it was reported by the Canadian newspaper Financial Post and the Kenyan newspaper The Standard that Jacob Juma was the director of a Canadian company (Pacific Wildcat) whose license to traverse $2 billion worth of minerals in Kwale county in Kenya was canceled just after the Jubilee government took over. Jacob Juma claimed the mining minister, Najib Balala, was demanding a bribe to re-issue the license to the company.
This cancellation really affected Jacob Juma's personal finances, and it was reported he was borrowing money. He started criticizing the government after the mining license that eventually caused his company to lose money had been transferred to a new company and the Kenyan government received a 50% stake in the new company for free. Jacob Juma promised the board of the Canadian company Pacific Wildcat that he would fight bureaucratic delays as well as the corruption that would stand in the way of getting the mining license. A high court ruling in Kenya said the Mining minister was right to cancel the license of the Canadian company.
In October 2016, Boniface Mwangi a photojournalist also said Ruto know about the assassination. Ruto sued him for defamation. His lawyer said the claims by the activist had lowered Ruto's standing among Kenya's "high thinking" people.
It was reported in December 2016, that one of the personnel from Ruto's office also link Ruto to the assassination by giving a letter to Mwangi to help with his defamation case against Ruto by providing details of the murder by persons in Ruto's office. In the same month, the personnel was to be charged in court for extortion. The arrested personnel from Ruto's office later went for a mental check-up after he further claimed that he was told to lie by Mwangi against Ruto that he was involved in Jacob Juma's murder.
Mwangi raised alarm on February 2017, that Ruto wanted to kill him the way he murdered Jacob Juma.
Corruption allegations
Ruto has been accused several times of corruption and land grabbing. Raila Odinga, Ruto's former associate has accused him of sources of the fund he raised on regular basis. Most of his associates have been forced to resign due to corruption scandals. He was also accused of grabbing land from a primary school in Nairobi and land meant for a sewerage treatment plant in Ruai, Nairobi. Ruto has denied these allegations.
International Criminal Court summons
In December 2010, International Criminal Court declared Ruto and six others wanted, over their involvement in the 2007–8 electoral violence. He was accused of planning crimes against supporters of President Kibaki's Party of National Unity and charged with three counts of crimes against humanity, which are murder, the second one being the forcible transfer of population, and persecution.
A case that involved Ruto and Joshua Sang was confirmed by ICC on January 23, 2012, which also involved Uhuru Kenyatta, Francis Muthaura, Henry Kosgey, and Major General Mohammed Hussein Ali. He explained to the US government that the Kiambaa church that got fired on January 1, 2008 after the 2007 general election was coincidental.
The Waki Commission said in 2009 that "the incident which captured the attention of both Kenyans and the world was a deliberate burning of live people, mostly Kikuyu women, and children huddled together in a church" in Kiambaa on 1 January 2008.
In April 2016, the case was abandoned by the International Criminal Court.
Home Attack
On 28 July 2017, It was reported on 28 July 2017, that an unknown gang attacked his house and armed the police officer on duty guarding the residence. He wasn't at home during the incident, as he had left hours earlier for a campaign rally in Kitale.
After 48 hours Kenya police chief Joseph Boinnet announced that the situation is under control and the attacker was shot dead.
Personal Life
Ruto married Rachel Chebet in 1991 and their children's names are Nick Ruto, June Ruto, Charlene Ruto, Stephanie Ruto, George Ruto, Nadia Cherop Ruto, Abby Ruto
Ruto owns a chicken farm in his home village of Sugoi, he also owns Weston hotel and other properties in Kenya.
William Ruto Net Worth
Ruto's net worth is estimated to be about $400 million.
Social Media Handle
Instagram @williamsamoeiruto
Twitter @williamsruto