Akinlade Ogunbiyi is a Nigerian businessman and politician. He is popularly known as the Chairman of Mutual Benefits Assurance PLC. He was formerly a member of the People's Democratic Party (PDP). He is currently a member of the Accord Party (AP), and the party has announced that he will run for governor of Osun State on July 16, 2022.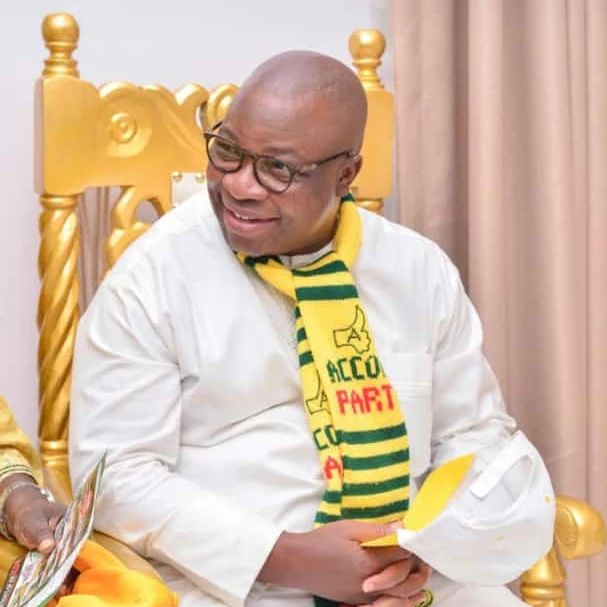 Akin Ogunbiyi Biography
Full Name :

Akinlade Ogunbiyi

Date of Birth :

12 September 1962

State of Origin :

Ile Ogbo, Osun State, Nigeria

Place of Birth :

Osun State, Nigeria

Spouse :

Adedotun Ogunbiyi

Occupation :

Politician, Businessman

Net Worth :

$5 million.

Social Media Handle :

Twitter: AkinOgunbiyi2
Instagram: akinogunbiyi1
Early Life and Education
Akin Ogunbiyi was born on September 12, 1962, in Ile-Ogbo, Osun State. His parents were farmers, and his father served as the chairman of the Trade Association. He had his primary education at Ile-Ogbo Primary School. He then went on to Ile-Ogbo Modern School to finish his high school education. He attended Luther King's College at Ile-Ogbo much later. He took the Unified Tertiary Matriculation Examination (UTME) at the now-named Obafemi Awolowo University in Ile-Ife (OAU).
In order to prepare for the test, he enrolled in the Osun State College of Art and Science, Ile-Ife (OSCARS). From the International Graduate School of Management, University of Navarra (IESE) Barcelona in Spain, he received an Executive Master in Business Administration. Akin earned a degree in history and a master's degree in industrial relations and personnel management from the University of Lagos (UNILAG). Additionally, he went to Lagos Business School and graduated with a PhD in Insurance and Risk Management.
Career
Akin Ogunbiyi is best known as the founder and chairman of Mutual Benefits Assurance Plc. He founded the business on October 2nd, 1995. The company has grown with a variety of products for Nigerians, such as Mutual Benefits Microfinance Bank. The company has developed into one of the country's most competitive insurance firms. The business now has branches and subsidiaries in two African nations.
Akin belongs to the London-based Chartered Insurance Institute. In two sittings, he earned the most distinctions in the professional examination. He attended NICON for his insurance courses, where he was trained to be a professional. Later, he joined the multi-discipline consulting firm, Finance and Insurance Experts Limited. The businessman from Nigeria is a member of the Institute of Directors, Nigeria, the West African Insurance Institute (BAII), and the Risk Managers Society of Nigeria (RMSN).
At the London Insurance Institute, where he is ranked as an Associate, Akinade has earned the highest honour bestowed by the prestigious University of Ife, with "the Commander of Great Ife (CGI)" title. He also sits on the board of directors for Infrastructure Bank Plc.
Political Career
In 2018, Akinlade entered politics and joined the People's Democratic Party (PDP). He ran for the position of governor of Osun State. He lost the election, as Ademola Adeleke got the PDP nomination on July 23, 2018, after outpolling him by seven votes.
Akin has declared his transition from the PDP to the Accord Party. He announced his intention to run for governor of Osun State on July 16, 2022, on the platform of the Accord Party (AP). His running mate is Jimoh Mukaila Adekunle, who is 61 years old. He would be contesting against the likes of Ademola Adeleke of the PDP, Lasun Yusuf of the Labour Party, and Adegboyega Oyetola of the APC in the 2023 Osun State Governorship election.
Political Ambition
Akin Ogunbiyi is dubbed "The Game Changer" in Osun politics because of all of the above and his impressive resume. He has also made it clear when addressing his supporters during a rally in the Ogo-Oluwa area of the state capital by saying that he won't rest until he becomes the governor of Osun state.
2022 Osun State Governorship Debate
During the governorship debate regarding the Osun State governorship election in 2022, he regarded himself as the Obafemi Awolowo of this era, and he promised that he would provide free education, a stronger Amotekun security network, and also create 100,000 jobs for the youths of the state.
Along with Ogunbiyi, senator Ademola Adeleke of the Peoples Democratic Party (PDP) and current governor Adegboyega Oyetola of the All Progressives Congress (APC), who is running for reelection for another four-year term, took their places on stage.
Yusuf Lasun, a former candidate for the House of Representatives deputy speakership; and Dr Oyegoke Omigbodun, a member of the Social Democratic Party (SDP), were also in attendance.
Personal Life
Akin Ogunbiyi is married to Adedotun Ogunbiyi, a businessperson and former teacher. Together, they reportedly have two children.
Awards and Nominations
Achievers Merit Award in Business Frontline in recognition of his philanthropic contribution.
He was honoured with the "OSUN NOBLE SON" award in recognition of his prowess and work for the development of humanity by Concerned Osun State Youth.
Net Worth
According to some online sources, Akin Ogunbiyi is said to be worth $5 million.
Social Media Handle
Twitter: @AkinOgunbiyi2
Instagram: akinogunbiyi1