Alhaji Kareem Adepoju (born January 6, 1945), famously known as "Baba Wande", is a Nigerian film actor, director, scriptwriter, and producer who shot into the limelight in 1993 after he starred as "Oloye Otun" in the movie titled Ti Oluwa Ni Ile. He has, however, been in the theatre industry since 1962, when stage plays were more prominent.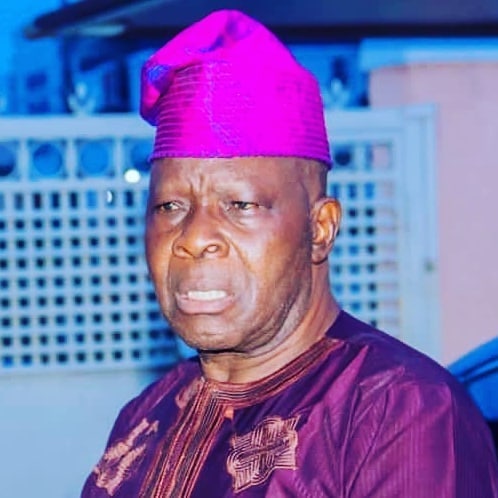 Baba Wande Biography
| | |
| --- | --- |
| Full Name | Kareem Adepoju |
| Popular Name | Baba Wande |
| Date of Birth | January 6, 1945 |
| Nationality | Nigerian |
| Place of Birth | Osogbo, Osun State, Nigeria |
| State of Origin | Osun State, Nigeria |
| Occupation(s) | Actor, film, producer, writer |
| Active Years | 1962–present |
| Net Worth | $50,000. |
| Social Media Handles | Instagram: baba_wande___ |
Early Life and Education
Kareem Adepoju was born on January 6, 1945, in Osun State, Nigeria. He was born into the family of Mr and Mrs Adepoju. There is no information concerning his education in the media. He stated in one of his interviews that he would have become a director or manager in a company if he happened to be educated.
Career
When the Duro Ladipo Theatre Group was founded in 1963, Kareem Adepoju started his professional acting career. He trained under Chief Oyin Adejobi, a Nigerian formal drama artist, for a year before joining the Oyin Adejobi Theatre Group. Baba Wande has played a variety of noteworthy roles on stage and in film over the course of more than four decades.
He eventually rises to prominence as one of the Oyin Adejobi Company's most prized actors. Additionally, he rose to fame by frequently serving as the focal point of the group's epic compositions, such as "Ekuro Olaoja," "Oba Igbalode," and "Kuye." In fact, praise for his achievements was given at the time and is still given today. He continues to be regarded by many as a versatile performer. He is renowned for raising the roof on comedic occasions and for being a delight to watch when the part requires some seriousness.
Baba Wande is a well-known performer with a long list of accomplishments who also likes to read the Holy Quran. In addition to acting in more than 1,000 movies, he has also produced a lot of them. Additionally, he has frequently served as the host of the "Iwa Lesin" Islamic television program.
Actor Baba Wande, who has been active in the business for more than 40 years, claims that building a legitimate film town in Osun State that can be utilised by professionals both inside and outside the state is his greatest professional goal. According to Baba Wande, a facility of this kind (Africa's Academy of Motion Picture Arts and Sciences) will support film production as well as the state's social and political development.
He appeared in a long-time TV show as Kúyẹ̀ in the days of WNTV Ibadan. Kúyẹ̀, as the mute lead boy in the TV adaptation of Baba Adebayo Faleti's eponymous classic novel. Before that, he simply went by Lasebikan in the mid-week series "Kóòtù Ashipa." Then he starred in another made-for-TV movie titled "Èkùrọ́ Ọlọ́ja" as Ayelaagbe or Laagbe for short. He played a usurping villain in it. Then "Ile Tí A Fi Itọ́ Mọ." In it, he was Mr Ọtọkiti.
He has worked with several artists in the movie industry, such as Funke Akindele, Kunle Afolayan, and Moyo Lawal, among others.
Personal Life
Kareem Adepoju, who is known to be a devoted Muslim, is married to two wives and has several children.
Filmography
Oluweri Magboojo
Ti Oluwa Ni Ile
Ayọ Ni Mọ Fẹ
Abeni
Arugba
Igbekun
Òbúko Dúdú
Ika lomo ejo
Enu Eye
Ogójì ojó
Forever Mine
Oba Bi Olorun
Lukosi
Fate of Alakada
Baba Wole
Jelili
Akanni
Eti Keta
Quintessence Owner
Okunkun Biribiri
Otun
Arugba
Aigoro
Obinrin Ale
Baba Jide
Asoko peye
Alagbafo
Awards and Nominations
He received an award for the promotion of the Yoruba language.
Baba Wande Net Worth
He has an estimated net worth of $50,000.
Social Media Handles
Instagram: baba_wande___