Rebecca Akosua Acheampomaa Acheampong (Born 15th August 1984) popularly known as Becca, is an award-winning Ghanaian singer, songwriter, and actress. in 2007, she released a single titled "you lied to me" which earned her five nominations in 2008 at the Ghana Music Awards. She was listed among the Top 30 Most Influential Women in Music by 3Music Awards Women Brunch in 2022. Becca has worked with foreign artistes such as Hugh Masakela, wizkid, MI Abaga and Tiwa savage.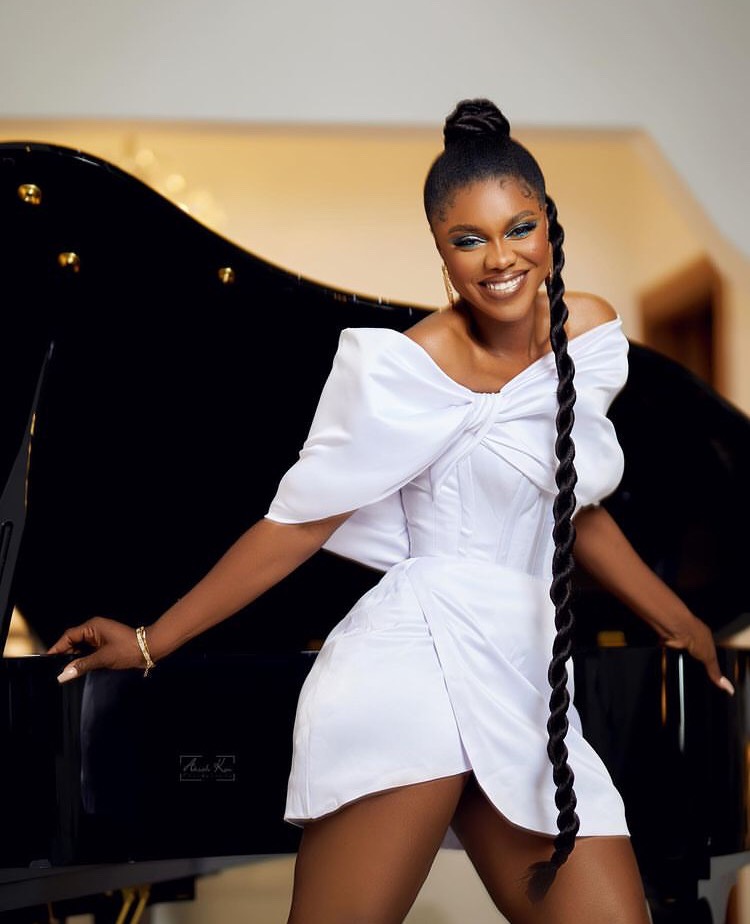 Becca Biography
Full Name :
Rebecca Akosua Acheampomaa Acheampong
Date of Birth :
15 August 1984
Place of Birth :
Kumasi, Ghana
Occupation (s) :
Singer, Songwriter, Actress
Genres :
Afropop, R&B, Highlife
Years Active :
2007 – Present
Social Media Handles :
Instagram @Beccafrica
Twitter @Beccafrica
Early Life And Education
Becca was born and raised in Kumasi, Ghana, into the family of Acheampong, She is the fifth born and first girl out of nine children. She likes going to church and participating in church activities, which was how she began to build her career in music. Becca attended Morning Star and Wesley Girls High School. She proceeded to Croydon College in London and became a child care and education worker.
She returned back to Ghana and studied at the Ghana Institute of Management and Public Administration. She also went to the University of Professional Studies (UPSA) where she obtained her Master of Arts in Brand and Communication Management. Becca was named valedictorian by the University of Professional Studies (UPSA). While in school, Becca participated in different talent shows, which brought her talent out.
Rebbeca signed a record deal with kiki Bensons EKB Records.
Career
Sugar – 2007
Bacca started working on her debut studio album "Sugar" in 2007, and the album comprises 12 songs that were recorded in English and Twi. She released a lead single titled "you lied to me" in early 2007, featuring vocals from Kwabena Kwabena. The single earned her five nominations in 2008 at the Ghana Music Awards. The Music video was shot and directed in Ghana and was released on July 19, 2013. Becca launched her album Sugar in South Africa alongside Hugh Masekela's album Live at the Market Theatre.
Time 4 Me – 2011 till present
On May 2013, Becca released her second studio album Time 4 Me. The album contains 20 songs and features different artists including MI, Akwaboah, Trigmatic, 2face Idibia, Jay Storm, and King Ayisoba. The album contains the singles "Forever", "streets", "Push", "Bad Man Bad Girl", "Stomp it Up", "No Away", "Follow the Leader" and Odo why. She describes the album as a musical journey inspired by her thoughts, emotions, and beliefs.
The music video "PUSH" was uploaded on Youtube on 17 May 2011. And she features a cameo appearance from Yvonmon Nelson, John Dumelo, and Yvonmon Okoro
In February 2012, the album's third single Titled "Bad Man Bad Girl" was released and it was shot in Accra and other parts of Ghana. The MI -assisted track titled "No Away" was released as the fourth single and it was recorded in Nigeria, Ghana, and mixed in South Africa on June 22, 2012.
The music video was shot in South Africa and was uploaded on Youtube at the length of 4 minutes, 11 seconds on August 12, 2012. $50,000 was spent on the video shoot, and the production cost for the video made it one of the most expensive videos that were released by a Ghanaian artist that year. The video was unveiled during a ceremony at the XL Club in Accra.
On 25 June 2013, EKB Records released the music video for her song "Time 4 Me", which was shot in Yokohama and Tokyo. The Album has been certified 2x platinum in Ghana.
Becca was ranked 94 on E.tv Ghana's list of the 100 most influential people in Ghana in 2013.
Bacca released her single titled "Move" featuring vocals by South African group musical group Uhuru debuted on Joy FM in Bola Ray's Drive Time and was produced by Kyawa and written by Kiki Banson and Becca on April 12, 2014.
On May 1st, 2014, The Music video was uploaded on Youtube; it features cameo appearances from Hugh Masekela and Yvonne Chaka Chaka. The song was reviewed by Kwame Dadzie and concluded its Rhythm replica of "KHONA".
In March 2021, she was among the Top 30 Most Influential Women in Music by 3Music Awards Women Brunch.
Artistry, Humanity, and endorsement.
Her style of music and fashion dressing is influenced by her surroundings and upbringing as an African. Becca is not just a singer but she is also a talented actress. She is currently one of the highest-paid female actresses in Africa. She also set up a rescue organization to help HIV/AIDs patients and raise funds for them. She was announced on September 2, 2009, as the new GLO Mobile Ghanabrand ambassador.
Becca became Goodwill Ambassador for Joint United Nations Programme on HIV and AIDS (UNAIDS) in 2014. The Ghana Ministry of Youth and Sports unveiled her as one of Ghana's official ambassadors for the 2014 FIFA World Cup
Noteworthy performances
Becca contested in the screening process of the second edition of the hit singing competition "Mentor" and she is also qualified in the Ashanti Region. She was presented at the 2015 Global Citizen Festival in New York. She never failed to showcase her African identity.
Becca performed at the Accra International Conference Centre for MTN's Heroes of Change television series finale. She shared the stage with producer Kwame Yeboah (and his Ohia beye Ya band) in Accra on July 26, 2013, to celebrate the release of her second studio album Time 4 Me.
On 20 December 2013, she headlined the third edition of the Girl Talk event, which took place at the National Theatre of Ghana, on December 20, 2013.
Personal Life
Becca is married to Oluwatobi Sanni Daniel who is a Nigeria Entrepreneur and artist Manager. Their marriage was held on August 18, 2018. In Accra, Ghana. She gave birth to a baby girl named Eden.
Discography
Studio albums
Sugar (2007)
Time 4 Me (2013)
Unveiling (2017)
Singles
You lied to me
No Away
Nsroma
With you
Number 1
Crazy
Africa woman
Yes I do
Hey Baa
One Desire
Whatever
Sugar
Oh Maria
Mo
Respect of yesterday
You and I.
Net Worth
Becca is one of the richest and most successful female vocalists in Ghana. Her net worth was estimated in 2022 as $7 million.
Social Media Handle
Instagram @Beccafrica
Twitter @Beccafrica