Mohammed Ismail Sherif (Born on January 9, 2002) is popularly known as Black Sherif, people also call him Blacko and Kwaku Frimpong. He is a Ghanaian Musician, rapper, singer, dancer, and performer from Konongo. Black sheriff has gone too deep in the music genre and also fuses with rap and singing. In 2021.
He first came into the limelight after his hit single "Cry For Me". In December 2021, he released his hit single Second Sermon remix featuring Grammy award-winning Burna Boy. He dropped a new single in march 2022 "Kwaku The Traveller" which turned out to be another hit jam.  He won the Male Vocal Performance of the Year at the 2022 Ghana Music Awards.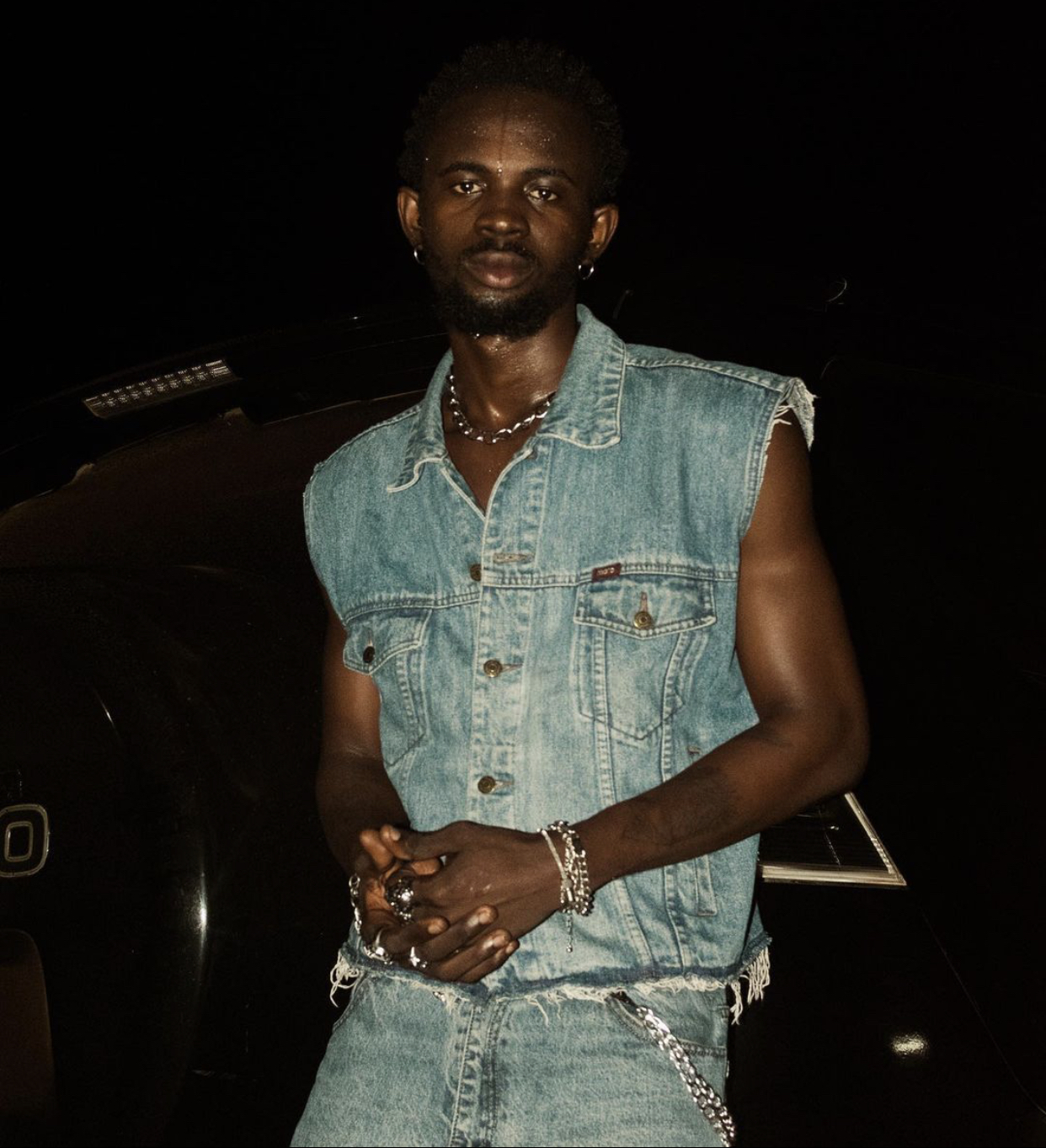 Black Sherif Biography
Full Name :

Mohammed Ismail Sheriff

Stage Name :

Black Sherif

Date of Birth :

January 9, 2002

Place of Birth :

Konongo

Nationality :

Ghana

Occupation (s) :

Musician, Rapper

Genres :

Drill music, Rap, Hip hop

Active Year :

2019 – Present

Label :

RBA

Net Worth :

$50,000

Social Media Handle :

Instagram @Blacko
Twitter @Blacksherif
Facebook Black Sherif
Youtube- Black Sherif Music
Early Life
Mohammed Ismail Sherif Kweku Frimpong, also known as Black Sherif, was born and raised in Konongo, to Mr. Frimong and Mrs. Ante Marie, in his Islamic hometown in Ashanti Region. At the age of 10, Black Sheriff stays with his auntie and other relatives as both of his parents stay overseas.
He spent his young age in the Konongo community where he was exposed harrowing lifestyle as the area was a ghetto. While in the ghetto, he grew up to genre like Afrobeat from Nigerian and Ghanaian artists via radio, this started having an interest in music and he began rapping and doing freestyle in his neighborhood and school.
He became a little popular in the community and started participating in talent show contests in Konongo. Black Sherif was a dancer at an early age but stopped after developing an interest in music.
He became a very popular teenager in Konongo, and his notoriety spread to other regions of Kumasi.
Education
Black Sherif finished his primary education in an Islamic school in Kononko-Zongo and completed his secondary school education at Kumasi Academy, in 2019.
He gained admission into the University of Professional Studies ( UPSA) to study statistics; however, he quit, and in January 2022, he made an announcement that he had gained admission into the University of Ghana (UG) to study marketing.
Career
Black Sherif began his career as a dancer. However, he gave up the goal to pursue music while he is still in secondary school. His interest in music kept growing day by day, and when he decided to release a single, he started using his free period in school to write songs and look for a studio to record music.
Shortly after graduating from secondary school in 2019, Black Sherif released a single titled "Cry For Me" which gave her some attention in the Ghanaian music industry. He started gaining fans with the song, and people started paying attention to his music.
He did not stop as he released another song titled "Money" in 2020, the hit single gave her national awareness as many countries in west Africa including Nigeria started to listen to the hit, and put it on repeat.
The single received massive airplay and Sherif became a famous artist in ghana and Africa, ever since then, he has become one of the most talented young rappers in Africa and dropping songs back to back.
In May 2021, Black Sherif did it again, as he released another hit song, First Sermon, which helped him achieve a major breakthrough by introducing him to the continent of Africa and being recognized by Hammer, Sarkodie, and several popular Ghanaian musicians. A few weeks after, he dropped the follow-up single, Second Sermon.
The Second Sermon caught the attention of one of the top African and Nigerian artists, Burna Boy, who then featured in the Second Sermon remix, which was released on December 8, 2021. The remix gained massive attention and turned out to be one of the best songs in Nigeria and Ghana for 2021 as it rose to the top of the music charts. The music video was released in February 2022.
Due to this success, he was called to perform at the 2021 MTN FA Cup final match between Accra Heart of Oak and Ashanti Gold SC in Ghana.
On March 31, 2022, Black Sherif released a new banger titled "Kwaku The Traveller," which turned out to be a massive hit. The single reached number 1 on the Ghanaian and Nigerian Apple Music charts, which set him a record as the first Ghanaian artist to have a solo single on the Nigeria Apple Music Chart.
The young star rapper performed to an excited audience at the 3Music Awards ceremony in Ghana in March 2022.
Controversies
In May 2022, the Black Sherif, together with Smallgod, Stonebwoy, and Amaarae, met with Kendrick Lamar when he visited Ghana and held a private album party in Accra.
Black Sherrif has been sued on April 11, 2022, for an alleged breach of contract by the CEO of Wayne's Chavis Consult. He was accused of abandoning Shadrach Agyei Owusu after he invested in his career. Owusu has filed a court case requesting that the court grant him about four relives. However, the Accra High Court (Commercial Division) prevented Black Sherif from performing music he released in his old age.
Personal Life
Black Sheriff stated that he wants to focus more on his career and studies, so, for now, he has no time for girls. He is currently single but hoping to have his own family one day. He has been friends with Nigerian popular dancer poco Lee who introduced him to Burna Boy and led to their collaboration on the " second Sermon Remix".
Discography
Kwakiutl The Traveller
Second Sermon (Remix)

Second SermonDestiny

First Sermon
Money (Remix)
Money
Cry for Me
Antonam
Samir Kinidi
Gold Digger
Ade Akye
Awards
| Year | Award | Category | Result |
| --- | --- | --- | --- |
| 2022 | Entertainment Achievement Awards | Entertainment Personality of the Year | Won |
| 2022 | 3Music Awards | Hip hop song of The Year | Won |
| 2022 | 3Music Awards | Breakthrough Act of The Year | Won |
| 2022 | 3Music Awards | Hip life/Hip hop Artiste of The Year | Won |
| 2022 | 3Music Awards | Song of the Year | Won |
| 2022 | 3Music Awards | Artiste of the Year | Nominated |
| 2022 | Ghana Music Awards | Artiste of the Year | Nominated |
| 2022 | Ghana Music Awards | Vodafone Most Popular Song | Nominated |
| 2022 | Ghana Music Awards | Best New Artiste | Won |
| 2022 | Ghana Music Awards | Best Hip life/Hip pop Artiste | Nominated |
| 2022 | Ghana Music Awards | Best Hip pop Song | Won |
| 2022 | Ghana Music Awards | International Collaboration of the Year | Nominated |
| 2022 | Ghana Music Awards | Male Vocal Performance of the Year | Nominated |
Black Sheriff Net Worth
Black Sherif is one of the most successful young musicians in Ghana. His net worth was estimated at $120,000.
Social Media Handle
Black Sheriff currently has over 800k followers on Instagram and 363k on Twitter.
YouTube: Black Sherif Music