Busari Omotola Adeyinka, known for the Tolagrafik brand, is a multifaceted brand identity designer, digital entrepreneur, and content developer. He was born on the 19th of May in Ejioku, a peaceful town in Ibadan, Oyo State, Nigeria. He is both an aesthete and a literarian.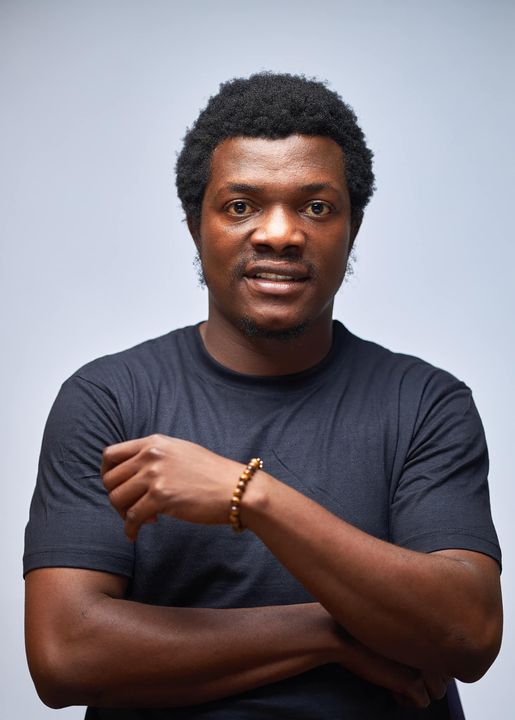 Busari Omotola Adeyinka Biography
| | |
| --- | --- |
| FULL NAME : | Busari Omotola Adeyinka |
| NICKNAME : | Skenpo |
| PLACE OF BIRTH : | Ibadan, Nigeria |
| OCCUPATION : | Brand Identity Designer | Web Entrepreneur | Content Writer |
| SPOUSE : | Adewale Yetunde |
Early Life
Tola's love of art derives from a wonderful childhood in which he was enthralled by his memories of nighttime folktales and visual arts that took place in his surroundings. He derived his rudimental inspiration from his prenatal surroundings as well as from his father's intrinsic expertise as an excellent artist, having been born in a magical town.
He was fortunate to have a father who dreamed of beautiful things and painted them on canvas, and he was also fortunate to see him drawing with pencils most of the time in the living room. With such a strong parental tie and his father being an art aficionado, he began to put his pencil hand to the test in kindergarten.
Education
Tola began his artistic journey earlier than planned when he was seven years old. He used his imaginative fascination with nature to subjectify things he observed into compelling drawings, adding art to everything he learned. Tola, like many other children, needed an educational impact to realize his dreams. Thus, he began his path by enrolling in Funmiso Nursery School, where he received an elementary school certificate. Later, he attended St. Anthony Primary School in Ejioku, as well as Community Grammar School in Lalupon, Ibadan. He didn't let his love of art condemn him to obscurity throughout those years.
Tola relocated to Ogbomosho in Oyo State in 2007 to hone his design abilities before enrolling in tertiary school, and he later devoted himself to graphic design under the tutelage of Mr. Ladipupo. Then, after figuring out the best way to combine his designs and artwork, he transformed them into a logo and brand identity, which he successfully implemented.
Despite his ambition to pursue Fine and Applied Arts, or Architectural Design at Ladoke Akintola University of Technology (LAUTECH), Ogbomosho, he was not considered for admission. Tola got admission to Osun State Polytechnic, Iree, to study Computer Engineering in 2008. As such, his passion for graphics and art grew even stronger. He used his visual skills to extend his horizons and make his goals relevant during his school years. He also handled some low-level computer work for small businesses. As a result, he improved his skills.
Career
After obtaining a National Diploma in 2011, Tọla completed his industrial training, then worked as a graphic artist in Ikire before relocating to Lagos to work as a graphic operator. While in Lagos, he worked assiduously to enhance his skills and also to be versatile in a variety of tasks.
Tọla officially began his graphic design career at RedArk Media Lagos in 2013, where he was recruited as a graphic artist. He worked at RedArk Media for two years before he resigned in 2015 for some considerable reasons, which do not pertain to monetary discontent.
After leaving RedArk Media, Omotọla began freelance entrepreneurship for companies, where he oversees initiatives for foreign and domestic brands. This greatly helped him in terms of exposure to new cognitions, and it also provided an opportunity for him to make the most of his time.
His resignation also prompted him to return to school, which resulted in him earning a Higher National Diploma in 2019. It has also given him time to establish a creative studio, Tola Studios, where he sublimely manages most of the branding projects, logos, and web designs, trains other prospective graphic artists, and toils at different services.
Tọla is the creator of Adire textile art—Adire By RADE, a company that develops Adire variegated fabrics. As a web entrepreneur, he is the owner of Hub201 Media and the initiator of Odoori Market, an e-trade platform that aims to make trade and business accessible for Africans far and wide. He is one of the pioneers of Creative Hangout, a community of designers, creative legends, techies, and art connoisseurs. Tọla is also a political enthusiast and a humanitarian.
Tola is also a political enthusiast and a humanitarian. His altruistic nature is what inspired him to establish the Omotola Adeyinka Busari (OAB) foundation. A non-profit and non-governmental organization that helps the disempowered and underprivileged masses in the community. He is also the discoverer of Iwo Vendors. A network of businesspeople that connects entrepreneurs to economic opportunities, shares ideas, and provides development services to help them build their businesses. By making it easier for commoners to trade and helping people through his foundation, he demonstrates his altruism for humanitarian projects.
Awards & Nominations
He received the Rotaract Humanitarian Service Award in Osun State, as well as the 2021 NGD (Naija Graphic Designers) Community Award of Excellence, and several other honors.
Personal Life
He has two adorable children and a beautiful wife.
Omotola is one of the most successful graphic designers in Nigeria, and his life has been a blessing to many other upcoming entrepreneurs. We wish him the greatest in his career.