Chimamanda Ngozi Adichie is a Nigerian writer whose works include novels, short stories and nonfiction. She was said to be "the most prominent" of a "procession of critically praised young anglophone authors succeeding in introducing a new generation of readers to African literature", particularly in her second country, the United States, in The Times Literary Supplement.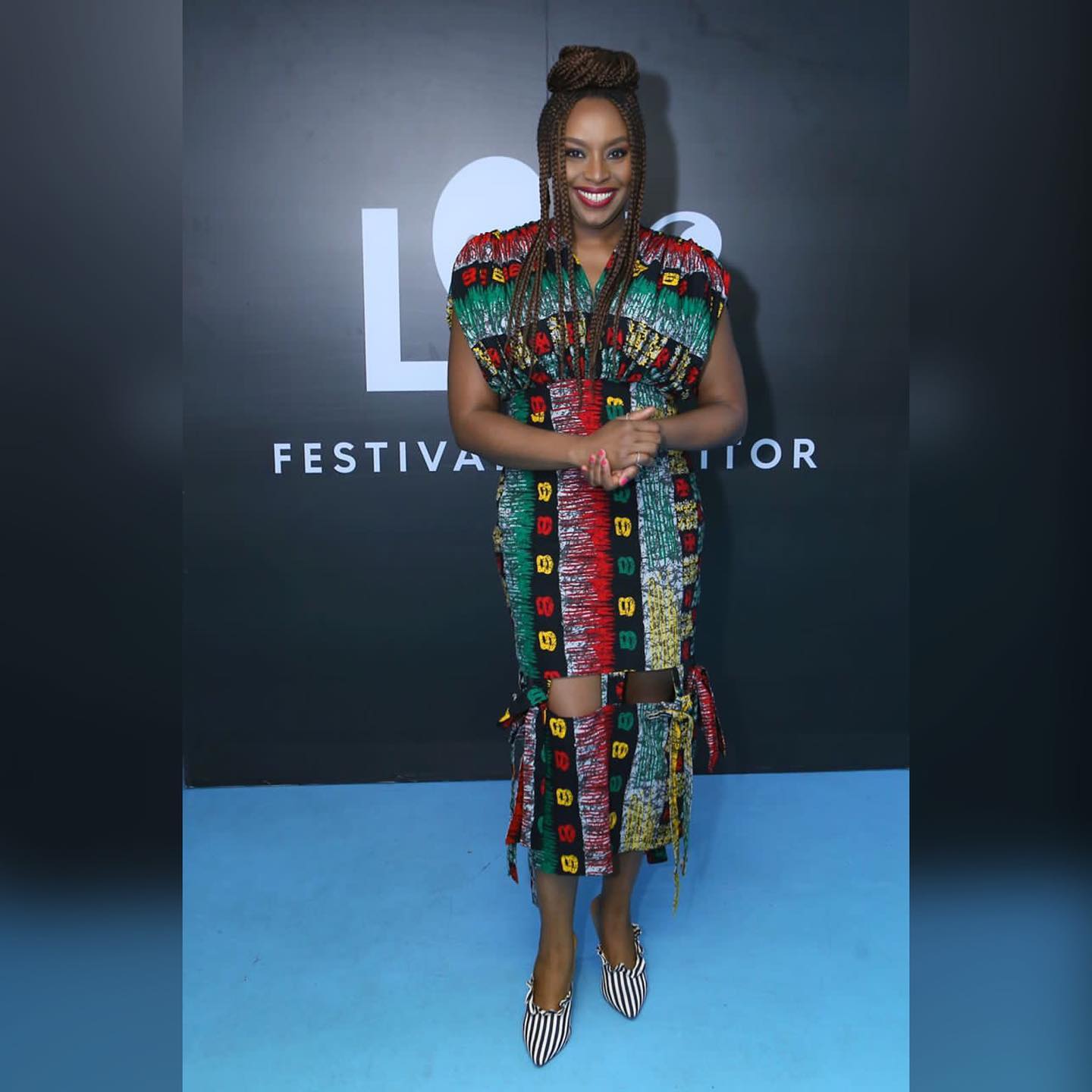 Chimamanda Ngozi Adichie Biography
Full Name :

Chimamanda Ngozi Adichie

Pen Name :

Amanda N. Adichie

State Of Origin :

Anambra State, Nigeria.

Place Of Birth :

Enugu State, Nigeria

Date Of Birth :

15 September 1977

Occupation :

Novelist, Writer, Storytelling

Spouse :

Ivara Esege

Nationality :

Nigerian-American

Notable Works :

Purple Hibiscus (2003)
Half of a Yellow Sun (2006)
Americanah (2013)
We Should All Be Feminists (2014)

Net Worth :

Unknown

Social Media Handle :

Instagram: chimamanda_adichie
Twitter: @ChimamandaReal
Early Life and Education
Adichie was the fifth of six children. She was born on September 15, 1977, into an Igbo household in the Nigerian city of Enugu. She was raised in the Enugu State university town of Nsukka. Her father, James Nwoye Adichie (1932–2020), was a professor of statistics at the University of Nigeria when she was a child. Grace Ifeoma, who served as the university's first female registrar from 1942 to 2021, was her mother. Her paternal and maternal grandparents were among the members of the family who practically lost everything during the Nigerian Civil War. Abba is the ancestral home of her family in the state of Anambra.
At the University of Nigeria Secondary School in Nsukka, where Adichie finished her secondary education, she won numerous academic honours. She spent a year and a half at the University of Nigeria studying pharmacy and medicine. She was the editor of The Compass, a publication maintained by the university's Catholic medical students, during this time.
Adichie moved from Nigeria to the United States at the age of 19 to attend Drexel University in Philadelphia, Pennsylvania, to study political science and communications. She changed schools to ECSU in order to be close to her sister Uche, who worked as a doctor in Coventry, Connecticut. In 2001, she graduated with a bachelor's degree from ECSU.
Adichie earned her master's in creative writing from Johns Hopkins University in 2003. She graduated from Yale University with a Master of Arts in African Studies in 2008.
Adichie has received honorary doctorates from 16 universities, including Yale University, the University of Pennsylvania, the University of Edinburgh, Duke University, Georgetown University, Johns Hopkins University, and the Catholic University of Louvain, where she received her 16th on April 28, 2022.
Adichie spent the 2005–2006 academic year at Princeton University as a Hodder fellow. She received a MacArthur Fellowship in 2008. She received a fellowship from Harvard University's Radcliffe Institute for Advanced Study for the academic year 2011–2012.
Career
After reading Chinua Achebe's 1958 novel "Things Fall Apart" at the age of 10, Ngozi Adichie was first and foremost influenced by it. Adichie was motivated by seeing her own life reflected in the book's pages. She also cited Nigerian author Buchi Emecheta as an inspiration, noting these words about Emecheta's passing: "Emecheta Buchi." You spoke first, so we can now talk. I appreciate your bravery. I appreciate your artwork, Nodu na ndokwa. Adichie has also mentioned "The African Child by Camara Laye" and the 1992 anthology Daughters of Africa, edited by Margaret Busby, as key readings.
Under the name Amanda N. Adichie, Adichie wrote a book of poems in 1997 called Decisions and a drama titled For Love of Biafra in 1998. When Adichie was a high school senior living in Connecticut, she wrote the short story "My Mother, the Crazy African," which explores the difficulties that might develop when a person is confronted with two cultures that are diametrically opposed to one another. On the one hand, traditional Nigerian society clearly delineates gender roles, whereas in America, there is more latitude for gender expression and fewer constraints on younger people. The protagonist, Ralindu, and her parents must overcome this obstacle because she was raised in Philadelphia while her parents were in Nigeria.
She was nominated for the Caine Prize for African Writing in 2002 for her short story "You in America," and the 2002 BBC World Service Short Piece Awards named her story "That Harmattan Morning" a joint winner. She was awarded the 2002–2003 David T. Wong International Short Story Prize and the PEN Centre Award in 2003. Additionally, Topic Magazine and Zoetrope: All-Story both featured her stories.
Purple Hibiscus, her debut book, was widely praised by critics and won the Commonwealth Writers' Prize for Best First Book in 2004. It was also shortlisted for the Orange Prize for Fiction in 2004. (2005).
Half of a Yellow Sun (2006), the title of her second book, is set before and during the Nigerian Civil War and is inspired by the flag of the ill-fated country of Biafra. Destination Biafra by Buchi Emecheta, published in 1982, was crucial for Adichie's research while she was writing Half of a Yellow Sun. Half of a Yellow Sun was given the Anisfield-Wolf Book Award and the Orange Prize for Fiction in 2007. The 2014 adaptation of Half of a Yellow Sun, directed by Biyi Bandele and starring BAFTA and Academy Award contender Chiwetel Ejiofor and BAFTA winner Thandiwe Newton, was based on the novel of the same name.
The Thing Around Your Neck, Adichie's third book, is a collection of 12 short stories that examine the relationships between men and women, parents and children, and America and Africa. She was one of the authors included in The New Yorker's "20 Under 40" Fiction Issue in 2010. The Best American Short Stories from 2011 featured Adichie's piece "Ceiling."
The investigation of a young Nigerian woman's encounter with race in America in her third book, Americanah (2013), was named one of "The 10 Best Books of 2013" by The New York Times. She was selected as one of the 39 authors under 40 in the Hay Festival and Rainbow Book Club project Africa39, honouring Port Harcourt as the UNESCO World Book Capital, in April 2014.
Regarding feminism and writing, Adichie stated in a 2014 interview: "Though I consider myself a storyteller, I wouldn't object in the slightest if someone perceived me as a feminist author." I have a very feminist perspective on the world, so my work must somehow reflect that perspective. She co-curated the PEN World Voices Festival in 2015. The "One Book, One New York" programme, a component of a community reading campaign encouraging all city residents to read the same book, selected Americanah as the winner in March 2017.
One of the highest honours for intellectuals in the United States, the American Academy of Arts and Sciences, revealed in April 2017 that Adichie had been elected as one of 228 new members to be admitted on October 7, 2017, into its 237th class. Zikora is a standalone short tale by Adichie about sexism and being a single mother, was published in 2020. Half of a Yellow Sun was chosen by the general audience in November 2020 as the best work of fiction to have won the Women's Prize for Fiction in its 25-year existence.
Notes on Grief, Adichie's memoir of her father's passing, was published in May 2021. It is based on an essay with the same name that was published in The New Yorker in September 2020. Her comments, as described by the reviewer for The Independent, "Her words put a welcome, authentic voice to this most universal of emotions, which is also one of the most universally avoided."
Personal Life
Adichie is married to a Nigerian doctor, Ivara Esege, in 2009. They have a daughter, who was born in 2016 together. Adichie splits her time teaching writing seminars in Nigeria and the United States.
Controversies
Religion
Adichie is a Catholic and was brought up in a Catholic home, but she feels that occasionally her opinions, particularly those on feminism, are at odds with her religion. She claimed that religion "is not a women's-friendly institution" and "has been used to justify oppressions that are based on the premise that women are not equal human beings" during a Georgetown University event in 2017. She has urged Nigerian Muslim and Christian leaders to spread messages of harmony and peace. She has identified as culturally Catholic and formerly as an atheist while raising her daughter in the Catholic faith. However, as a guest at a recent Humboldt Forum, she revealed that she had converted back to the Catholic faith.
Race
Adichie was raised in Nigeria and was not used to being recognised by the colour of her skin; this only started to happen when she moved to the US for college. Adichie had to deal with what it meant to be a person of colour in America as a black African living there. She had to navigate and learn about the concept of race. This is a topic she covers in her 2013 book, Americanah.
LGBT Rights Advocacy
Adichie is an advocate for LGBT rights in Africa. In 2014, when Nigeria passed a law against homosexuality, she was one of the Nigerian writers who criticised the law, calling it unconstitutional and "a strange priority for a country with so many real problems." She also argued that since consensual homosexual conduct between adults does not constitute a crime, the law is unjust because it criminalises it. Binyavanga Wainaina, a Kenyan author who was openly gay, was also good friends with Adichie. When he passed away on May 21 in Nairobi following a stroke, Adichie wrote in her eulogy that she was having trouble controlling her sobs.
Adichie has received numerous transphobic accusations since 2017, originally for declaring that "my feeling is that trans women are trans women." Later, Adichie corrected what she had stated, writing: "Maybe I should have added that all women—trans women included—are women, cis women are women, and all women are women." However, the word "cis" does not naturally occur in my lexicon. Most people most likely wouldn't understand it. Since my purpose wasn't to elevate one or the other, using the terms "trans" and "cis" acknowledges the distinction between women who transition and women who are born that way. I have defended the rights of transgender people and will do so in the future.
J. K. Rowling's essay, "J. K. Rowling Writes on Her Reasons for Speaking up on Sex and Gender Issues," ignited "all the hubbub" in 2020, and Adichie joined in, calling the piece "absolutely logical." Once more, Adichie was accused of transphobia; part of these allegations came from the Nigerian novelist Akwaeke Emezi, a former student of Adichie's writing workshop. Adichie criticised cancel culture in response to the outcry, saying: "In certain ways, you aren't permitted to develop intellectually and personally." Additionally, forgiving is not an option. It seems to me to be so deficient in empathy.
Adichie also criticised cancel culture in an essay from June 2021 titled "It Is Obscene," when she spoke with two unidentified writers who had taken her writing course and had later criticised her on social media for remarks she had made regarding transgender people. Their "passionate performance of virtue that is well accomplished in the public realm of Twitter but not in the personal space of friendship," as she put it, was "obscene," according to her.
Lectures
In 2009, Adichie spoke at TED on the topic "The Danger of a Single Story." With over 27 million views, it has risen to the top of the all-time most-watched TED Talks. She gave the "Connecting Cultures" Commonwealth Lecture on March 15, 2012, in London's Guildhall. In her address "We should all be feminists" for TEDxEuston in December 2012, Adichie also discussed being a feminist. It sparked a feminist debate on a global scale and was turned into a book in 2014, which has reportedly sold 750,000 copies in the United States alone. It gained more notoriety after American singer Beyoncé used a sample of it in the 2013 song "Flawless."
The Danger Of A Single Story
Adichie discussed the underrepresentation of many cultures in a TED talk titled "The Danger of a Single Story," which was published in July 2009. She added that when she was a young girl, she used to read a lot of American and British books where the majority of the characters were of Caucasian descent. She argued throughout the speech that the underrepresentation of cultural diversity can be harmful. Adichie noted the value of many stories in various cultures and the need for representation as she closed her speech. Because individuals are multifaceted, she argues for a deeper knowledge of stories, claiming that by doing so, one misinterprets people, their origins, and their histories. Since 2009, she has revisited the topic when speaking to audiences, such as at the Hilton Humanitarian Symposium of the Conrad N. Hilton Foundation in 2019.
We Should All Be Feminists
More than five million people have seen Adichie's TEDx lecture from 2012, "We Should All Be Feminists," which she gave at TedXEuston in London. She discussed her thoughts on gender construction and sexuality as well as her experiences as an African feminist. According to Adichie, the issue with gender is that it determines who we are. And she added, "I'm enraged." The way gender is structured today is a serious injustice. We ought to be furious. In addition to being angry, I'm also hopeful because I have a strong belief in people's ability to change for the better. Historically, anger has been known to bring about constructive change. In an interview with BBC News on December 8, 2021, Adichie was asked about the duty of being a feminist icon. She said she preferred to define her responsibility for herself but was okay with using her platform to advocate for others. She also discussed women's right to express rage since it inspires action.
Flawless Song
Beyoncé sampled parts of Adichie's TEDx lecture for her song "Flawless" in December 2013. We Should All Be Feminists, a stand-alone book by Fourth Estate that contained an article based on the lecture, was released in 2014. "Anything that gets young people talking about feminism is a very good thing," Adichie subsequently stated in an interview with NPR. In a follow-up interview with the Dutch daily De Volkskrant, she clarified the statement, saying, "Another thing I despised was that I read everywhere: now people know her, owing to Beyoncé, or: she must be extremely thankful." That was disappointing to me. I reflected, "I am a writer, and have been for some time." I refuse to participate in this act that is now reportedly expected of me: 'Thanks to Beyoncé, my life will never be the same again.' That's why I didn't speak about it much.
Adichie has made it clear that her brand of feminism is distinct from Beyoncé's, especially when it comes to their divergent views on the place of men in women's lives, saying: "Although I don't like her style, I do find it interesting that she has started to speak out about political and social issues in recent years." She presents a woman who has girl power, is in charge of her own fate, and does what she wants. That has my undivided attention. Adichie, however, has been vociferous in response to those who have questioned the singer's feminist credentials, saying: "Whoever says they're feminist is bloody feminist."
Books
| | | | | |
| --- | --- | --- | --- | --- |
| Year | Title | Publisher | ISBN | Notes |
| 1997 | Decisions | Minerva Press (London) | ISBN 9781861064226 | Poetry |
| 1998 | For the love of Biafra | Spectrum Books (Ibadan) | ISBN 978978029032020 | Play |
| 2003 | Purple Hibiscus | 4th Estate (London) | ISBN 9780007189885 | Novel |
| 2006 | Half of a Yellow Sun | 4th Estate (London) | ISBN 9780007200283 | Novel |
| 2009 | The Thing Around Your Neck | 4th Estate (London) | ISBN 9780007306213 | Short story collection |
| 2013 | Americanah | Alfred A. Knopf (New York) | ISBN 9780307271082 | Novel |
| 2014 | We Should All Be Feminists. | 4th Estate (London) | ISBN 9780008115272 | An Essay (excerpt in New Daughters of Africa, ed. Margaret Busby, 2019). |
| 2017 | Dear Ijeawele, or A Feminist Manifesto in Fifteen Suggestions | 4th Estate (London) | ISBN 9780008275709 | Essay |
| 2019 | Sierra Leone, 1997. | Black Ballon, an imprint of Catapult | ISBN 9781936787791 | The story in the book Eat Joy-Stories & Comfort Food from 31 Celebrated Writers, collected by Natalie Eve Garrett |
| 2021 | Notes on Grief | 4th Estate (London) | ISBN 9780593320808 | Memoir |
Short Fiction
| | | |
| --- | --- | --- |
| Year | Title | First published |
| 2013 | "Checking Out" | "Checking out". The New Yorker. Vol. 89, no. 5. March 18, 2013. pp. 66–73. |
| 2015 | "Apollo" | "Apollo". The New Yorker. Vol. 91, no. 8. 13 April 2015. pp. 64–69. |
| 2016 | "The Arrangements: A Work of Fiction" | "'The Arrangements': A Work of Short Fiction". The New York Times Book Review, July 3, 2016. |
| 2020 | "Notes on Grief" | "Notes on Grief". The New Yorker, September 10, 2020. |
| 2020 | "Zikora" | Amazon Original Stories |
Awards and Nominations
Adichie is a well-decorated writer, and she has several awards and nominations to her name. Some of which are below.
2019: Kasseler Burgerpreis "Prism of Reason" Award
2018: PEN Pinter Prize
2017: Grand Prix de l'Hérone Madame Figaro (nonfiction) for Dear Ijeawele
2015: Winner of the 'Best of the Best' of the second decade of the Baileys Women's Prize for Fiction (formerly the Orange Prize for Fiction) for Half of a Yellow Sun
2015: Girls Write Now Awards Groundbreaker honoree
2014: Baileys Women's Prize for Fiction (shortlist)
2013: National Book Critics Circle Award
2013: Chicago Tribune Heartland Prize for Fiction
2011: ThisDay Award: "New Champions for an Enduring Culture"
2010: Commonwealth Writers Prize (Africa Region, Best Book)
2010: Dayton Literary Peace Prize (US)
2009: John Llewellyn-Rhys Memorial Prize
2009: International Nonino Prize
2008: British Book Awards: Author of the Year
2008: MacArthur Foundation 'genius' grant
2007: PEN 'Beyond Margins' Award 2007, for Half of a Yellow Sun
2007: Anisfield-Wolf Book Award
2007: British Book Awards, Richard & Judy Best Read of the Year
2007: Commonwealth Writers' Prize (Africa Region, Best Book)
2007: James Tait Black Memorial Prize (for fiction)
2007: Orange Broadband Prize for Fiction
2006: National Book Critics' Circle Award (USA)
2005: Commonwealth Writers Prize (Overall Winner, Best Book)
2004: Hurston/Wright Legacy Award
2004: John Llewelly-Rhys Memorial Prize
2004: Orange Prize for Fiction
2004: YALSA Best Book For Young Adults Award
2003: O Henry Short Story Prize
2002: BBC Short Story Competition
2002: Caine Prize for African Writing
2002: Commonwealth Short Story Competition
2002: David Wong Award
Other Recognition
2010 Listed among The New Yorker's "20 Under 40"
2013 Listed among The New York Times "Ten Best Books of 2013 for Africannah."
2013 Listed among the BBC's "Top Ten Books of 2013", for Americanah
2013 Foreign Policy magazine "Top Global Thinkers of 2013"
2013 Listed among the New African's "100 Most Influential Africans 2013"
2014 Listed among Africa39 project of 39 writers aged under 40
2015 Listed among Time Magazine's "The 100 Most Influential People"
2015 Commencement Speaker at Wellesley College
2017 Commencement Speaker at Williams College
2018 Class Day Speaker for Harvard University
2019 Class Day Speaker for Yale University
Adichie was one of 15 women selected to appear on the cover of the September 2019 issue of British Vogue, guest-edited by Meghan, Duchess of Sussex.
Adichie was cited as one of the Top 100 most influential Africans by New African magazine in 2019.
Chimamanda was also elected in March 2017 to the American Academy of Arts and Letters. This made her the second Nigerian to be given such an honour, after Prof. Wole Soyinka. She was listed among the 40 honorary members from 19 countries.
Net Worth
Her net worth is currently unknown.
Social Media Handle
Instagram: chimamanda_adichie
Twitter: @ChimamandaReal