Cyprian Odiatu Duaka Ekwensi (26 September 1921 – 4 November 2007) was a Nigerian teacher, pharmacist, broadcaster, and author of novels, short stories, and children's fiction books. He was popularly known as the son of an elephant hunter and also for his numerous notable works of art.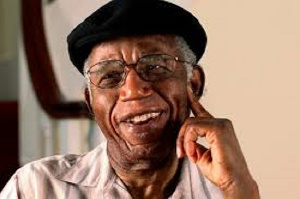 Cyprian Ekwensi Biography
| | |
| --- | --- |
| Full Name | Cyprian Odiatu Duaka Ekwensi |
| Pen Name | Cyprian Ekwensi |
| Date of Birth | 26 September 1921 |
| Death | 4 November 2007 |
| Nationality | Nigerian |
| Place of Birth | Minna, Niger State, Nigeria |
| Occupation(s) | Pharmacist, Broadcaster, Author |
| Genres | Short stories and children's fiction |
| Spouse | Eunice Anyiwo, Maria Chime |
| Net Work | Unavailable |
| Social Media Handles | Unavailable |
Early Life and Education
Cyprian Ekwensi was born on September 26, 1921, in Minna, Niger State, but hails from Nkwelle Ezunaka in Oyi local government area, Anambra State, Nigeria. He was born to Mr David Anadumaka, a storyteller and elephant hunter.
Cyprian traversed various institutions of learning during his educational sojourn, where he attended Government College, Ibadan, Oyo State; Achimota College, Ghana; and the School of Forestry, Ibadan, after which he worked for two years as a forestry officer. He also studied pharmacy at Yaba Technical Institute, Lagos School of Pharmacy, and the Chelsea School of Pharmacy of the University of London.
Career
Cyprian Ekwensi started his career when he worked as a forestry officer at the Forestry Research Institute of Nigeria in Ibadan and later worked as a teacher at Igbobi College. During the First Republic, Ekwensi worked for the Ministry of Information and the Nigerian Broadcasting Corporation (NBC) as Head of Features; he later rose to the position of Director. Before the Civil War, in 1966, he left his job and relocated to Enugu with his family. Prior to Biafra's reabsorption by Nigeria, he later held the position of chair of that country's Bureau for External Publicity.
Numerous novels, including children's books, as well as radio and television screenplays, and hundreds of short tales, were written by Ekwensi. People of the City, published in 1954, was his first work to receive widespread acclaim. Based on the life of Benjamin "Kokoro" Aderounmu, his 1960 novel Drummer Boy was a sharp and moving portrayal of the wandering, homeless, and impoverished existence of a street artist. Jagua Nana (1961), about a Pidgin-speaking Nigerian woman who leaves her husband to work as a prostitute in a metropolis and falls in love with a teacher, was his most popular book. Jagua Nana's Daughter is a sequel to this that he also wrote.
In essence, Burning Grass (1961) is a compilation of short stories about the Fulani family. The insight it provides into the way of life of these pastoral people is its main contribution, which is based on a genuine family he had previously shared housing with. Ekwensi released at least one significant work annually between 1961 and 1966. The novels Beautiful Feathers (1963) and Iska (1966), as well as the two collections of short tales, Rainmaker (1965) and Lokotown (1966), were the most significant of these. The novels Divided We Stand (1980), the novella Motherless Baby (1980), The Restless City and Christmas Gold (1975), Behind the Convent Wall (1987), and Gone to Mecca (1991) are some of Ekwensi's later works. He continued to publish well into the 1960s.
Personal Life
Ekwensi was married to Eunice Anyiwo, and the marriage was blessed with five kids. He has a large number of grandkids, the eldest of whom is Adrianne Tobechi Ekwensi, and whose son, Cyprian Ikechi Ekwensi, bears his grandfather's name. On November 4, 2007, Ekwensi passed away at the Niger Foundation in Enugu, where he had had surgery for an unidentified condition. The Association of Nigerian Authors (ANA), which had planned to honour him on November 16, 2007, changed the recognition into a posthumous award.
Bibliography
Books
When Love Whispers (1948)
An African Night's Entertainment (1948)
The Boa Suitor (1949)
The Leopard's Claw (1950)
People of the City (London: Andrew Dakers, 1954). (This novel has been translated into Sinhala by Kumudu Champike Jayawardana.
The Drummer Boy (1960)
The Passport of Mallam Ilia (written in 1948, and published in 1960)
Jagua Nana (1961)
Burning Grass (1961)
An African Night's Entertainment (1962)
Beautiful Feathers (novel; London: Hutchinson, 1963)
Rainmaker (short stories; 1965).
Iska (London: Hutchinson, 1966).
Lokotown and Other Stories (Heinemann, 1966).
Restless City and Christmas Gold (1975).
Divided We Stand: a Novel of the Nigerian Civil War (1980)
Motherless Baby (Nigeria: Fourth Dimension Publishing Company, 1980).
Jagua Nana's Daughter (1987)
Behind the Convent Wall (1987)
The Great Elephant Bird (Evans Brothers, 1990)
Gone to Mecca (Heinemann Educational Books, 1991)
Jagua Nana's Daughter (1993)
Masquerade Time (children's book; London: Chelsea House Publishing; Jaws Maui, 1994).
Cash on Delivery (2007, collection of short stories)
Periodicals
Books Abroad, Autumn 1967
Critique: Studies in Modern Fiction, October 1965.
Times Literary Supplement, June 4, 1964.
World and I, October 2000, Charles R. Larson, "Fame and Poverty: The Career of Nigerian Novelist Cyprian Ekwensi Exemplifies the Plight of the African Writer," p. 254.
World Literature Today, autumn, 1988; winter, 1989.
Awards and Honours
Dag Hammarskjöld International Prize in Literature in 1969
Fellow of the Nigerian Academy of Letters
The Association of Nigerian Authors (ANA) awarded him a posthumous medal of honour shortly after his death.
Net Worth
His net worth is currently unavailable.
Social Media Handles
There is no recognisable social media page to his name.