Dakore Egbuson-Akande (born Dakore Omobola Egbuson) is a Nigerian actress. She is an ambassador for Amnesty International, Amstel Malta, and Oxfam America. She is the elder sister of popular actor Timini Egbuson.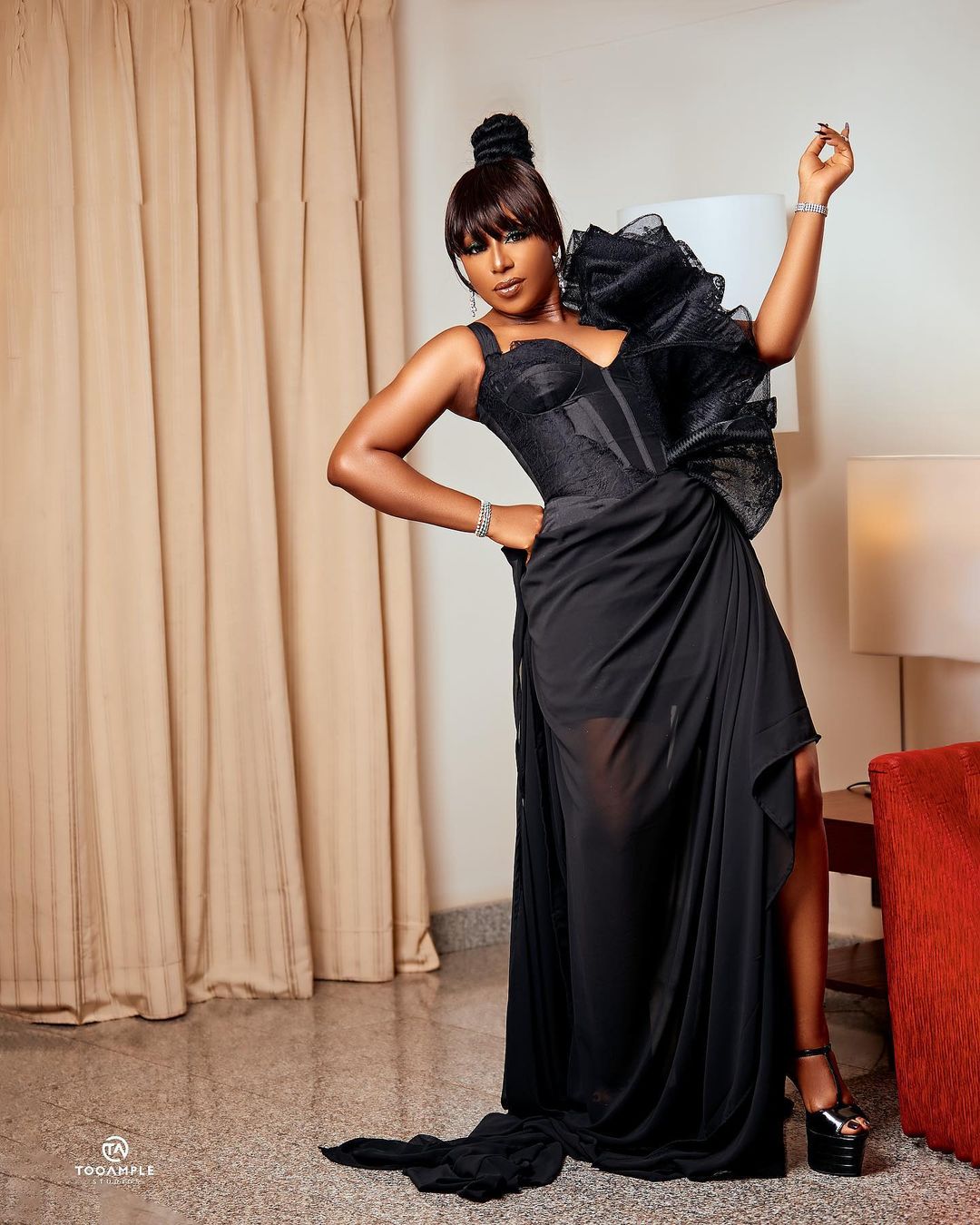 Dakore Egbuson-Akande Biography
Full Name :
Dakore Omobola Egbuson (now Dakore Egbuson-Akande)
Date of Birth :
14 October 1978
Years active :
1999–present
Social Media Handle :
Instagram: dakoreea
Twitter: @AkandeDakore
Early Life and Education
Dakore was born on October 14th, 1978 in Lagos, but hails from Bayelsa State. She is the first child of her parents She went to Federal Government Girls' College in Lagos and Bauchi State respectively and Corona School, Lagos. She was a mass communication student at the University of Lagos but had to drop out of school due to incessant strikes by the Academic Staff Union of University (ASUU). She also enrolled in a 6months photography class under the tutelage of Dan Baba.
Career
After receiving her university degree, she pursued a career in the music industry. She later began establishing a career as an actress in 1999. She had roles in various films, but the Nollywood actors' strike prevented those films from being released. She made the decision to relocate to London in order to try her luck abroad. She met a promoter there who gave her an offer to sing at London's famed Royal Festival Hall. Thankfully, the strike in Nigeria ended and the public could see her films. They were prosperous. She then received a lot of offers from Nigerian producers. She was forced to return to Nigeria in order to pursue a career in Nollywood.
After she got married, the actress took a 5-year break. In 2012, Dakore Egbuson-Akande came back to show her best again. The following year, she starred in the drama titled "Journey to Self."
In September 2019, Dakore appeared as a main feature in the Visual Collaborative electronic catalogue, in a subject matter themed "Vivencias," which translates to "Experiences" in Spanish. Along with 30 other international participants, she was questioned alongside Kelli Ali, Adelaide Damoah, and Desdemona. At the height of the COVID-19 pandemic, in May 2020, Dakore's interview on the same Visual Collaborative platform was republished in the TwentyEightyFour series, along with interviews with the French musical group Les Nubians, the Japanese composer Rika Muranaka, and the Nigerian comedian Chigul.
She has appeared in films and television shows with celebrities like Ireti Doyle, Tope Tedela, Omoni Oboli, Ramsey Noah, Jim Iyke, Desmond Elliot, Chidi Mokeme, Ken Erics, and Kenneth Okonkwo, among others. She appeared in the 2015 Nigerian love comedy Fifty as well as the 2015 Nigerian family comedy, Lunch Time Heroes.
Personal Life
Olumide Akande and Dakore Egbuson are joyfully married. He is the eldest child of Chief Harry Ayoade Akande, a multibillionaire. The couple got married in 2011. The couple is the parents of two gorgeous kids, Damilola Akande (2011) and Dasola Akande (2014).
Olumide is a businessman, an authority on aviation, and an investor. He prefers to maintain a low profile and hardly ever posts his personal information online, despite being the son of a well-known businessman and politician and the husband of a well-known actress.
The parents of Dakore Akande divorced after 17 years of marriage. She is also the elder sister of a popular Nollywood figure, Timini Egbuson.
Filmography
Dakore has featured in over 40 movies, some of which are:
Peace of Flesh
Men do Cry
Emotional Crack
Shattered Illusion
When the Going gets Tough
Playboy
Oracle
Hole in the Heart
Silent Tears
11 days & 11 Nights
Operation KTP
Playboy
Silent Tears
Emotional Cry
Caught in the Middle (2007)
Journey to Self (2013)
Lunch Time Heroes (2015)
Fifty (2015)
Isoken (2017)
Chief Daddy (2018)
New Money (2018)
The Set-Up (2019)
Coming From Insanity
TV Shows
Fifty (Tola), 2017
Castle & Castle (2021)
Awards and Nominations
Best New Actress at the Reel Awards – 2004
Reel Awards named her Best Supporting Actress – 2004
Best Actress at the NEA Awards – 2006
Nominated at Eloy Awards for the Brand Ambassador of the Year (Pampers) – 2014
City People Movie Award for Face of Nollywood (English) nominee – 2014
Nominated for Africa Movie Academy Award for Best Actress in a Leading Role – 2016
City People Movie Award for Best Actress of the Year (English) nominee – 2016
Nigeria Entertainment Award for Best Actress – 2018
Africa Movie Academy Award for Best Actress in a Leading Role – 2018
Net worth
Her work as an actor has provided her with most of her money. She has also served as a brand ambassador for a number of companies, including Pampers (P&G Nigeria), Cow & Gate (Danone Nutricia), Amstel Malta (Nigerian Breweries), and H2O. (Pepsi). She is estimated to be worth $500,000.
Social Media Handle
Instagram: dakoreea
Twitter: @AkandeDakore
Dakore has worked very hard for herself and her family, which is commendable given where she comes from and the difficulties she has faced. She serves as an example for actresses in the field.