Debra Anne Haaland (born December 2, 1960) is an American politician serving as the 54th United States secretary of the interior. She was a Democrat who served as the New Mexico Democratic Party's head from 2015 to 2017 and as the state's first congressional district's representative from 2019 to 2021. Haaland belongs to the Laguna Pueblo tribe and is a member of it.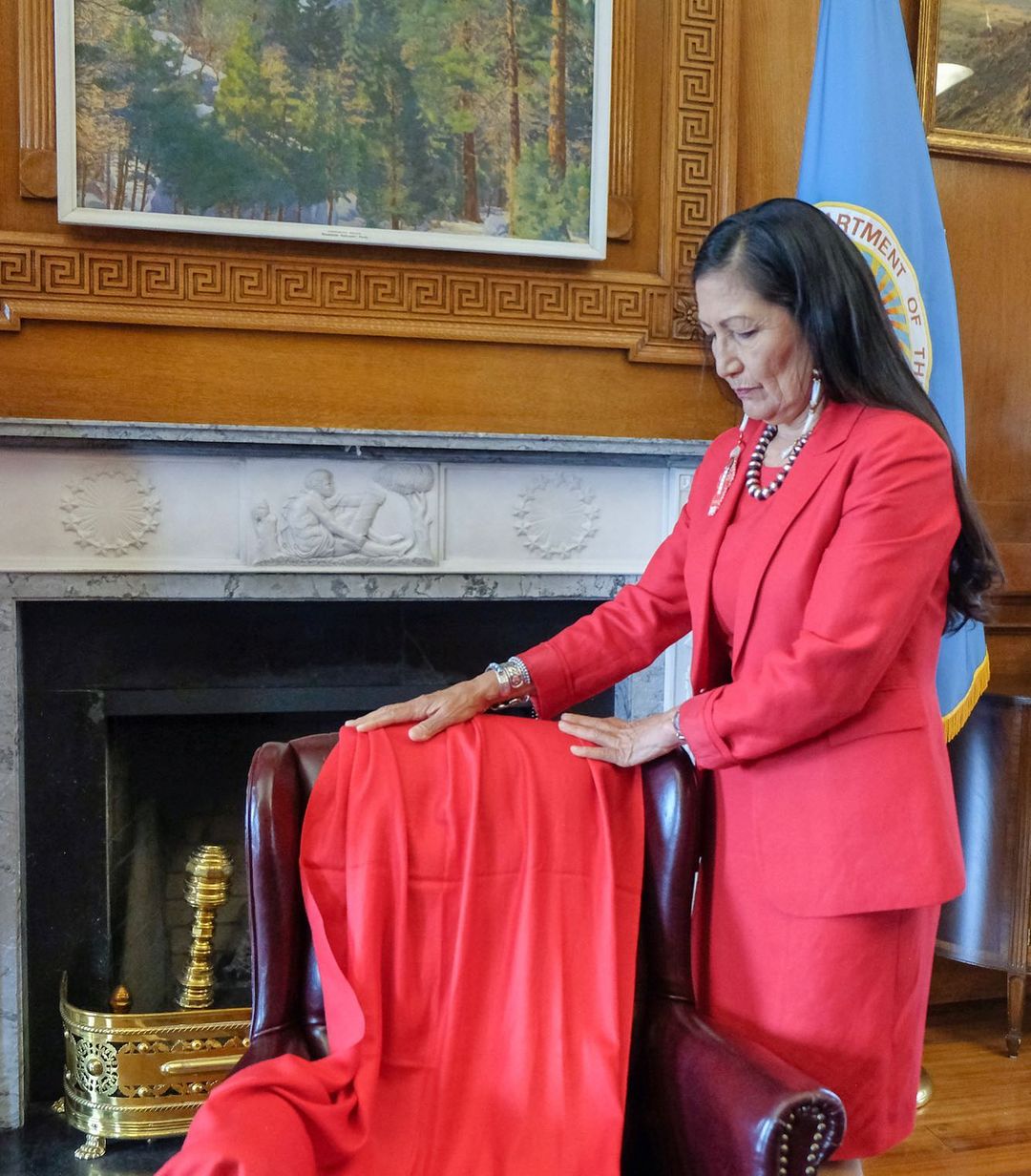 Deb Haaland Biography
Full Name :

Debra Anne Haaland

Date of Birth :

December 2, 1960

Place of Birth :

Winslow, Arizona, U.S.

Higher Qualification :

BA, JD, University of New Mexico

Occupation :

Politician

Political party :

Democratic

Spouse :

Skip Sayre

Social Media Handles :

Instagram: @secdebhaaland
Twitter: @SecDebHaaland
Early Life
Deb Haaland was born on December 2, 1960, in Winslow, Arizona. Haaland belongs to the tribe of the Pueblo of Laguna. Since the early 1200s, the matrilineal tribe has lived in what is now New Mexico. Haaland describes herself as a 35th-generation New Mexican as a result of her ancestry.
Mary Toya, Haaland's mother, was a former Navy service member who worked in Indian education for the Bureau of Indian Affairs. Toya made sure that her children had a relationship with their maternal grandparents. While working outdoors with her grandpa and seeing her grandmother cooking, Haaland learnt to cook. John David Haaland, the father of Deb Haaland, was a Minnesota-born Norwegian American. He received a Silver Star for his U.S. Marine Corps service in Vietnam.
In 1978, she earned her diploma from Highland High School in Albuquerque, New Mexico. She spent several years working as a baker before enrolling in the University of New Mexico in Albuquerque, where she ultimately earned a bachelor's degree in English in 1994. Deb Haaland then launched a company that marketed her own salsa. She returned to the University of New Mexico and resumed her studies, graduating with a law degree in 2006.
Career
Haaland became involved in Democratic politics when he was in law school. She participated in the 2004 John Kerry presidential campaign as a volunteer. In 2008 and 2012, she also worked as a volunteer for Barack Obama's presidential and reelection campaigns. From 2013 until 2015, she worked as the San Felipe Pueblo's tribal administrator.
In spite of the fact that she was defeated in her 2014 candidacy for lieutenant governor of New Mexico, she was chosen to lead the state's Democratic Party. She served a single term as state party leader (2015–17). Haaland won the election to represent New Mexico's first congressional district in the U.S. House of Representatives on November 6, 2018. Democratic Kansas resident and Ho-Chunk Nation member Sharice Davids was also elected to the House on that particular day. The first Native American women to be elected to Congress were Haaland and Davids.
Haaland served on the House Committee on Natural Resources when she was a member of Congress. She worked to restrict oil and gas development on federal lands in that capacity. She also promoted the Green New Deal, a campaign to combat climate change that was supported by many liberal Democrats.
Deb Haaland also backed the "Medicare for All" initiative, which would have established a single-payer national health insurance system. She attempted to gain the release of federal monies to Native American tribe governments to aid them in coping with the COVID-19 epidemic in 2020, once it started to hit the United States.
Haaland easily won reelection to her House seat in the general election of November 2020. Democratic candidate Joe Biden beat Republican incumbent Donald Trump in the presidential contest. Haaland was chosen by Biden, the president-elect, to head the Interior Department of the United States. The majority of the nation's federally owned lands and natural resources, as well as American Indian and Alaskan Native reserve communities, are under the control of this agency.
Biden commended Haaland as "a barrier-breaking public servant" who would be "ready on day one to defend our environment and fight for a clean energy future" at the time of his announcement on December 17. However, a number of Senate Republicans vigorously disagreed with Haaland on matters of energy and land management, which led to a delay in the confirmation process. On March 15, 2021, the Senate finally approved Haaland's nomination as the interior secretary with a 51–40 majority. The next day, she was sworn in.
Personal life
Haaland has a kid, Somáh, whom she brought up on her own. Her hobbies include gourmet cuisine and marathon running. Haaland and Skip Sayre tied the knot at Santa Ana Pueblo, New Mexico, on August 28, 2021. On July 17, 2022, Haaland fractured his left fibula while out on a hike in Shenandoah National Park.
Net Worth
Based on an examination of her financial declaration and available documents, Forbes estimates that Haaland has no personal net worth. Nearly all assets, obligations, and income sources must be disclosed by federal appointees and officials on disclosure forms that the Office of Government Ethics collects but does not audit. The almost empty file that Haaland provided in December 2020. She specifies two items: a $175 yearly tribe contribution and college loans with a maximum value of $50,000.
Social Media Handles
Deb Haaland is quite active on social media. At the time of this writing, she had 159,600 followers on Twitter and more than 61,700 followers on Instagram. Through the following handles, you may follow her on social media.
Instagram: @secdebhaaland
Twitter: @SecDebHaaland