Femi Odugbemi is an award-winning Nigerian screenwriter, photographer, movie producer, documentary filmmaker, cinematographer, and movie director.
In this post, I will share with you some of the things you have been wanting to know about one of your favorite filmmakers. From his biography to his early life. Then his early career and current marital status.
Scroll down a bit. Scroll a bit more and then again. Naija Biography is here as always to feed your brain from her wealth of knowledge. So? Stick around while we take you along.
He is also the Executive Director and Co-founder of the iRepresent International Documentary Film Festival.
Femi Odugbemi Early Life
Femi Odugbemi was born to the beautiful family of Mr. and Mrs. Odugbemi in Lagos State, Nigeria. Lagos State is a state in the South-Western part of Nigeria. Precisely, he was born on 24th May 1963.
For his higher education, Femi attended the prestigious Montana State University, Bozeman, Montana, United States. Therein, he studied and bagged a Bachelor of Science (B.SC.) Degree in Cinematography and Film/Video Production. Notably, Femi started his university education in 1979 and graduated in 1985.
Later, Femi attended the FATE Foundation Lagos, where he studied Entrepreneurship/Entrepreneurial. This was between 2003 — 2004.
Early Career
On graduation, Femi Odugbemi went to serve his Fathers' Land; he had his one-year Youth Service Corps (NYSC). Shortly after his NYSC, Femi got a job with Lintas Lagos. There, he was a Radio/TV Producer.
In 1991, Femi resumed at STB-McCANN. There, he was the Associate Creative Director. Later, he was made the Chief Executive/Executive Producer at the Audio Visual First Limited; he worked there until 2005.
After quitting his job as the Chief Executive/Executive Producer of the Audio Visual First Limited; he started his own production company. In 2005, Femi started his production company, Dvworkx Studios. In 2016, Femi closed the production company and opened another in 2017; Zuri 24 Media.
As it was, Zuri 24 Media is the production company in charge of producing Battleground. Battleground is a daily TV series aired on African Magie Network/DSTV.
Femi is a co-founder of the iRepresent International Documentary Film Festival. In fact, he is also the current Academy Director (West Africa) of Multichoice Talent Factory.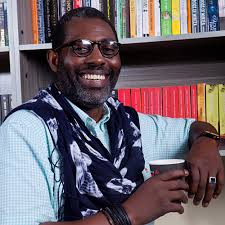 Femi Odugbemi Filmography (As a Producer, Director, and Writer)
These are some Femi Odugbemi productions
° And the Chain was Not (Documentary)
° Metamorphosis
° Tinsel (TV Series)
° Life in Lagos
° Abobaku
° Mama Put (TV Movie)
° Maroko (Feature Film)
° Oriki (Documentary)
° Bar Beach Blues (Short Drama)
° Oui Voodoo
° Bariga Boys
° Gidi Blues (Feature Film)
° 4th Estate (Feature Film)
° Battleground: Africa Magic (TV Series)
° Missing Pages (Feature Film)
° Literature, Language and Literalism
° The Eve (Feature Film)
° Makoko, Futures Afloat
° Code Wilo (Feature Film)
° Olotu
Awards and Recognitions
These are some of Femi Odugbemi awards;
° Best Costume at the 6th Africa Movie Academy Awards – 2010
° Prestigious Excellence Award of the Society of the Performing Arts of Nigeria (SPAN) – 2013
° Oscar Nominations – 2020
° Distinguished Leadership Award of Nollywood at 20 years – 2013
° Aboaku won the Most Outstanding Short Film at the Zuma Film Festival – 2010
° Lifetime Achievement Award from the Nigerian Film Corporation in recognition of his immeasurable contributions towards the growth of the Film industry – 2018
° Movie Rock of Fame Award by the Nigerian Film Society under the auspices of the Nigerian Film Corporation – 2018
Memberships And Fellowships
° Provost of the Orange Academy
° Fellow of the National Association of Nigerian Theatre Arts Practitioners (NANTAP)
° Member of the Advertising Practitioners Council of Nigeria (APCN)
° OSCARS Voting member of the Academy of Motion Picture Arts and Sciences (AMPAS)
We are here. What else do you want to know about Femi Odugbemi? Tell me about it with a comment box…