Patrick Ifeanyi Ubah is a Nigerian businessman and entrepreneur who is also a Senator in the Nigerian Senate, representing the Anambra South Senatorial District. He is as well the CEO of Capital Oil, which he established in 2001. He is also the owner of the Ifeanyi Ubah Football Club.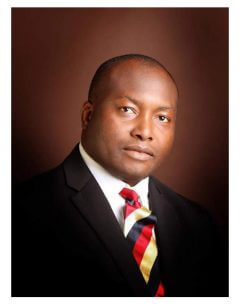 Ifeanyi Ubah Biography
| | |
| --- | --- |
| Full Name : | Patrick Ifeanyi Ubah |
| Date of Birth : | 3rd September 1971 |
| Place of Birth : | Anambra State, Nigeria |
| Occupation : | Businessman | Politician |
| Spouse : | Uchenna Ubah |
| Net Worth : | $1.7 billion (Not yet verified) |
Early Life & Education
Ifeanyi Ubah was born on the 3rd of September, 1971 in Otolo, one of the four quarters of Nnewi in Anambra State, Nigeria, as the first of seven children to Mr. Alphonsus Ubah and Mrs. Patty Ubah who were teachers. Ifeanyi dropped out of Premier Academy, Lugbe, Abuja to learn a trade at an early age due to his parents' incapacity to meet their children's academics and material needs. He has attended a number of leadership and business management courses and seminars both locally and internationally.
Career
Business Career
Ifeanyi began his career as a motor tyre and spare parts exporter in West African countries like Ghana, Sierra Leone, Liberia, and the Democratic Republic of the Congo, before expanding his operations to Belgium and the United Kingdom. Capital Oil and Gas Limited was created by him in 2001. He is the founder of The Authority Newspaper, a Nigerian daily newspaper, as well as the owner of Ifeanyi Ubah F.C., a Nigerian Premier League football team that was named Gabros International Football Club before his purchase.
The Authority Newspaper
On the 19th of 0ctober 2015, Ifeanyi Ubah launched The Authority Newspaper. The Authority is a daily newspaper published in Nigeria. It is published by The Authority Media and Publications Limited. It is a multiracial network newspaper that covers national and international news.
Ifeanyi Ubah F.C.
In 2015, he also founded Ifeanyi Ubah F.C., a Nigerian football team. His football club became the first in Nigeria to sign Brazilian players and coaches in 2016. Ifeanyi Ubah F.C. also worked with a European club, West Ham United FC of England, and won the Nigeria FA Cup within a year of his ownership.
Politics
Ifeanyi Ubah, who ran on the Labour Party platform, lost the 2014 Anambra gubernatorial election. Ifeanyi Ubah, a candidate of the Young Progressive Party(YPP), was declared the winner of the Anambra South Senatorial elections on February 24, 2019.
Personal Life
Ifeanyi Ubah is married to Uchenna Ubah, a graduate of Ahmadu Bello University with a Bachelor of Science (Hons) degree in business management and a Master of Business Administration (MBA). She is the Executive Director of Capital Oil and Gas Industries Limited. They have a total of five children together.
Controversy
On Thursday, 11 April 2019, a Federal Capital Territory High Court in Kubwa, Abuja, purportedly dismissed Ifeanyi from the Senate based on a suit filed by Mr. Obinna. Uzor has petitioned the court to declare Ubah's election null and void because he reportedly used a falsified National Examination Council certificate to run in the senate election on February 23, 2019. On Thursday, March 19, 2020, the Court of Appeal in Abuja affirmed the election of Ifeanyi Ubah of the Young Progressive Party (YPP) as senator for Anambra South.
Influence and Impact
Ifeanyi runs the Ifeanyi Ubah Foundation, which bears his name. The foundation was created with the aim of creating social welfare for the poor masses.
Net Worth
Although there are not many credible reports about his net worth, but multiple sources claimed that he is estimated around net worth of $1.7 billion.