James Daniel Jordan, popularly known as Jim Jordan, was born on February 17, 1964. He is a prominent figure in American politics. He has established himself as a respected representative in the United States Congress. Known for his conservative principles and active involvement in key political issues, Jim Jordan biography reflects his enduring commitment to public service and the values he holds.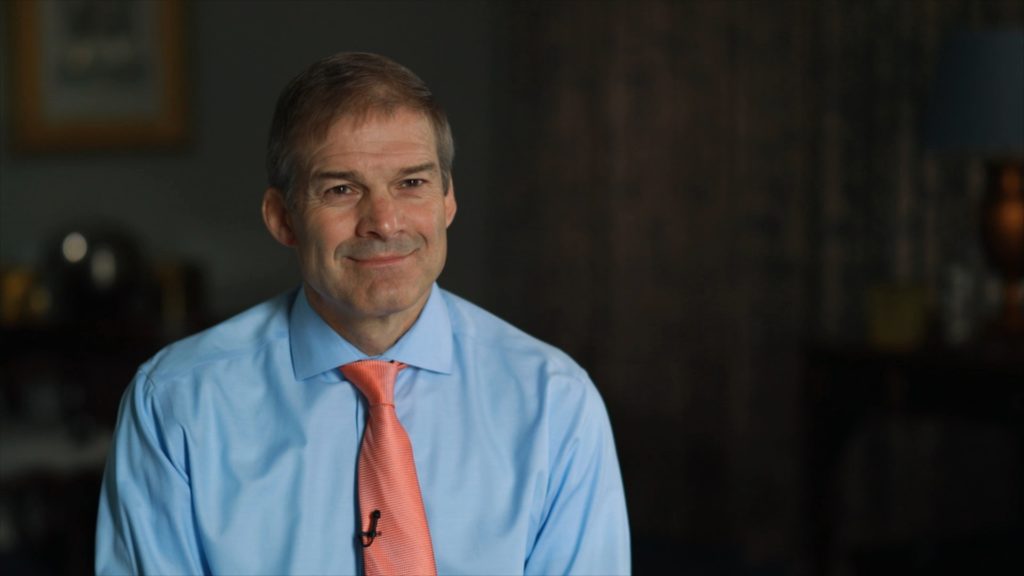 Jim Jordan Biography
| | |
| --- | --- |
| Full Name | James Daniel Jordan |
| Nickname | Jim Jordan |
| Date of Birth | February 17, 1964 |
| Place of Birth | Urbana, Ohio |
| Occupation | American Politician |
| Political party | Republican |
| Spouse | Polly Jordan |
| Net Worth | $431,000 |
| Social Media Handle | Twitter: @Jim_Jordan |
Early Life and Education
Jim Jordan was born on February 17, 1964, in Urbana, Ohio. His early years were marked by a strong sense of community and family values. He completed his education at Graham High School in St. Paris, Ohio, before pursuing a Bachelor of Arts degree in Economics from the University of Wisconsin, graduating in 1986.
Career.
Professional Career
Prior to entering politics, Jordan worked in the private sector. He started his career as an assistant coach with Ohio State University's wrestling program from 1987 to 1995.
Political Career
Jordan's political career began with his election to the Ohio State Senate in 1994, where he served until 2000. In 2007, he took office as the U.S. Representative for Ohio's 4th congressional district, a position he holds to this day. Throughout his tenure in Congress, Jordan has become well-known for his staunch conservative principles, including advocating for limited government, fiscal responsibility, and a strong national defense. He is a co-founder of the House Freedom Caucus, a group of conservative Republican members of the House of Representatives.
Political campaigns
U.S. House of Representatives, Ohio 4th District
2020 – defeated Shannon Freshour and Steve Perkins.
2018 – defeated Janet Garrett.
2016 – defeated Janet Garrett.
2014 – defeated Janet Garrett.
2012 – defeated Jim Slone and Chris Kalla.
2010 – defeated Doug Litt and Donald Kissick.
2008 – defeated Mike Carroll.
Personal Life
Jim Jordan is married to Polly Jordan, and together, they have four children and two grandchildren. It was reported that Polly and Jordan started dating when he was 13 and she was 14. They live near Urbana, Ohio in central Champaign County. His personal life is characterized by a strong commitment to his family and community. He is an active member of his local community, engaging in various charitable and civic activities.
Controversies
Jim Jordan is known for his conservative views and his close alliance with former President Donald Trump. He has been involved in a number of political controversies over the years, including:
Sexual abuse scandal at Ohio State University
Jordan was a wrestling coach at Ohio State University in the 1980s and 1990s. During that time, several of his wrestlers accused him of turning a blind eye to sexual abuse by the team's doctor, Richard Strauss. Jordan has denied any wrongdoing, but the allegations have cast a shadow over his career.
Role in the January 6th attack on the Capitol
Jordan was a vocal supporter of Trump's efforts to overturn the results of the 2020 presidential election. He was also present at the rally that preceded the attack on the Capitol on January 6th, 2021. Some critics have accused Jordan of helping to incite the violence, but he has denied any wrongdoing.
False claims about the 2020 election
Jordan has repeatedly made false claims about the 2020 election, including that it was stolen from Trump. He has also spread conspiracy theories about voter fraud. These claims have been widely debunked by election officials and fact-checkers.
Support for white supremacist groups
Jordan has been accused of supporting white supremacist groups, such as the Proud Boys and the Oath Keepers. He has also been criticized for his close ties to white nationalist figurehead Tucker Carlson. Jordan has denied any links to white supremacy.
He is a polarizing figure who is known for his strong opinions and his willingness to challenge the status quo. It is important to note that Jordan has not been charged with any crimes related to the political controversies that he has been involved in. He has also denied any wrongdoing.
Net Worth
Jim Jordan's net worth is estimated to be $431,000, according to OpenSecrets. This includes his assets, such as his home and investments, minus his liabilities, such as debt. His primary source of income is his salary as a member of the United States House of Representatives. He earns a base salary of $174,000 per year. He also receives additional income from investments and speaking engagements.
Social Media Handles
To stay informed about Jim Jordan's political activities, opinions, and interactions, you can follow him on various social media platforms. He is active on Twitter, where he shares insights, engages with his constituents, and discusses his views on pertinent political issues.