Juliana Cherera is the new vice chairperson of the Independent Electoral and Boundaries Commission (IEBC) Kenya. The IEBC had been without a chairperson since the resignation of Connie Maina in 2018, She became the subject of the conversation on 15 August 2022 as she led 4 commissioners to cast off presidential results.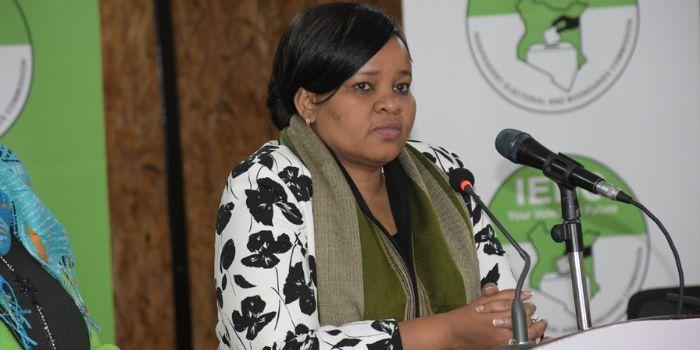 Juliana Cherera Biography
Full Name :
Juliana  Whonge Cherera
Place of Birth :
Mombasa County
Occupation :
Govt Administrator | IEBC Vice Chairperson
Early Life & Education
Juliana Whonge Cherera was born in Mombasa County, Kenya. Her date of birth was unknown to the public, but with the look of things, she is 54 years old.
Juliana was awarded a degree in Master of Education, Leadership and Education Management. She furthermore completed her Master's from Kenya Methodist University, and she also enrolled in Kenyatta University and earned a degree in Bachelor of Education in Arts, specializing in Kiswahili and Geography.
She also attended the Kenya Institute of Management for project management, and Juliana also went to the Kenya School of Government.
Career
Juliana started her career as a school teacher with over 18 years of experience in the management sector and education. She also worked as the Chief Officer of the Strategic Delivery Unit at the Mombasa County Government.
She held other positions before joining IEBC, including; a member of the Mombasa County Emergency Household Relief and Nutritional Support Project Coordination Committee, Secretary to the Mombasa County Economic Recovery and Legacy Strategy, and a Member of the Kenya Devolution Support Program Committee.
Joining IEBC
Wafula Chebukati, the IEBC chairman, announced Juliana Cherera as the new elected Vice Chairperson of the IEBC, She was elected unanimously in a plenary meeting on the 14th of September 2021.
Disowning Election Results
Juliana and the other three commissioners of the Independent Electoral and Boundaries Commission (IEBC) called a press conference on the 15th of August 2022 at the Serena Hotel and disowned the presidential results that were released by the chairman, Wafula Chebukati. As per the results, William Samoei Ruto of the UDA Political Party was declared the winner, having garnered 7,152,655 votes, while his opposition, Raila Amolo Odinga, has 6,942,708 votes.
While Juliana spoke to members of the press, her team cited that they aren't part of the results of the final phase of tallying since "opaqueness" was noted in the electoral process.
"We have done the 2022 general election in the most efficient manner. We have ensured that all the challenges have been contained." Commissioner Cherera said.
"We have made sure that we have improved the standards and and we say as a fact as commissioners we have a done a good job.
"But some things need to be put out there as you can see the four of us are here and not at Bomas, where the results are going to be announced, because of the opaque nature of how this phase has been handled." We, therefore, cannot take ownership of this result that is going to be announced." Juliana added.
Net Worth
According to the information we gather Juliana Cherera owns 11 acres of land in Kwale, 1.5 acres of land in Kilifi, 1 acre of land in Mackinnon Market, and a two-acre tea farm in Meru South.
She also owns a Ksh 3 million family house in Mtwapa, 10,000 shares at a telco company valued at Ksh 430,000, shares at Mwalimu Sacco worth Ksh 328,000, and a vehicle worth Ksh 2.4 million.
Her total estimated net worth is $60,000.