Lanre Adesina Hassan, who is most popularly known as Iya Awero, is a renowned Nigerian film actress. She is very popular in acting in Yoruba films. She has acted in over 60 Yoruba films right from the start of her career in the movie industry.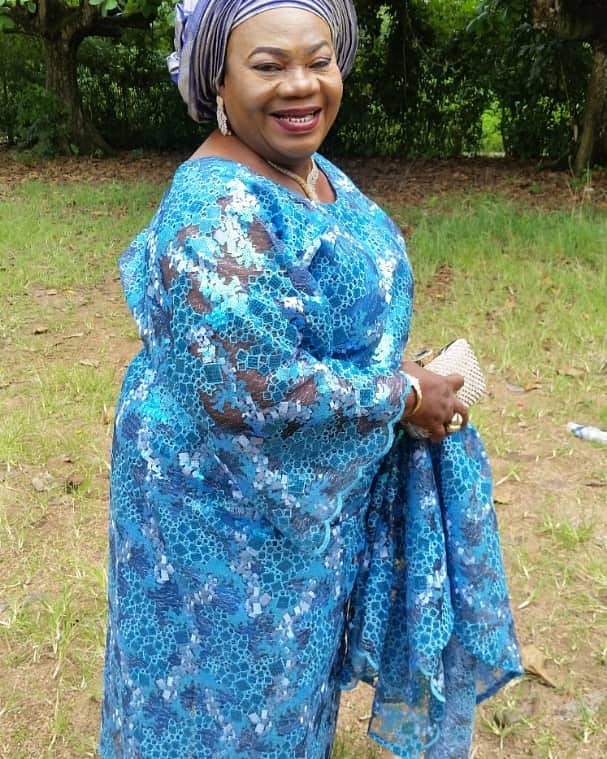 Lanre Hassan (Iya Awero) Biography
| | |
| --- | --- |
| Full Name | OLanrewaju Adesina Hassan |
| Nick Name | Iya Awero |
| Date of Birth | October 3, 1950 |
| Place of Birth | Lagos State, Nigeria |
| Occupation | Actress |
| Spouse | Aliu Hassan Adesina |
| Net Worth | $500,000 |
| Social Media Handle | Instagram: @mamaawero |
Early Life & Education
Iya Awero was born on the 3rd of October, 1950, in Lagos. She hails and spent most of his early life in Lagos Island, Lagos State, which falls in the Southwestern part of Nigeria. For her elementary education, She studied at Oduwabore Memorial School, Mushin, Lagos. She went to the Children's Home School in Ibadan, Oyo State, the St. Peters Faaji School in Lagos Island, and also Molas High School in Lagos Island. Before Iya Awero started acting, she went to the School of Drama where she was trained in the profession.
Career
While still in secondary school, Lanre Hassan started her acting career with the well-known Ojo Ladipo theatre group. Since then, she has appeared in more than 50 Nollywood films. The Ojo Ladipo Theatre Group's popular television comedy series "Comedy Half Hour," in which Iya Awero plays the title role, is popular. Her recognition has increased dramatically, and she is now well-known throughout Nigeria.
Lanre is a remarkable actor who embodies her roles in films with creativity, flair, and exceptional talent. She has almost 30 years of acting experience. She is noted for playing motherly roles in films. In the 2018 movie "King of Boy," which was helmed by one of Nigeria's top female directors, Kemi Adetiba, Lanre Hassan starred as "Iya Loja."
Personal Life
Aliu Hassan Adesina, who passed away roughly 15 years ago, was Iya Awero's husband. The couple has three children, two boys and a girl.
Selected filmography
Adelebo
Aje Metta
Aso Ásiri
Àtànpàkò òtún
Ayitale
Baba Lukudi
Back to Africa
Boya Lemo
Dokita Alabere
Ejide
Eto Ikoko
Fadùn Sáyémi
Family on Fire
Idajo Mi Tide
Igba Ewa
Ìkúnlè Kèsán
Ìlù Gángan
Ire Aye Mi
Ìrírí Mi
Iró Gunfun
Ishola Oba-orin
Iyawo Tunde
Jawonbe
Mama Lanre
Ogbologbo
Ògìdán
Ògo Idílé
Ogo-Nla
Ojabo Kofo
Okun Emi
Okun Ife
Oluweri Magboojo
Omo Elemosho
Oníbárà
Orí
Owo Blow
Owo Blow: The Genesis
Pakúté Olórun
Sade Blade
Net Worth
Despite the demise of Iya Awero's husband, she still stayed strong and breed her children as a single parent with her accumulated wealth in the movie industry. Different online sources had claimed that her net worth is estimated at around $500,000.
Social Media Handle
Iya Awero has an active Instagram handle with over 21,000 followers. You can follow her through the following handle.
Instagram: @mamaawero