Mary Taiwo Osijo, a weightlifter, competes for Nigeria in international events' 87 kg weight class. She won bronze at the 2022 Commonwealth Games held in August 2022. Taiwo aspires to become an Olympian in weightlifting in the near future. Taiwo is a hairdresser and makeup artist. When she is not attending sporting events at the stadium, she enjoys working at these two jobs, which keep her busy.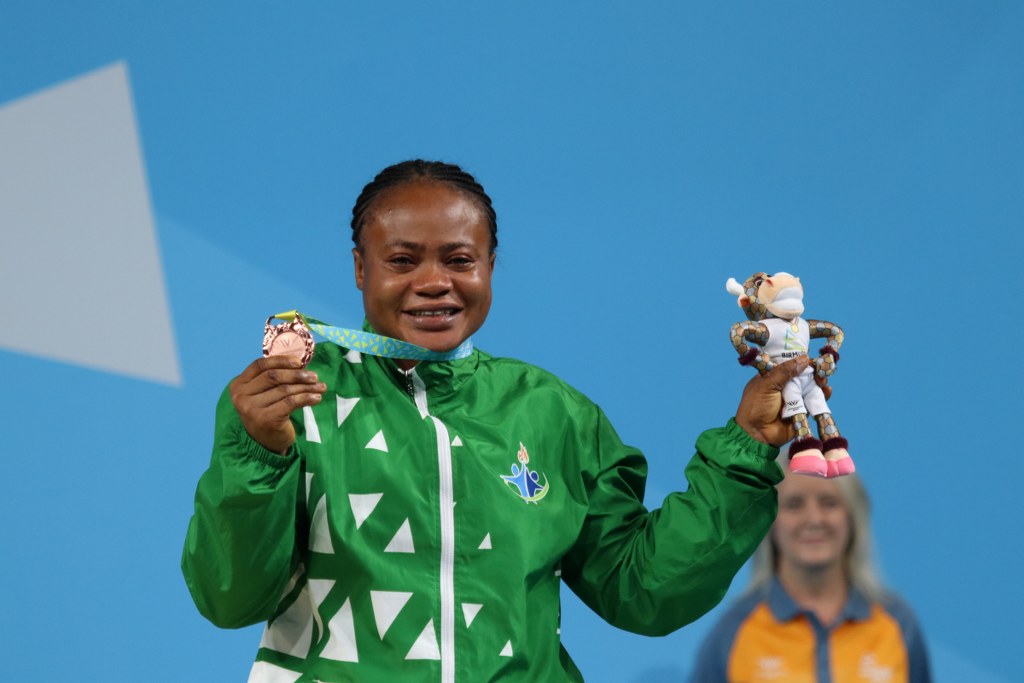 Mary Osijo Biography
Full Name :
Mary Taiwo Osijo
Date of Birth :
21 November 1996
State of Origin :
Ijebu Ode, Ogun state, Nigeria
State of Birth :
Lagos State, Nigeria
Occupation :
Athlete, Hairdressing, Make-up Artiste
Social Media Handles :
Nil
Early Life and Education
Mary Taiwo Osijo was born on November 21st, 1996 to Pastor Albert Adebayo Osijo and Alhaja Afolake Osijo, who hail from Ijebu Ode in Ogun state, Nigeria. She grew up in Epe, Lagos state, where she attended her primary school, LupeToro Primary School Epe. Thereafter, she later gained admission to Epe Girl's High School, Epe.
Career
Taiwo began playing hockey in Lagos. While joining her father on the field for round-leather game practice, her enthusiasm for sports was reignited. The owner of Taiwo's football team, Taiwo's father, worked tirelessly to nurture the natural abilities of young players in Epe and the surrounding areas.
Taiwo intensified her efforts to exercise hard and her proficiency became apparent in a very short amount of time since she was resolute and motivated to excel and stand out among her peers in hockey games. Because of her constant participation in the javelin, shot put, and debate games, she was selected as a Games Prefect. As luck would have it, the University of Lagos recognised her abilities in hockey games and wrote to request her release so that she may compete in hockey tournaments.
When Taiwo's father, a pastor, prayed for someone on a fateful day, the person took a quick glance at Taiwo and remarked that she naturally had a belligerent attitude and looked macho for such a little girl. "The man openly counselled my father to support my boxing training; later, my father made a firm move and bought boxing kits for her." With the goal of winning the championship, Taiwo joined the boxers at the Itaopo playing field in Epe Town. She claims that she competed for Epe in a boxing match against four other females, winning and taking home the gold medal. In appreciation for her outstanding achievement, the Oba of Epe gave her a cash gift of N50,000. The Chairman of the Local Government also offered her N25,000 and a boxing kit to inspire the throngs of youths and ardent boxing supporters who may develop an interest in pursuing a career in that sport.
Coach Ismaila Yusuf, who saw Taiwo's talent for weightlifting and urged her to join the training session, met her on her way home from the Ijebu Ode Stadium. She encountered young women who were deeply engaged in exercise, and this gave her the motivation to take an active role in weightlifting. Despite her best efforts to progress further in the game, she was not given the chance to compete in the trial competition. She was on the verge of giving up, but she persisted.
She called coach Kenny because of a technocrat's obstructive attitude at the Asero Stadium in Abeokuta, who made accommodations for her and provided opportunities for her to succeed.
Personal Life
She gave up weightlifting for four years in a row, during which time she eventually got married and had her two daughters.
According to her, the home fire accident she suffered in 2013 that nearly cost her life but was averted by God's intervention will always remain a remarkable and unforgettable experience in her life. Taiwo went on to say that the day she won in Mauritius was the best day of her life. The audience applauded her achievement by standing up, and they all sang the National Anthem of Nigeria as she accepted the esteemed worldwide honour. She lost control and started crying with excitement.
National and International Titles
2011: National Sports Festival, Boxing Competition; 4th position
2014: Lagos State Sports Festival, she won 3 bronzes.
2014: All African Games Trial at Liberty Stadium, she won gold.
2020: Edo State Sports Festival-she won 1 gold and 2 silver. Governor Seyi Makinde compensated her with a prize award. She was later invited to the National Camp at Lokoja in preparation for the Mauritius international competition.
2022: She won bronze at the 2022 Commonwealth Games.
Net Worth
An estimate of her net worth is currently unavailable.
Social Media Handles
Unavailable