Nwannekaenyi Nnamdi Okwu Kanu (born September 25, 1967) is a British-Nigerian political activist who supports Biafra's independence and separation from Nigeria. He created the Indigenous People of Biafra (IPOB) in 2014 and is its leader. The primary objective of IPOB is the restoration of the Biafran separatist state that existed in Nigeria's Eastern Region during the Nigerian Civil War (1967–1970).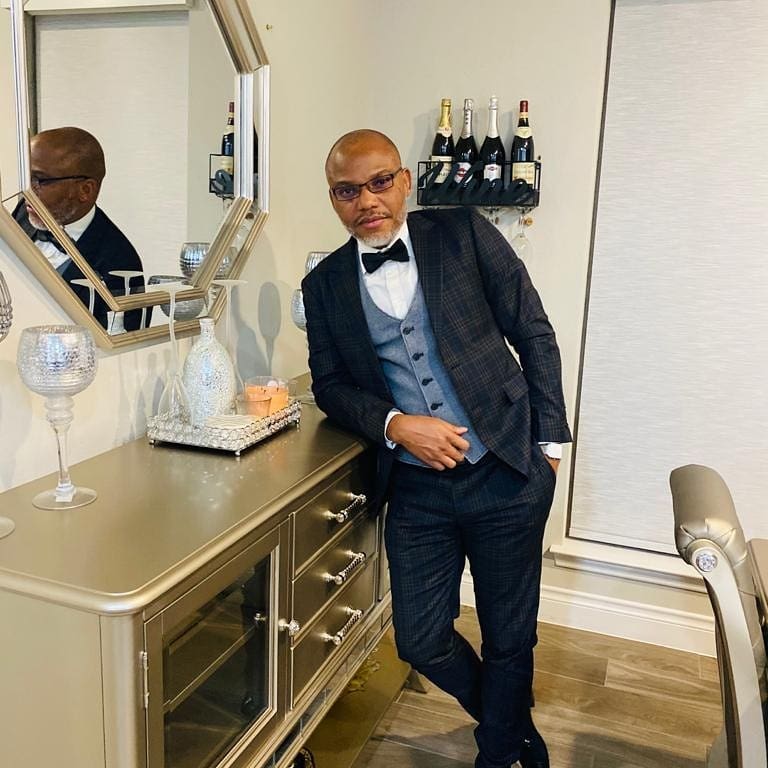 Nnamdi Kanu Biography
Full Name :
Nwannekaenyi Nnamdi Okwu Kanu
Popular Name :
Nnamdi Kanu
Date of Birth :
September 25, 1967
Place of Birth :
Isiama Afara, Abia State, Nigeria
State of Origin :
Isiama Afara, Abia State, Nigeria
Occupation :
Political Economist, Activist, Media Personality
Movement :
Indigenous People of Biafra
Spouse :
Uchechi Okwu Kanu
Social Media Handles :
Twitter: @MaziNnamdiKanu
Instagram: mazinnamdikanu_official
Early Life and Education
Kanu was born on September 25, 1967, in Isiama Afara Ukwu, Umuahia, Abia state—within the claimed territory of the Republic of Biafra a few months after it had declared independence from Nigeria. His father, Eze Israel Okwu Kanu (JP), and his mother, Ugoeze Nnenne Kanu, were Nigerian traditional monarchs.
He attended Library Avenue Primary School and later went to Government College Umuahia for his secondary education. He studied Geography at the University of Nigeria, Nsukka, and moved to the UK before graduating. He then proceeded to London Guildhall University, where he studied Politics and Economics.
Career
He started his activism for the independence of Biafra while working as a director and anchor for Radio Biafra under Ralph Uwazuruike, the leader of the Movement for the Actualization of the Sovereign State of Biafra (MASSOB), who claimed during a meeting in Kaduna, Nigeria on June 12, 2014, that he had handed over Radio Biafra to Nnamdi Kanu, leader of IPOB, but Kanu disappointed him. Prior to founding Radio Biafra in 2009, which argued for the creation of an independent Igbo state and was broadcast to Nigeria from London, Kanu was a relatively unknown person. In 2014, he established IPOB.
Kanu promoted Biafran separatism as the head of the United Kingdom-registered radio station Radio Biafra. Kanu was held for more than a year despite many court orders directing his release after being arrested in Lagos, Nigeria on treason charges on October 14, 2015. Kanu routinely showed up in court with a head covering and a prayer shawl on. In court, he claimed that he "believes in Judaism," sees himself as a Jew, and frequently guides his Biafran people in participating in various Jewish prayers and religious observances. On April 28, 2017, Kanu was granted bail and released from jail.
After evading justice and jumping bail, Kanu became a key player in the insurgency in Southeastern Nigeria, which led to a low-intensity conflict in early 2021 as the Nigerian security services tried to suppress IPOB's armed wing, the Eastern Security Network. Kanu insisted that despite the fighting, IPOB was committed to finding a peaceful settlement and achieving Biafran independence without using force. He was detained by Interpol in June 2021 and turned over to Nigeria.
Personal Life
Nnamdi Kanu is married to Uchechi Okwu Kanu, a lawyer who lives in the United Kingdom, but she's from Abia state, Nigeria. They got married on the 5th of January, 2016, and the marriage is blessed with a child, named Nnabuikem.
Imprisonment
Arrest & Detention
On October 14, 2015, the State Security Service (SSS) of the Federal Government of Nigeria arrested him in his hotel room at the Golden Tulip Essential Hotel in Ikeja, Lagos State. On October 18, 2015, it was reported that Kanu had been detained by Nigeria's secret police, the Department of State Services (DSS), in Lagos State. Kanu had informed his attorneys of this arrest.
On October 19, 2015, it was revealed that Nnamdi Kanu had been given bail following a covert arraignment at Magistrate Court, Wuse 11. However, the bail was deemed "controversial," and there were allegations that the DSS only made the announcement in order to "quiet the agitated people of Biafra."
Court Trial
The Department of State Services (DSS) reportedly acquired a "secret court order to imprison Nnamdi Kanu," according to reports. The Magistrate Court 1 in Abuja ordered the DSS to present Kanu in court on November 23, 2015. In an interview, Kanu's attorney, Vincent Obetta, claimed that the prosecutor had given him a document in court that contained a court order allowing the Department of State Services (DSS) to hold Kanu for the next three months in order to "conclude what they claimed was an investigation of terrorism and terrorism financing."
Release and Disappearance
Vanguard reported that Kanu was freed on bail on October 20, 2015. Kanu was eventually released on bail by Justice Binta Nyako for health concerns, despite media outlets supporting IPOB's goals, labelling the bail "controversial" and alleging the DSS announced the bail just "to calm the agitated people of Biafra."
After the Nigerian military invaded Kanu's residence in September 2017, which resulted in the deaths of 28 IPOB members, Kanu vanished from the public eye. There was much conjecture about his location, with IPOB members accusing the Buhari administration of kidnapping him. However, unattributed images and videos that appear to place him in Israel surfaced in October 2018. In June 2021, he was arrested by Interpol and handed over to Nigeria.
Kanu's detention in 2017 was illegal, violated his human rights, and was "illegal" under national and international law, according to Justice Benson Anya of the Abia State High Court's decision on January 19, 2022. In addition, Anya ruled that Kanu should receive N1 billion from the Nigerian government as compensation for the violation of his fundamental human rights. Despite this decision, Kanu was still detained and the trial continued as additional charges were brought against him and the other charges were still being discussed. A political risk analysis company researcher named Ikemesit Effiong suggested that Kanu's final conviction was still likely, as the "political will exists to make an example of a separatist leader who has caused the central government more than its fair share of headaches".
Controversies
Kanu has, since the beginning of his advocacy, made highly controversial comments on various occasions.
Death Threats and Calls for Violence
In September 2015, in a heated address to the World Igbo Congress in Los Angeles, Kanu said, "We need guns and we need bullets" in reference to armed conflict.
In 2015, after Deeper Christian Life Ministry Superintendent William Kumuyi said Nigeria would remain united, Kanu threatened his life, saying "Pastor Kumuyi should be stoned and dealt with thoroughly if he comes to Aba for his planned crusade."
In 2017, a video of Kanu was released wherein he issued an open death threat to former Nigerian president Olusegun Obasanjo. He had told a gathering of supporters at his home that if any harm comes to him, members of IPOB should eliminate Obasanjo and his lineage. This was in reference to Obasanjo's statement at a gathering in Abuja that all must be done to stop IPOB.
Kanu said, "Nigeria should prepare for war; we are coming to annihilate you, my secret service are already studying the zoo and strategising" when referencing armed attacks by IPOB. "If you find anybody in your village asking after Radio Biafra, kill the baboon Hausa, Fulani, or Yoruba bastard. Let them keep searching as we keep tweeting for #Biafra.
Hate Speech
Hate speech against other ethnic groups and Igbos that do not support him, along with racially charged anti-black rhetoric:
"Niger Deltans are cowards; we know what to do to them." Akwa Ibom, Bayelsa, Delta, Rivers, Edo, and Cross Rivers states are our territory, and anybody who tries to oppose us will be crushed.
"Yoruba Pentecostalism is the reason why Fulanis are invading us today."
"Any army they [the Federal Government] send to Biafraland will die there. None will return alive. Even if it requires sacrificing my people, I will do it."
Net Worth
His current net worth is unavailable.
Social Media Handles
Twitter: @MaziNnamdiKanu
Instagram: mazinnamdikanu_official